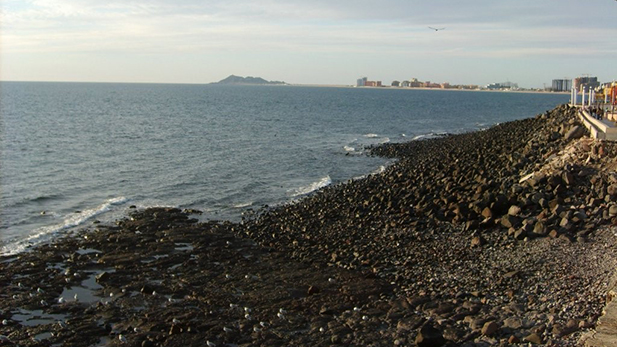 Arlene Islas, AZPM
The fastest path Tucsonans can take to a beach crosses the international border into Mexico, and questions surrounding the safety of tourists on their way to Puerto Peñasco, or Rocky Point, have led the coastal Mexican city to launch a security plan.
Of the 2 million tourists who visit Rocky Point each year, nearly a quarter million of those are from Arizona. Reactions to the question of tourist safety there are mixed.
Pima Community College professor Kristina Beckman-Brito is not particularly worried about safety at the beach destination.
"Not in Rocky Point. I think more about border cities and the shootings that they've had. So no, I'm not concerned."
Tucsonan and college student Monica Lopez has concerns, but they don't necessarily come from a fear of violence. She said she won't visit since her sister had a bad experience.
"My sister got her car stolen there, so that obviously makes me worried about transportation. Do I want to drive there? ... Just in general, a lot of drunk people doesn't sound like a very safe environment," Lopez said.
Safety issues came to the fore in 2013 when Mexican federal police and drug cartel members opened fire on each other near the popular tourist area of Sandy Beach. No tourists were injured, but at least five cartel members were killed.
The U.S. State Department has released two Mexican travel advisories this year. Its warnings have indicated the Mexican government does invest in tourist safety in Rocky Point and other spots.
This year, Rocky Point Mayor Ernesto Munro introduced the Puerto Peñasco Security Plan to change people's perceptions of the area and increase tourism. A key part of it was the formation of a Tourist Assistance Unit.
"We walk around and try to help tourists with any kind of information that they might need. We also try to prevent any kind of delinquency," said Ben Morales, one of 10 officers on the unit.
Other parts of the plan include crime prevention and security, updated and secured communication systems and a modernized police force. Rocky Point businesses will be asked to get involved.
One goal is to increase interaction between the public and local government. For example, if a business is having repeated problems with tourists or the police department, the mayor's office wants them to be able to talk about it.
The Tourist Assistance Unit's presence on beaches and tourist areas has had a positive impact, they said. Unit officers speak English, have basic first-aid training and can respond to everything from a drunken driver to a minor injury on the beach.
Luis Molina, director of the unit, said his officers will also help if people feel they are being taken advantage of while buying goods or services. "Any type of complaint, we try to serve and fix any bad feeling."
Molina said the unit interacted with 12,000 tourists and responded to 90 requests for service in August and September.
The work agrees with Morales, one of the officers in the unit.
"I like to help people, and my number one goal is to help tourists come back to Puerto Peñasco as many times as possible. So we treat them right, we make them feel safe - they will come back," Morales said.
Regardless of whether the unit's efforts are paying off, Beckman-Brito doesn't see a security concern that would prevent her from returning.
"I really haven't had any cause to be worried. I've traveled lots of places around the world, and Rocky Point just doesn't strike me as a place that is dangerous."
That goal is manifest in a walk along Rocky Point's main shopping and restaurant district, known as Malecón.
Families shop together, people zoom by on rented motorbikes and others enjoy the sounds, the sea breeze and the view of the Sea of Cortez.