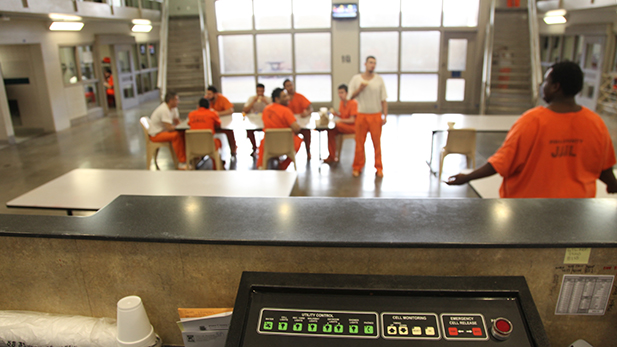 Andrea Kelly, AZPM
A free program this weekend aims to educate the public about mental health services and needs at the Pima County Jail.
Mental illness and substance abuse affect about 60 percent of the jail population in Pima County, putting pressure on jail resources and staff. A voter education program this Saturday will explore how the Pima County Jail addresses those pressures--and what more could be done.
The League of Women Voters of Greater Tucson will host the program, which is free and open to the public. Jail administrator India Davis, jail psychologist Vicki Knight, and Superior Court judge Danelle Liwski are scheduled to speak at the event.
They will cover topics that range from mental health services provided at the jail to plans to reduce the jail's population by 18 percent over the next three years with support from a $1.5 million MacArthur Foundation grant. The speakers will answer questions from the public after the presentation.
Organizer Judy Moll hopes the event will inspire community members to get involved in improving life for inmates who are living with a mental illness.
"If there's a way we can work with community agencies to help improve services, we'd like to do that," she says. "We don't like to just learn about something—we need to take action on it."
The League of Women Voters holds educational programs every month, and past presentations have delved into election laws and ballot propositions, among other subjects. This forum will take place Saturday between 9:30 a.m. and 11:30 a.m. at the Mountain Vista Fire Department at 1175 W. Magee Road in Tucson.