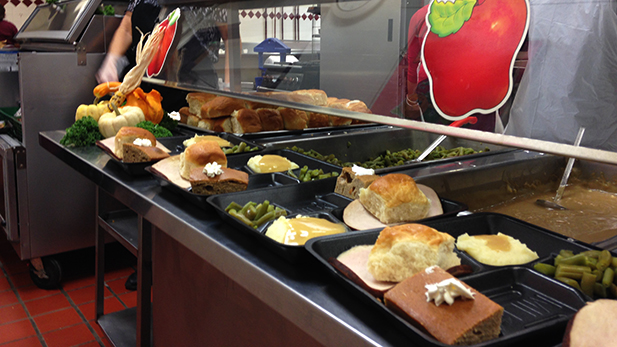 Mariana Dale, AZPM
By Brooke Goldstein, AZPM Intern
Those in Tucson struggling with poverty or homelessness may find putting food on the table during the holiday season difficult, so a dozen or so local organizations will provide free Thanksgiving dinners to for those who cannot afford them.
Gospel Rescue Mission's Suzanne Williams said the organization expects to serve 3,000 meals Wednesday, Nov. 23 thanks to many donors throughout the community.
"We want to make it a very pleasant experience, a holiday experience, a tremendously respectable experience for them," Williams said.
People can also enjoy a taste of traditional thanksgiving foods at Iskashitaa Refugee Network's potluck dinner Thursday, Nov. 24.
Executive Director Barbara Eiswerth said a variety locally grown foods will be provided.
"It brings people to the same table. It shares culture, language, religion, ethnicity, race – right across the dining room table," Eiswerth said.
Thanksgiving Events in Tucson
Gospel Rescue Mission 2016 Thanksgiving Street Banquet
When: Wednesday, Nov. 23, 11 a.m.-2 p.m
Where: 707 W. Miracle Mile Rd.
Salvation Army Community Thanksgiving Dinner
When: Thursday, Nov. 24 11 a.m.-1:30 p.m.
Where: St. Demetrios Greek Orthodox Church, 1145 E. Fort Lowell Road.
When: Thursday, Nov. 24, 11 a.m.-1 p.m.
Where: The Desert and Patio Courtyard Apartments, 1411 N. Alvernon Way.
Armory Park Event
When: Monday, Nov. 21 11 a.m.-3 p.m.
Where: 221 S. 6th Ave.