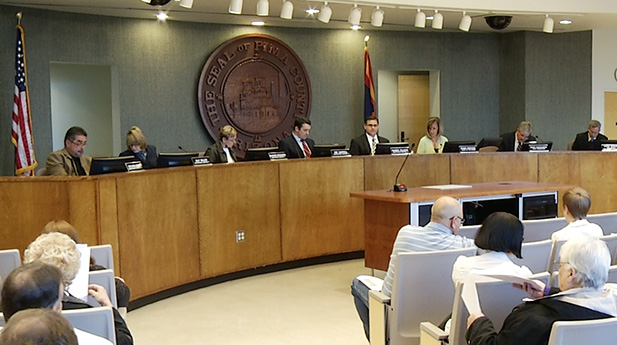 Pima County Board of Supervisors at a meeting in early April 2015.
Agribusiness giant Monsanto has purchased property near Marana and plans to build a high-tech greenhouse where it will develop corn seeds.
Details of the plan were made public Thursday in a memorandum released by the Pima County Board of Supervisors.
The county is proposing to support Monsanto's application for a Free Trade Zone designation, which would result in a significant reduction in property taxes. According to the memorandum, even that lower tax rate would generate more tax revenue than the vacant land currently brings in.
Monsanto says it will invest between $90 and $100 million in the site.
When fully operational, the facility is expected to create 50 new jobs, with an average salary of $44,000 and benefits.
A number of farming, food advocacy and environmental groups have come out against the company's entrance into Southern Arizona, expressing concern about the impact it will have on the area's food system.
In response to the controversy, County Administrator Chuck Huckelberry is proposing the creation of an Agricultural Science Advisory Committee, which will advise the county on agriculture issues and monitor the Monsanto facility.
The company plans to break ground on its facility by the end of the year.
Read the full memorandum here.