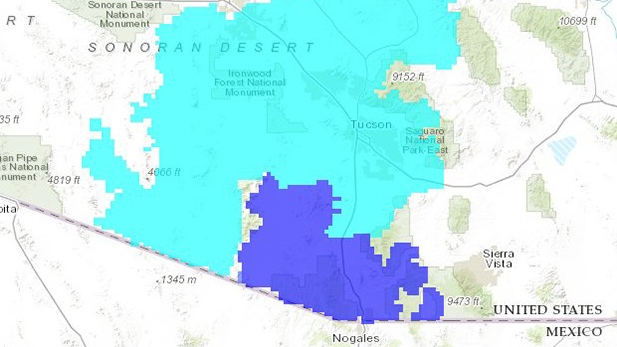 A map of the freeze warning issued by the National Weather Service. Below-freezing temperatures are also forecast for much of Cochise County.
Freezing temperatures are expected overnight Tuesday and Wednesday in much of Southern Arizona.
The National Weather Service issued a freeze warning in parts of Pima and Pinal counties, and a hard-freeze warning in Santa Cruz County overnight.
Officials are warning that it is important to take precautions when temperatures get down to freezing.
"People need to ensure that pipes open and exposed to the environment are protected," said Tucson Water's Fernando Molina. "These are typically going to be pipes in your garden that maybe you use to water your plants."
Exposed water fixtures can also include hose bibs, places where underground pipes enter a home or the water line on an evaporative cooler.
Water pipes are not the only household issue brought on by freezing temperatures. Pets and plants can also be affected.
The National Weather Service's freeze warning stated that sensitive plants should be covered and animals should be brought inside.
Recent cold temperatures come on the back of a storm system that moved through the area late Sunday night. Such weather can often come after low-pressure systems move through an area.
"Then on the back side of that there's colder air, and that will filter in," said NWS Meteorologist Gary Zell. "Sometimes it's the night of, like if you have a cold front or a low [pressure zone] moving in during the day, it could be that night. But typically it's a night or two after that."
The average date for Tucson's first freeze is Nov. 25.
Freezing temperatures are also expected throughout Cochise County, though no warning has been issued for the area. Zell said it is common practice for the NWS to not issue a warning in areas that have seen freezing temperatures in recent days.
The NWS issues hard freeze warnings, which means temperatures will drop below 28 degrees, any time such conditions are forecast.