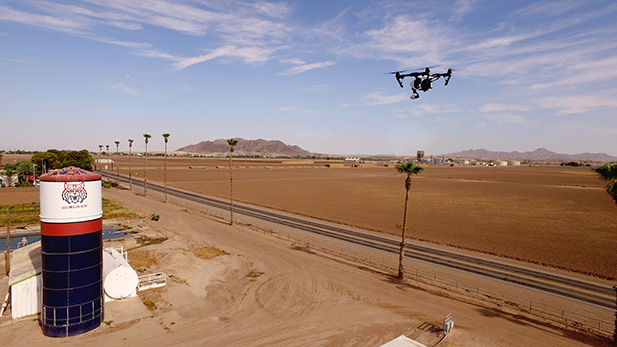 Drone over Yuma fields.

Yuma Center of Excellence for Desert Agriculture
By Maya Springhawk Robnett
International accounting firm PricewaterhouseCoopers recently projected a $32 billion market for "unmanned aerial vehicle" use in the agriculture industry. In Yuma County, farmers have already begun utilizing UAV, or "drone," technology in the fields.
Drones can help project yields and, with the use of sensors, can detect diseases in plants early on. Drones could also be used to pollinate date palms, a job that in the past has had to be done manually. Last year in Yuma County, they were used to determine how many plants in a field had survived a hard rainstorm.
The value of UAV technology is its ability to gather real-time information quickly and accurately, said Paul Brierley with the Yuma Center of Excellence for Desert Agriculture.
"Do you have dry spots that need more water? Do you have plants that are stressing because they don't have enough fertilizer or there's a disease happening? And being able to respond quickly and appropriately — it's really about productivity and maximizing the yield."
Drone use is part of a recent revolution geared toward precision in agriculture, and the Yuma Center of Excellence for Desert Agriculture plans to expand its drone program in the near future, Brierly said.