Zac Ziegler
A shopping mall is not a place one would expect to be busy in the middle of the week.
But that was not the case at Tucson Premium Outlets one day this week.
"As you can see looking around right now, it's a Tuesday afternoon and it's busy," said Elyse Munger, the mall's director of marketing and business development. "Everyone has shopping bags and looks happy, as happy as you can be the week before Christmas trying to get shopping done last minute."
Shoppers were milling about, and many spoke to each other in Spanish, which is telling of one of the mall's main customer bases.
"Looking at license plates, we do see a lot of our great Mexican tourists. It's been wonderful. We're a big tourism driven center," Munger said.
Shoppers often spend the last week of the year in a sprint to the finish line for Christmas. That has retailers busy, be they national chains or local shops.
Zia Records has extended hours for the holidays at both of its locations in central Tucson, opening as early as 8 a.m. and staying open until midnight.
The shop is not busy yet on a rainy morning, so the staff is stocking shelves.
"It's little quieter in the mornings," said store manager Billy Englert. "Music buyers, you know, they're not the earliest risers."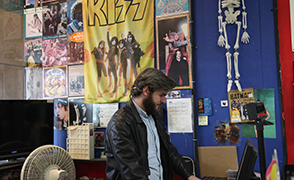 Billy Englert, manager of Zia's Speedway location

Zac Ziegler
Many have blamed online music and movie distribution for reducing the number of brick-and-mortar stores like Zia, but Englert thinks many shoppers stay loyal to his store because of the experience of shopping there.
"You can't deny how convenient Internet shopping is, but there's something about coming into the record store, digging through it, looking through it, getting lost in there that I just don't think you get online," he said.
Zia has held off the internet sales trend, but another Tucson retailer has a different tactic. It has supplemented its in store sales with internet offerings.
"We started selling books online via Amazon about 10 years ago. We found that it's a good way to take books that maybe have a very high demand nationwide that aren't necessarily is in demand in Tucson or Phoenix or Flagstaff, and put those books in the hands of customers," Bookman's Entertainment Exchange President Sean Feeney said.
Online shopping starts strong during the holiday season for Bookman's.
"People who are going to buy their books online have already made their purchases and they're wrapping their presents and getting ready to give him at that point," he said.
As Internet sales ebb, in-store purchases pick up.
"The real meat and potatoes of the season happened in the last couple weeks, and we have definitely seen a pickup in those last few days," Feeney said.
In store sales continue at Bookman's into the earliest parts of the new year.
"People get great things for the holidays, maybe a new video game system and then they think, 'Well, I'll trade my old video game system in at Bookman's and maybe get some new games for my new system that way,'" he said.
The majority of Bookman's inventory is used, so the holiday shopping season also gives the company a chance to stock its shelves.
Customers coming in to redeem gift certificates also extend the busy season beyond Christmas Eve for many retailers.
Zia's Englert said gift certificates carry a notion in an era where brick-and-mortar stores are focused on customer experience.
"Here you go, I'm getting you the gift of being able to go in there and not worry about the money part of it," he said.
And that experience offers something to the shoppers with which online shopping cannot compete.
"You just can't deny the strength of a good local business."
That experience keeps traditional shopping alive. How that goes for Tucson's merchants this holiday season will be seen when they shut the doors and count the receipts in the next few days.