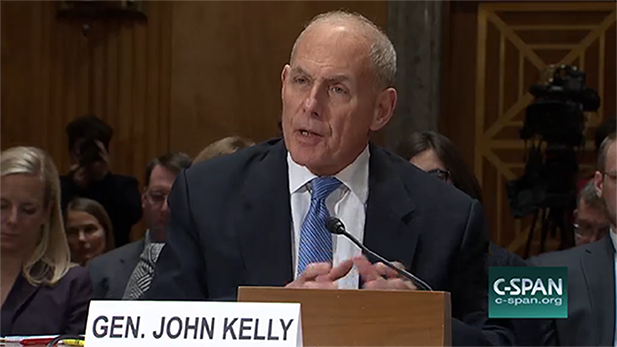 Retired Marine Corps General John Kelly, the Homeland Security Secretary nominee during his more than two-hour-long confirmation hearing. (PHOTO: Via C-Span)
The president-elect's proposal to build a wall between Mexico and the U.S. was prominent as the U.S. Senate began confirmation hearings for Donald Trump's Cabinet nominees.
Arizona Sen. John McCain pressed Trump's Homeland Security nominee, retired Marine Corps General John Kelly, about border security. McCain asked the general if a wall is practical or even necessary.

"A physical barrier in and of itself will not do the job. It has to be, really, a layered defense," which Kelly said includes putting more time and money into stopping the drug cartels.

"If you were to build a wall from the Pacific to the Gulf of Mexico, you'd still have to back that wall up with patrolling by human beings, by sensors, by observation devices."
Kelly led the U.S. Southern Allied Command responsible for American military operations in Central America, South America and the Caribbean.