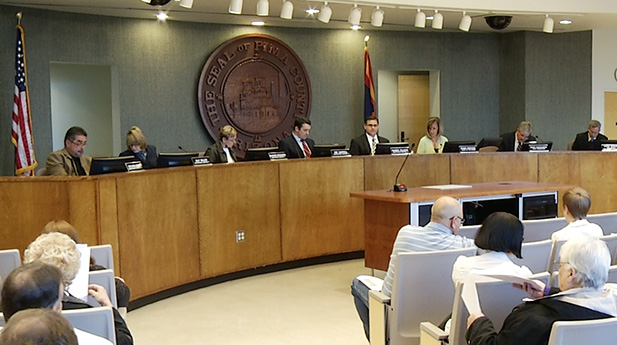 Pima County Board of Supervisors at a meeting in early April 2015.
Pima County will hold the second of five public meetings Friday about the greenhouse facility the agricultural giant Monsanto is planning to build in Marana.
After an overwhelmingly negative response from the community at a Pima County Board of Supervisors meeting in November, the board pushed back a vote on whether to endorse Monsanto's proposal.
The supervisors decided the community needed more opportunities to ask questions and give the company a chance to respond to concerns.
The first of those meetings took place earlier this week in Oro Valley, with the vast majority of attendees voicing opposition.
Tomorrow's meeting is at the Green Valley Recreation center at 11 a.m. Representatives from the county and Monsanto will be there.
Monsanto bought a 155-acre plot of land in Marana last year. It plans to build a seven-acre greenhouse where it will develop and grow corn seeds.
Pima County is being asked to support the company's application to the federal government to designate the site as a foreign trade zone, which comes with property-tax breaks.
Three more meetings will take place next week.
Public meeting schedule:
Jan. 13, 2017, 11 a.m. Green Valley Recreation Las Campanas Social Center, 565 W. Belltower Drive
Jan. 17, 2017, 5 p.m. Ellie Towne Community Center, 1660 W. Ruthrauff Road
Jan. 18, 2017, 6 p.m. Pima County Housing Center, 801 W. Congress Street
Jan. 19, 2017, 6 p.m. Quincie Douglas Center, 1575 E. 36th Street
To learn more about the proposal, visit the county's information site.