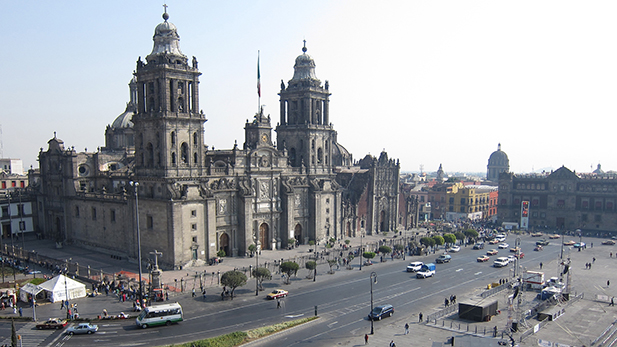 The cathedral in the Zócalo, or central plaza, of Mexico City.

Jeff Kramer via Wikimedia Commons
Gov. Doug Ducey announced on Tuesday that he would make a two-day trip to Mexico at the end of this week.
The trip to Mexico City comes just days before President-elect Donald Trump is sworn into office. Mexico is Arizona's largest trading partner, and Ducey has said he wants to ensure that trade relationship remains strong.
"I think we are going to find plenty of opportunities for places of common ground to focus on policy. There's been a lot of discussion about free trade, which I believe in. But if we want to talk about free and fair trade, I'm open minded in understanding what that means and how that can help Arizonans find work," said Ducey.
Trump has said he wants to renegotiate trade agreements like NAFTA.

Mexican officials, including the new foreign relations minister, have said they are eager to start those negotiations as soon as possible.
The Phoenix Suns and the Dallas Mavericks from the NBA will play a game Thursday night in Mexico City.
Ducey visited the Mariposa Port of Entry in Nogales last month with U.S. Ambassador to Mexico Roberta Jacobson. They toured the port facility and praised a joint U.S-Mexico pilot project that allows customs inspectors from both countries to jointly inspect trucks coming into Arizona.
That program has drastically reduced wait times at the border and may be expanded across the entire U.S-Mexico border.