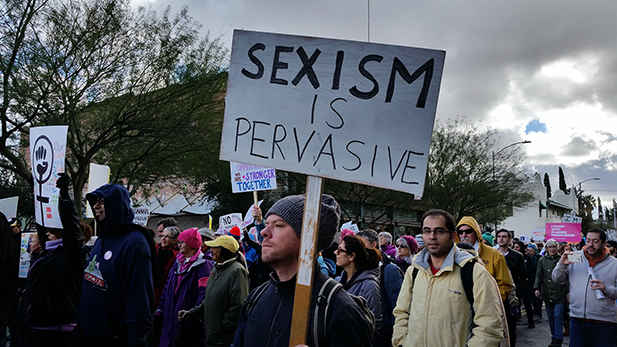 Tucson's demonstrators echoed the fears and hopes of the estimated 3 million people who held more than 600 Women's Marches around the world.

Laura Markowitz
An estimated 15,000 people showed up for the Women's March in Tucson, which took place downtown the day after President Trump's inauguration. The day was cold and windy.

"We have to defend our rights," says Elvis Ako, a South-African born Tucsonan who works at the UA Cancer Center. He's here with colleagues. "I was thinking, 'Man, I don't think I'm going to go tomorrow because it's going to be cold. Sixty percent chance of rain.'" But as he left work, something changed his mind. "There was this lone protester and he had a sign out there in the street and some people were flipping him off. But I thought to myself, 'This guy -- he's making his voice heard!"
I'm really, really looking for something to feel hope. – Eve Rifkin
"This is what we do for each other," says Tucsonan Karen Wyndham. "We make each other braver." She appreciates Ako's sign, which reads: "In Russia we distrust!" He, in turn, admires her signs: "We the People are greater than fear. We the People protect each other. We the People defend dignity."

It's a demonstration, so many of the marchers carry signs. The messages express concern over President Trump's proposed agenda on immigration, the environment, health care, women's reproductive rights and more.
"I have nothing but concerns," says Eve Rifkin, an educator and mother, "and I'm really, really looking for something to feel hope. And it's not going to come from him. It's here, at the march." She smiles as someone from the stage starts to sing "America the Beautiful."
Zack won't give his last name, but he says he's a U.S. history teacher. His sign reads: "It's better to show up than to give up." He adds, "That's democracy at work."
After the march ends, everyone takes their signs and goes home. Now what? How does a march turn into a movement?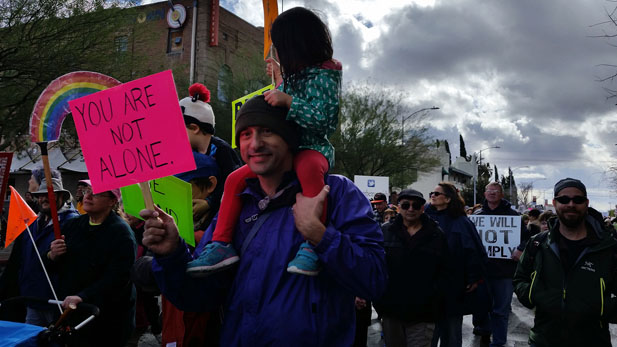 Although the event was called the Women's March, many men and children participated and brought signs voicing their concerns about the new administration's proposed policies.

Laura Markowitz
Organizers who identify as progressive, liberal and Democrat have an unexpected role model these days.
"What would the Tea Party do?" Kristen Randall says that's her new tag line. But she identifies as a progressive. "Whether or not you agree with [the Tea Party's] politics, it doesn't matter. Their strategy was great and it works," she says.
What would the Tea Party do? – Kristen Randall, Indivisible Southern Arizona
Indivisible is a national movement that was started by Congressional staffers who witnessed firsthand the effectiveness of the Tea Party's strategy during the Obama years. The Indivisible Guide basically copies that strategy.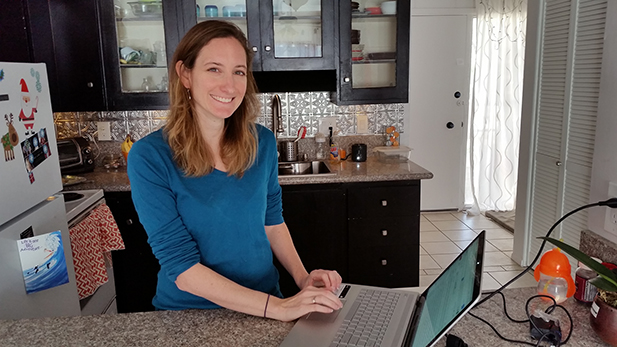 Kristen Randall is the organizer of Indivisible Southern Arizona, a grassroots activist group that uses the Tea Party Movement's strategy of showing up and saying no.

Laura Markowitz
"Indivisible is focused on resisting the Trump agenda in a local and defensive way," explains Randall. "You want to pass this? I'm going to say no to that." Indivisible doesn't offer alternative policies. It just tries to block what's being proposed. Since December, 4,300 Indivisible groups have sprouted up across the country.
You want to pass this? I'm going to say no to that.
Randall has a busy job as a hydrologist and she's the mother of two, so spare time is in short supply. But she made time to launch Indivisible Southern Arizona. "I think the reason why I have time to do this is that if I didn't, I would be crying," she says.
Randall's group has close to 1,000 members. Indivisible Southern Arizona's first action took place at Congresswoman Martha McSally's Tucson office. The demonstrators pressured her to hold a Town Hall Meeting. So far, it hasn't happened.
Energy and enthusiasm are high right now, but will the energy still be here six months from now, or four years from now?
"This is what the Tea Party did," Randall says: "they didn't show up two weeks after Obama was in office and then disappear. They were busy; they had jobs, too, and families. But they showed up. And they squeezed into their busy schedules what they were passionate about. Yeah. What would the Tea Party do?"
Will the energy still be here six months from now, or four years from now?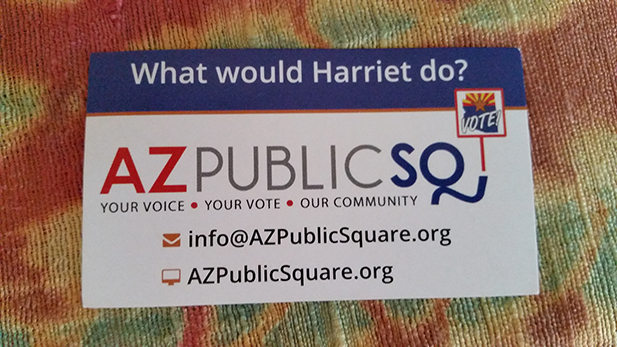 The nonpartisan website AZ Public Square launched in November to promote citizen engagement in Arizona politics.

Laura Markowitz
Tamara Rala Kreiswirth and Ruth Bunny Davis co-founded a new organization to help Arizonans engage with local politics. It's www.azpublicsquare.org. Last year, Kreiswirth started to feel frustrated hearing people say that their vote didn't matter. They didn't make a connection between bills that were being voted on in the Arizona state legislature and issues going on in their own neighborhoods. So visitors to the web site can read about the bills before they are voted on. Davis, who is a retired lawyer, translates the legal jargon into plain language.
"This is the bill they're trying to pass in the legislature," says Kreiswirth, "these are the people who are going to be pushing this bill forward. If you do like it or do not like it -- either way, this is who you have to contact."
"And they can find their legislator. We provide links," adds Davis.
Would you like to become a school board member? Here's how you would do that. – Tamar Rala Kreiswirth, Arizona Public Square
The site is organized by key issue areas in Arizona: immigration, Native peoples, the environment, education, health and voting rights. The site also includes basic civics information.
"This is what a school board member does. Would you like to become a school board member? Here's how you would do that. All that information is on the site," says Kreiswirth.
Bunny Davis says Arizona Public Square is nonpartisan. "This is about being an American, being an Arizonan, and being a citizen. And it doesn't matter what your partisan politics are."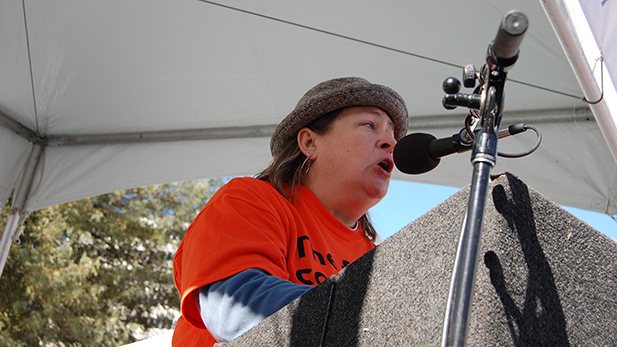 Kelly Fryer, CEO of the YWCA of Southern Arizona, addressed the crowd from the stage, exhorting participants to see the march as the beginning of a process to fix what's broken in Arizona.

courtesy of Patrician Jackson, the OpEd Project
"I am so thrilled about all of the different kinds of movements that are springing up, like Arizona Public Square," says Kelly Fryer, CEO of the YWCA of Southern Arizona. "There's a whole ecosystem that needs to exist in order for social change to happen. We need Women's Marches. We need Indivisible Tucson showing up and helping galvanize people on the street, and also folks who are working at the electoral process and institutional level. Everyone has a role to play."
Friends, that is just the beginning! – Kelly Fryer, YWCA of Southern Arizona
The YWCA is offering its institutional support to grassroots organizers through their Stand Together Arizona Training and Advocacy Center.
" STAT for short," says Fryer, "as in 'This is work that can't wait.' It's one of the things we've been hearing from these grassroots activists. 'We need to know what else is happening in the state. We need to know what everyone's doing and we need to know what's next.' In February we'll be pulling together the activists who planned the 11 Women's Marches across the state" to come up with a common agenda.
"You know, with 40,000 people who marched the 21st of January in Women's Marches across the state of Arizona we have an opportunity now to galvanize that energy to make meaningful change," says Fryer. But it will take work. That's what she told the crowd at the Women's March:
"The last thing any of us should feel when we go home today is better! We can't feel good; we can't feel comfortable. We can't sit on our couches and do nothing because we thought, 'Well, we marched today.' Friends, that is just the beginning!"
This story originally appeared on Arizona Spotlight on February 3, 2017