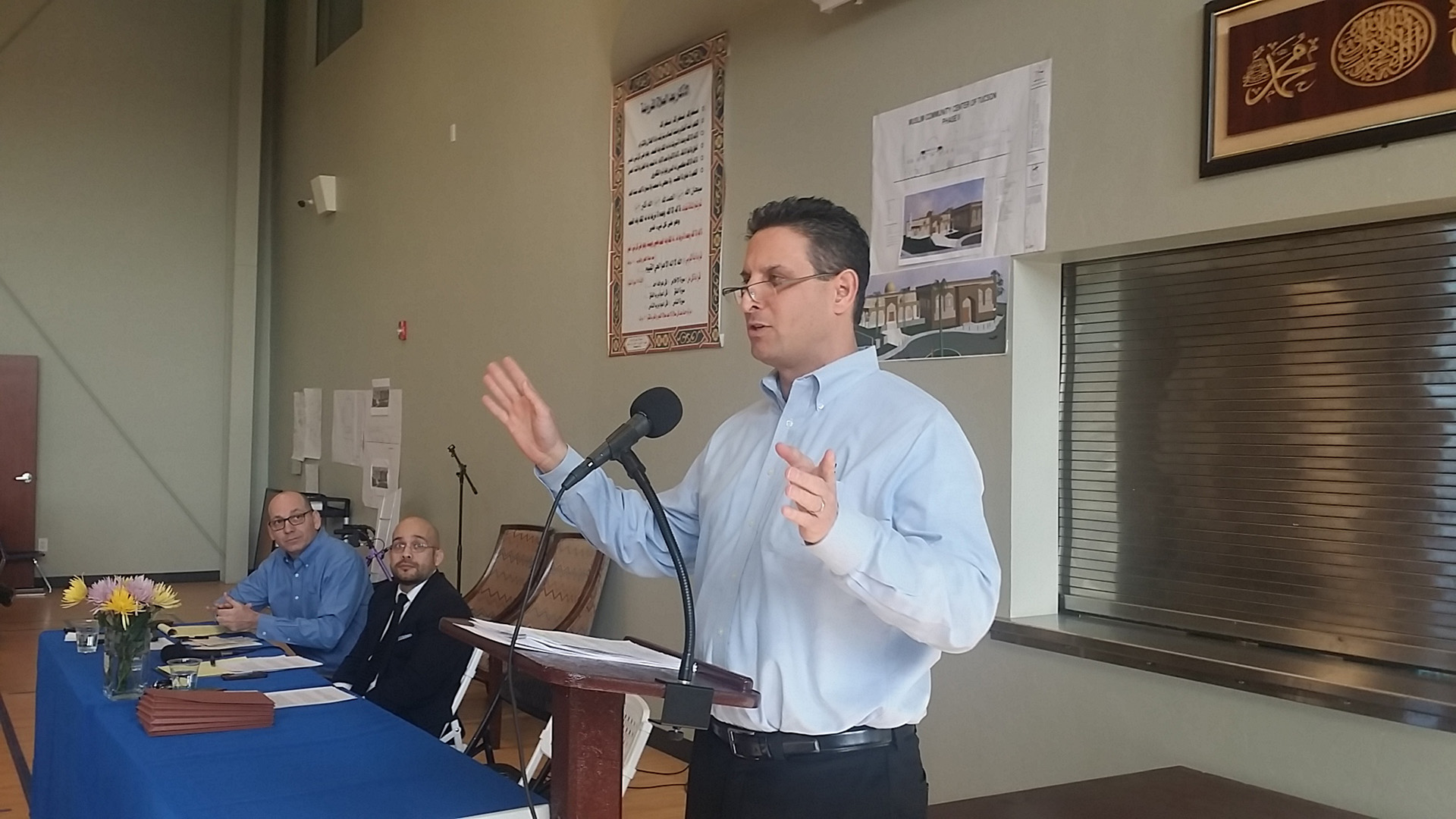 Speakers at a meeting about legal rights of refugees, immigrants and citizens of diverse backgrounds in Tucson, January 2017.
Nancy Montoya, AZPM
Few communities are untouched by President Donald Trump's executive orders on refugees and immigration. One, perhaps unexpected, consequence is how the orders are bringing people together to form alliances in Tucson.
An Islamic prayer recited inside the gymnasium of a community center in a Northwest Tucson neighborhood was a new sound for some living nearby. It was meant to bless a meeting to come.
More than 200 people sat in chairs, and yet more remained standing, inside the mosque still being constructed at the Tucson Muslim Community Center.
Fayez Swailem had come to hear from Tucson immigration lawyers.
"We are here because we need to know our rights. We are American citizens and we want to know our rights and also the rights of other people who are legally coming to the United States though visas, green cards or something," Swailem said. "So what is the action? What is the law?"
That question prompted this meeting, organized by the Muslim Community Center.
Though the meeting took place at a mosque, Muslims were not the only religious group represented. Jews, Christians and others packed the newly built gymnasium. Among them were immigrants from Latin American countries.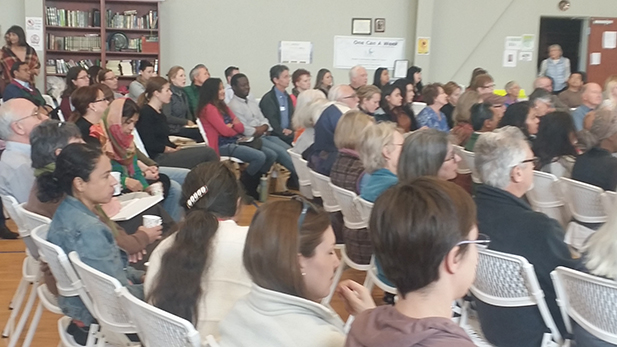 People attend a meeting about legal rights of refugees, immigrants and citizens of diverse backgrounds in Tucson, January 2017.

Nancy Montoya, AZPM
There were also family members of those still living in the seven countries from which most immigrants were banned under President Donald Trump's executive order.
In the crowd was Tarik Sultan, who has worked on immigration issues for almost three decades.
"I think a lot of people are scared. They just want to know what is going on. Whenever people don't know what's going on, it makes them particularly scared. So just getting the information out there whether is it good or bad - at least they understand where they sit or where their friends and family members sit."
Sultan is a former director for the National Board of Governors for the American Immigration Lawyers Association and has worked closely with the U.S. departments of Labor and Justice. Despite his experience, Sultan said, he and other immigration lawyers are playing catch-up on a daily basis.
There are alliances being formed in Tucson and around the world, he said, and there are similarities across diverse communities.
"The most obvious (similarity) is that they all love this country. I've been doing this for 24 years, and I think just about every person I have ever met, or helped to come and stay in this country, has made it a better country, a stronger country," Sultan said.
Also at the meeting was Judith McDaniel, a professor who teaches law and social change at the University of Arizona School of Government. She has seen a reaction among her students. "They are mostly outraged by many of the executive orders that have come down. Many of my students are immigrants and are Latinas, and are under DACA – the 'Dreamers.' And they are very upset by all that is happening."
Some people at the meeting said they supported the president's ban, mostly out of fear. Those asked did not want their voices recorded for this story.
"The country is very torn. I understand folks scared of the outsider, but I think that is sort of the human condition," Sultan said. "This country is sort of unusual in that we have overcome that over our history in certain ways. But it is always going to be a battle for us in certain circumstances."
Sultan said the hope is that people can keep talking about their fears and about steps to take to overcome them.
This story is Part 1 of a two-part series covering the impacts of the executive orders in Tucson. In Part 2, Arizona Public Media will speak with a family from Somalia, some of whom have made it to the U.S., and some who are waiting in a Kenyan refugee camp.