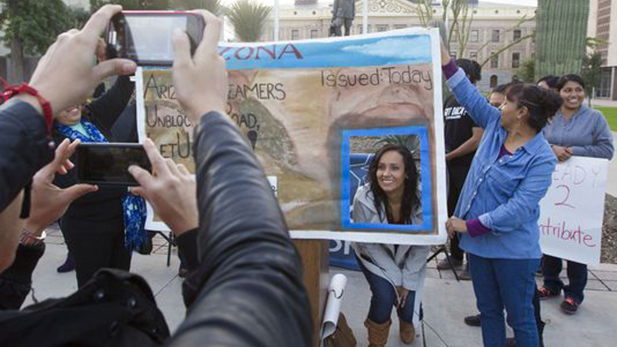 A woman poses in a drivers license at a demonstration in support of "dreamers."

AZPM Staff
President Donald Trump has offered no clues as to whether "Dreamers" are in line for deportation or sanctuary.
Dreamers, those who were brought into the U.S. illegally as children, are safe for now. They were shielded from deportation by the Obama administration because they were granted legal status to work and go to school.
If that changes, there are more than 4,000 young people in Arizona whose lives may be forever impacted with one stroke of Trump's pen.
University of Arizona student Yvette Nunez - who was once a Dreamer but is now a U.S. citizen – said she and her friends live in a state of anxiety and uncertainty
"I have friends who are Dreamers. Seeing them struggle just to get an education, just to try to help their families, it's just really hard to see," Nunez said, in tears. "They have to struggle just to have a better life. They are not bad people. They are great people."
On that, the president agreed. He said while some DACA students – Deferred Action for Childhood Arrival, whose acronym is used to describe the status of Dreamers - have joined gangs and committed crimes, most are the type of immigrants the U.S. wants.

"DACA is a very, very difficult subject for me – you have some absolutely incredible kids. It's a very, very tough subject. We are going to deal with DACA with heart," Trump told reporters at a news conference on Thursday.
But until Trump officially extends DACA, Dreamer students say they have no choice but to live in the shadows and hope not to be deported.