Cochise County has found a new top unelected official in Ed Gilligan.
The new county administrator served as the county's deputy administrator for the past two years. He has also worked in the county's probation and juvenile court systems.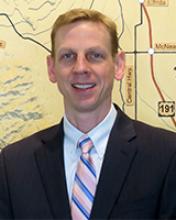 VIEW LARGER Cochise County Administrator Ed Gilligan

Cochise County
Gilligan said his first goal is to ensure his transition goes as smoothly as possible, and that includes building a solid working relationship with the Cochise County Board of Supervisors.
The county's three superintendents were all elected to four-year terms in November.
"We've got to iron out a strategy for those four years," he said. "It's budget season, so we've got to fully establish our budget for the next fiscal year. And we're also in the process of recruiting some key positions in the county."
Gilligan said the county must address water and economic issues and plan for a population that is skewing older as time passes.
He notes a big positive in his job is that projections show an increase in the area's economy and growth in tax revenues for the coming fiscal year.