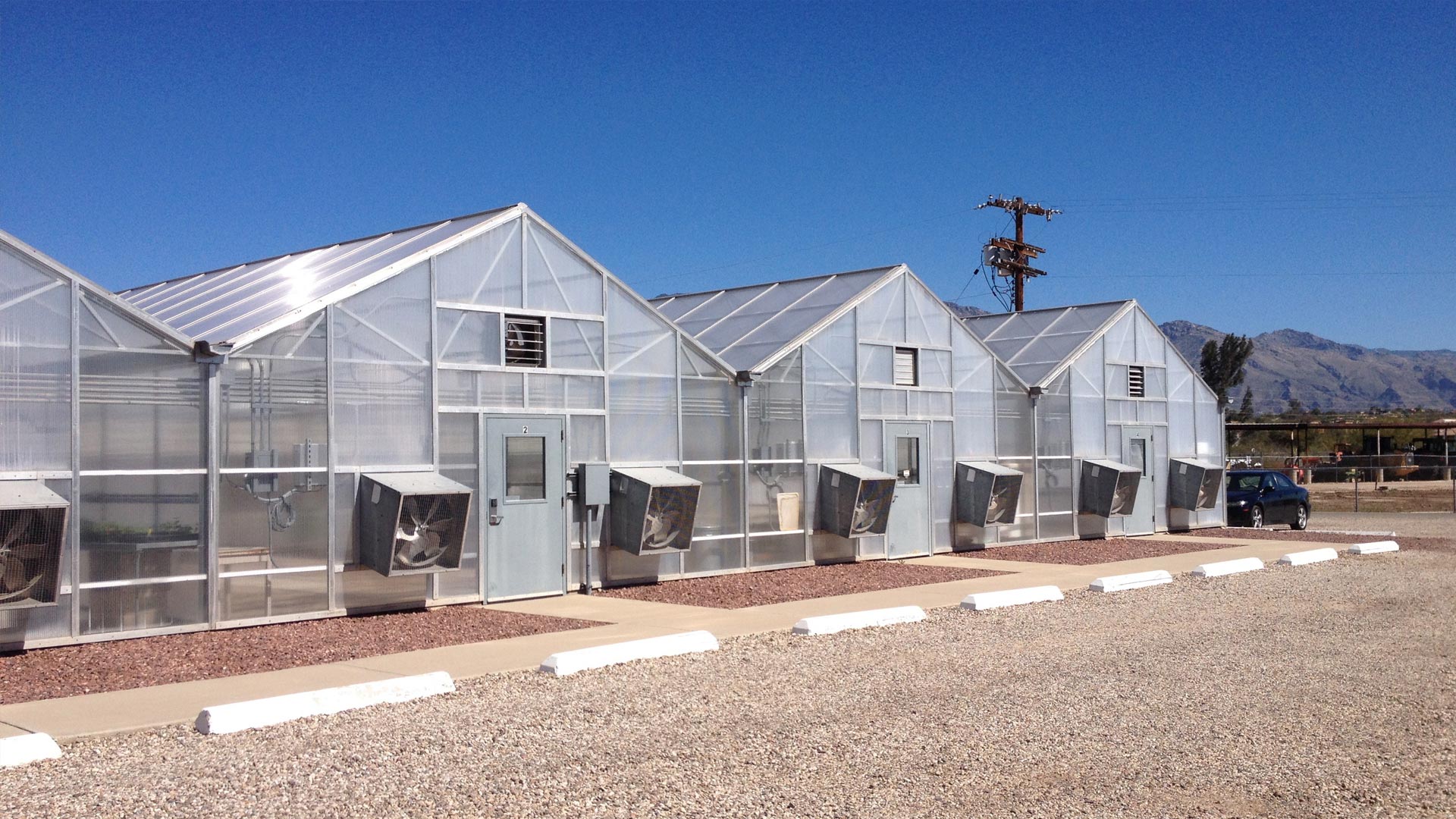 Greenhouses at the University of Arizona's Controlled Environment Agriculture Center. March 7, 2017
Sara Hammond/AZPM
The final event of an upcoming conference will see attendees sit down to a gourmet meal made entirely from food produced in controlled environments.
The meal caps off a greenhouse agricultural conference in Tucson, and organizers want diners to see that what can be grown in greenhouses goes beyond hothouse tomatoes.
Controlled-environment agriculture is a reference to plants and animals grown inside structures such as greenhouses or tanks where the temperature, water, air, humidity and light is controlled to produce consistent, safe crops, year-round.
Controlled environments provide foods that "have properties that the market is demanding – pesticide-free, locally grown, high nutritional value," said Gene Giacomelli, director of the University of Arizona's controlled-environment agriculture center, a teaching facility a few miles from the main campus.
While tomatoes have long been the main crop grown in greenhouses, Giacomelli said leafy greens have become popular greenhouse crops. That's because they grow quickly, farmers can produce many crops per year and the shelf life is short, requiring a steady supply of the greens. And greenhouses can be established in urban areas, close to markets.
Trays of lettuce and other greens floating in water. March 7, 2017

Sara Hammond/AZPM
The agriculture center emphasizes hydroponics, delivering water to the plants in a variety of ways, from drip irrigation to rafts of edible greens floating in tanks of nutrient water.
Myles Lewis studied at the controlled-environment center and now grows greens and herbs hydroponically, just north of the Rillito River. He will demonstrate his techniques for the conference in one of the center's greenhouses and will provide the greens for the meal.
"We use approximately anywhere from 1-10 percent of the water traditionally used, compared to field crops such as lettuce," Lewis said.
The menu for the April 6 dinner, created by chef Janos Wilder, includes a mix of leafy greens, herbs, edible flowers, tomatoes, radishes and scallions, mushroom baklava with fig jam, all from the UA's agriculture center. There also will be flank steak from the university's meat lab across the street, fish from an aquaponics operation in Scottsdale headed by a UA graduate, and melons from the UA's Yuma Agriculture Center.