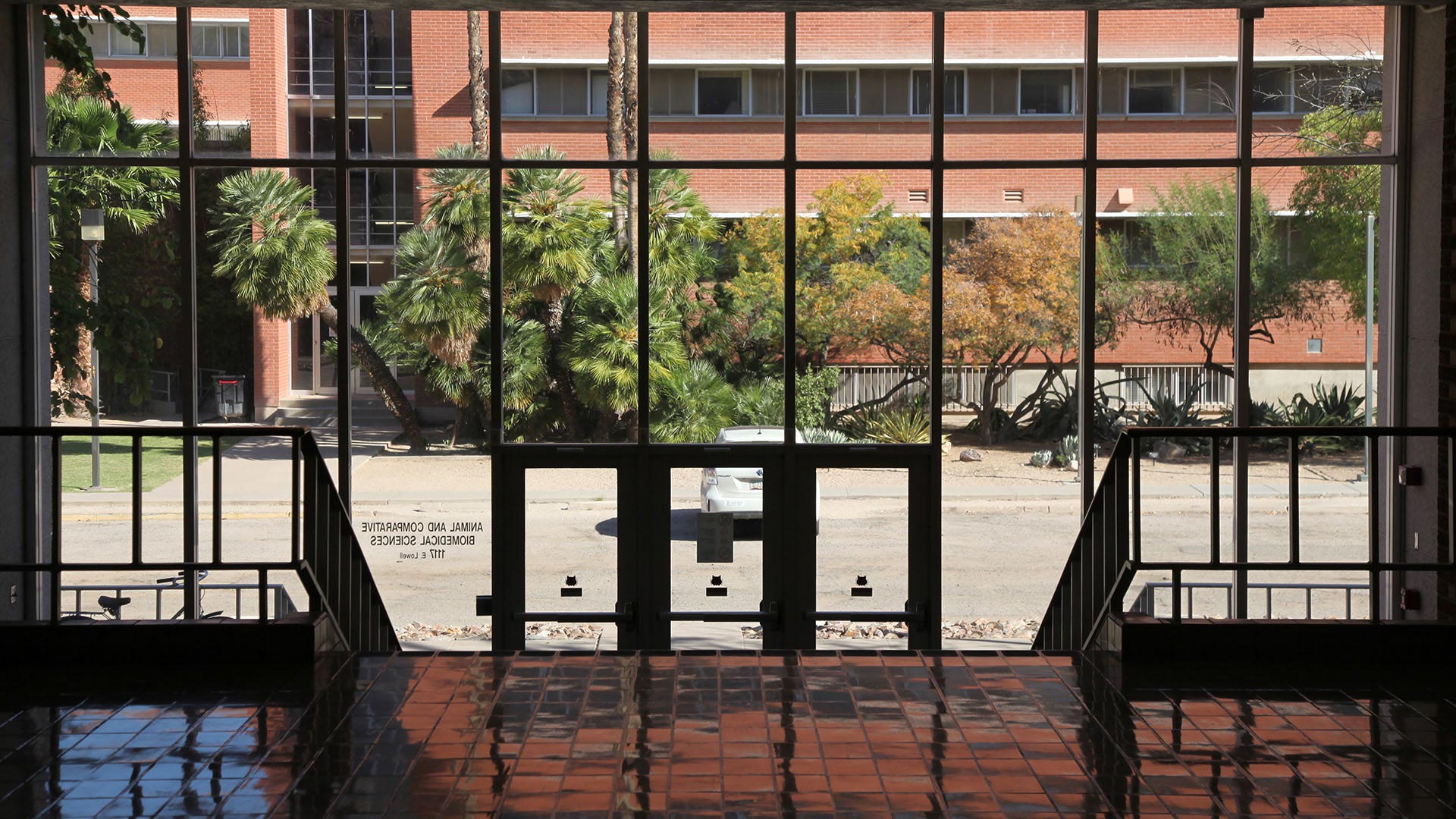 Looking out from the inside of Building 90, or the veterinary science and microbiology building.
Nick O'Gara, AZPM
Repair work needed on University of Arizona buildings has been put off for years because state funding has dried up.
Occupants of one of those buildings have started to complain.
University officials said they must pick and choose which projects to tackle from a list of infrastructure needs that are piling up from years of deferred maintenance.
Current needs total $350 million and could rise to $1 billion within a decade, UA Chief Financial Officer Gregg Goldman said.
People working in the building at the top of that list want the process to move more swiftly.
Scientists, researchers, students and staff work and study in the School of Animal and Comparative Biomedical Sciences, which they refer to as the veterinary science and microbiology building.
The structure - at 1117 E. Lowell St., north of East 6th Street - is called Building 90 in the architectural and air quality assessments that followed complaints from occupants.
Several people working in Building 90 said they are convinced it has caused or exacerbated respiratory ailments like asthma and allergies. They cited poor air quality, mold, insect parts and rodent feces as issues in the building.
"I started to have horrible vertigo - leaning against a wall to walk - and so I went to an [ear, nose and throat specialist] and I was told to start using Claritin every day," said Debbie Schaefer, a laboratory manager who has worked in the building for decades. "Now Claritin doesn't work, and I had to go to Zyrtec."
In her first two weeks in the building in 2010, Jennifer Roxas suffered asthma attacks, something she had not had for years, the research specialist and graduate student said. Her allergies started to flare up again last year, despite a desensitization treatment. She said she did not link the building conditions and her symptoms until last August.
"I would just cough and cough the whole time, and it's hard to conduct an experiment while you're convulsing in coughs," Roxas said of one room where she worked.
She said an allergist suggested Building 90 could be the cause, and an occupational health doctor recommended she use a respirator whenever she was there. That left her face bruised, so a full helmet was suggested, which would make her look "like an astronaut," so she did not take up the idea, she said.
The building does not pose a health risk to occupants, one university official said, and an outside expert said there wasn't evidence that the air quality was the cause of reported symptoms.
"I would just cough and cough the whole time, and it's hard to conduct an experiment while you're convulsing in coughs" - Jennifer Roxas, research specialist in Building 90.
Nevertheless, Roxas said the situation means she has to work harder to stay productive as a scientist. She splits her time between a lab in Building 90 and another a mile away, sometimes using a shopping cart to convey materials between the two. Not being on site negatively affects her work, she said.
"We need each other, we need to be in contact with our boss, we need to be in contact with our fellow lab mates," she said. "It's not the same as when you have a one-on-one correspondence."
Roxas said the university has made efforts to be open and responsive, providing standalone HEPA filters and increasing the frequency of filter changes for the vents in the building, among other things. But she said she is still obliged to spend time in a structure she is convinced is the cause of her respiratory ailments.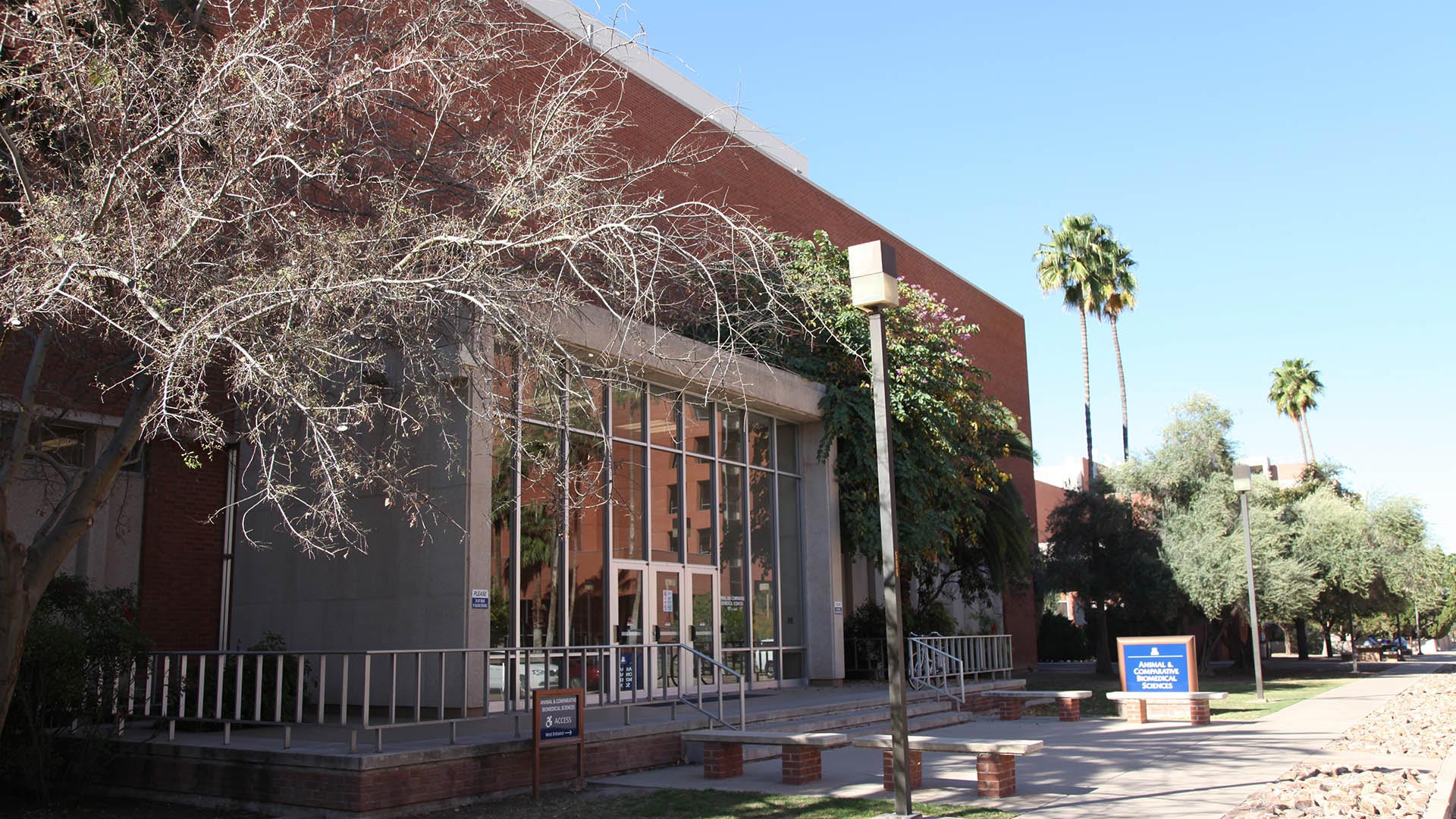 Building 90 has been referred to as a top priority for "renewal" by officials at the University of Arizona.
Nick O'Gara, AZPM
Building 90 needs work, university officials said, but it is not a risk to the health and safety of its occupants.
"Is the building unsafe to be in? No, it's not. We've had third parties come in, and if it was I'd be the first person to say it," said Chris Kopach, head of facilities management at UA.
One of those third parties is Steve Pike, a doctor at Carondelet St. Joseph's Hospital who was brought in to analyze assessments done of the building and speak to the occupants.
"What we have, basically, is a building that is structurally sound but in a state of disrepair," he said, based on the reports he was given to analyze and discussions with building occupants.
"Unless there is some common type of experience of the occupants of the building that has been made apparent and has been investigated, at this time there is no evidence that I have seen that there is any type of building-related causal illness at that particular location."
Based on the reports, Pike didn't find issues with the air quality, but said it was actually "pretty good."
Despite assurances, at least 30 occupants of the building signed a petition calling for its immediate renovation or the construction of new facilities, citing 10 complaints, the first one being "air quality."
A long time coming
Officials at the university are working on solutions, they said, and Building 90 is one piece of a larger issue.
"If I look at our eight or nine most challenging buildings on campus, it does get the prize as the building where we are most focused on making investment," said Goldman, the UA's chief financial officer.
Goldman called deferred maintenance a "ticking time bomb" at an Arizona Board of Regents meeting last year.
The UA hired a private firm to conduct a full assessment of the building. The resulting report showed that the space needs almost $18 million in repairs. And while Building 90 may be the worst, it's by no means the only building on campus in dire need of work because of deferred maintenance.
If I look at our eight or nine most challenging buildings on campus, it does get the prize as the building where we are most focused on making investment" - UA CFO Gregg Goldman
Kopach, of the facilities management department said problems resulting from deferred maintenance have been a long time coming.
The challenge, Kopach said, comes when you have buildings that are aging.
"And we have over 2.5 million square feet from the 1950s and '60s," he said.
"We're not unique. This is a challenge throughout the entire country. There was a huge building growth at that point in time. And these buildings now have reached their useful life, in terms of infrastructure," he added, referring to mechanical, electrical and plumbing systems.
Money was being put into these buildings for many years, Goldman said.
"If we go back, the state years ago did invest into renewal. There was a complex formula."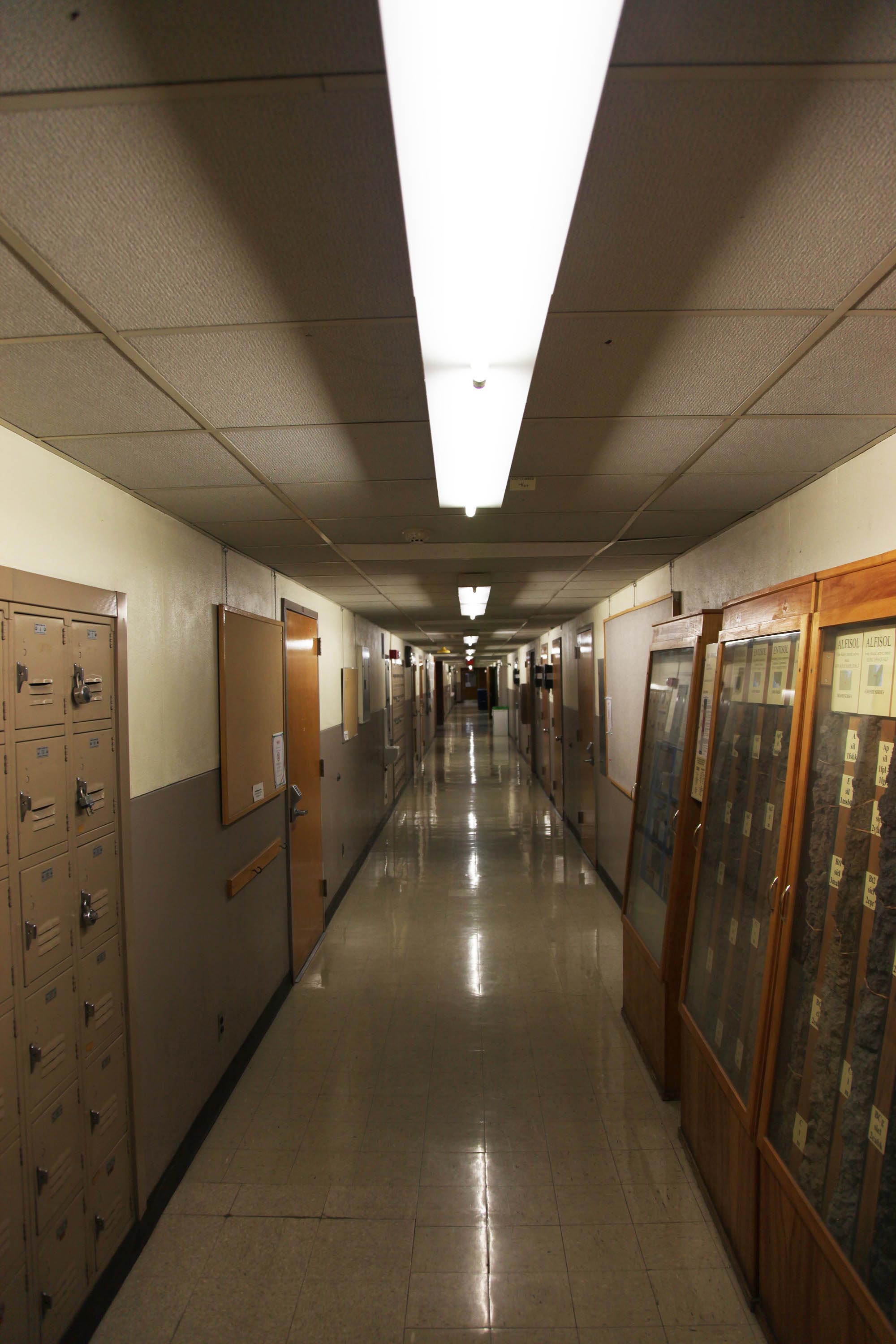 VIEW LARGER Some occupants of Building 90 have complained of respiratory ailments they believe are caused by conditions in the building.
Each year, the state's three universities would request money for building maintenance, or renewal, as Goldman calls it, and the state would allocate part or all of that requested money. In 1998-99, for example, the UA requested more than $16 million, and got all of it.
With the exception of 2006-07, when legislators gave the school almost $11 million, state funding for building renewal stopped in the 2000s.
"That has forced all of our campuses to deal with it in internal allocations – trade-offs, making hard decisions about what is most important and what we wait to do when resources become available," Goldman said.
Today, the CFO puts the university's total deferred maintenance needs at $350 million.
"It's compounding. If you don't invest one year it gets worse," Goldman said.
He estimates that deferred maintenance needs could reach $1 billion in the next decade if no action is taken.
"That would be worst-case scenario, but one that one could hypothesize could come about."
A display case on the lower level of the veterinary sciences and microbiology building is home to a taxidermied bison and coyote.
Nick O'Gara, AZPM
There are a few possible solutions to keep that hypothesis from playing out. One of them, the most promising, is included in Gov. Doug Ducey's budget proposal, and it involves sales tax.
"Arizona is one of five states in the country that universities pay sales tax," Goldman said.
Right now, the sales tax from any campus purchase is collected by the university and sent to the state's general fund. Ducey's plan would send it back the universities, which would match it to create a borrowing authority.
"For us it could be a $400 million investment into Tucson," Goldman said. "Think about the economic impact - the contractors, building, maintenance. I look to our community and what an infusion would do for our city as well as our campus."
He called the potential impact of the governor's plan "truly game changing."
Editor's note: The University of Arizona asked an architecture and engineering firm to assess the condition of Building 90. Arizona Public Media has requested a copy of the final report.