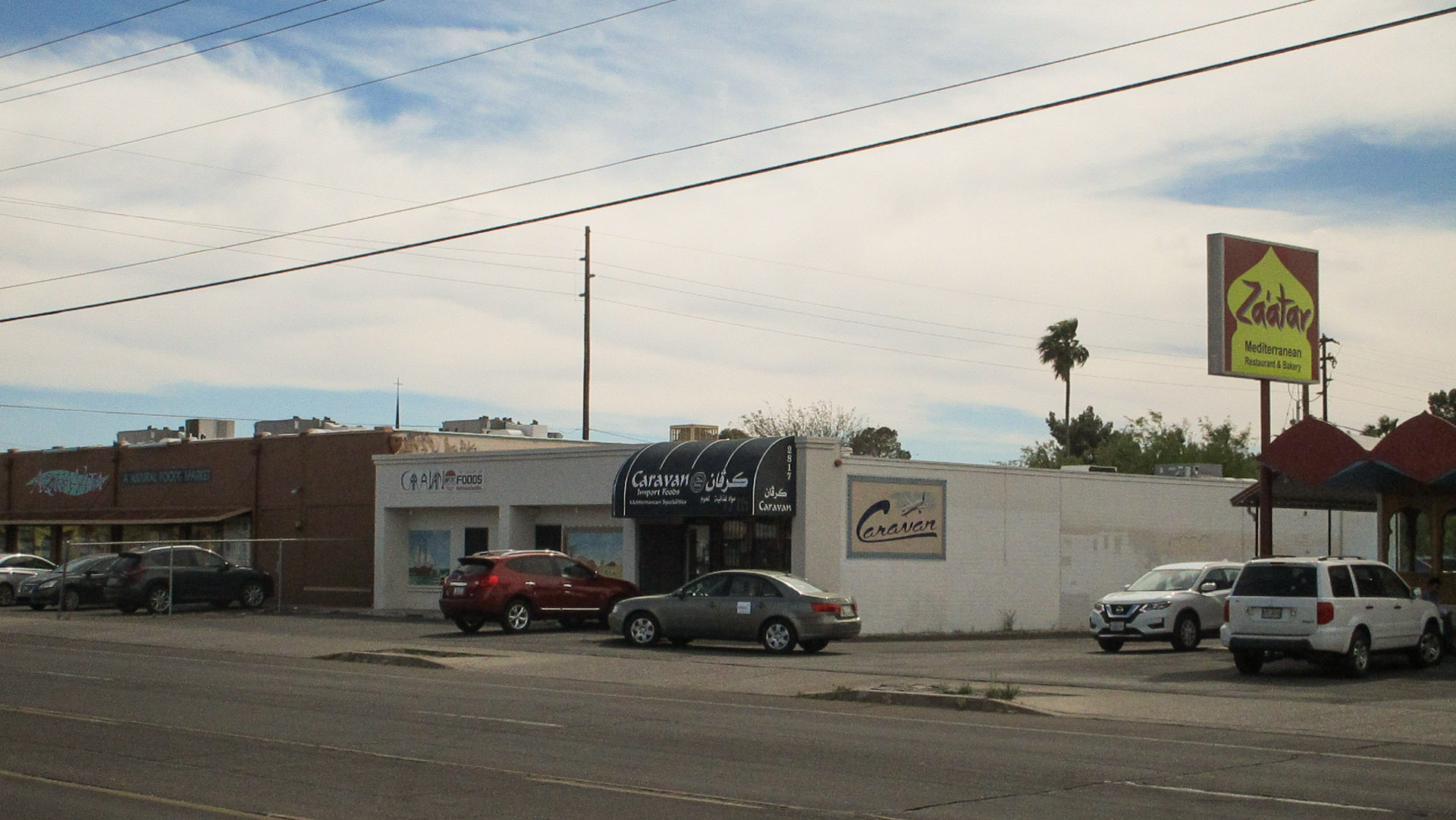 Aqua Vita Natural Foods Market, Caravan MIdeastern Foods, and Za'atar Mediterranean Restaurant and Bakery serve up goods and foods from around the world at the corner of Country Club Road and Glenn Street.
AZPM Staff
The shelves of Caravan Mideastern Foods are a riot of color and flavor.
Here are piles of bright red spices – sweet paprikas, fiery cayenne, hearty ground Aleppo pepper, Ethiopian berbere and many others. In the next room are brightly colored teas, juices, clothing and foods – including more than 20 different kinds of beans from all over the world. This kind of variety attracts a lot of attention.
In Caravan, you'll hear a variety of languages – English, various Arabic dialects, the silky North African language of Tamazight, and some Russian, French and Swahili. For owner Khalifa Solieman, communication is key.
"We serve many ethnicities: from Middle East, Europe, Asia, Russia, Far East and South America, too," he said. "They have their food, and they come for shopping, and it's really, you know, completing each other."
Caravan owner Khalifa Solieman, a Libyan native, often works behind the counter at his market, which celebrates its 30th year of operation this summer.

Bryn Bailer
Solieman is a Libyan native who earned his master's degree in architecture from the University of Arizona in the 1980s. Unable to return to his home country during the reign of dictator Moammar Gadhafi, and unable to find work here as an architect, he opened one of the first international-food markets in the Old Pueblo. That was three decades ago.
"Next July will be (the) 30th," he said with a smile. "Only here. This is the only place. One owner. Me and my wife."
But he is not alone. Caravan is one of a trio of specialty shops on the unassuming northwest corner of Country Club Road and Glenn Street – a midtown intersection you're more likely to speed through than remember.
Next door to Caravan you'll also find Aqua Vita Natural Foods Market, and Za'atar Mediterranean Restaurant and Bakery. They offer a dizzying array of international foods and goods not available elsewhere in Tucson.
All told, the shops can take you around the world in about 80 steps.
When Solieman opened his store in 1987, one of his earliest customers was now-retired educator Khalil Halawani, a native of Saudi Arabia. He and his wife, Aida, often travel from their home in Oro Valley to shop at the eclectic midtown market.
"He started with a really small store, and now he opened the three (storefronts) next door, so he's expanding," Halawani said, during an interview outside Caravan, after they had finished their shopping.
"He has a lot of varieties of different things that we need. As you know, we are Middle Eastern, and we need to eat our food and go back to our culture, and that's why we always come here."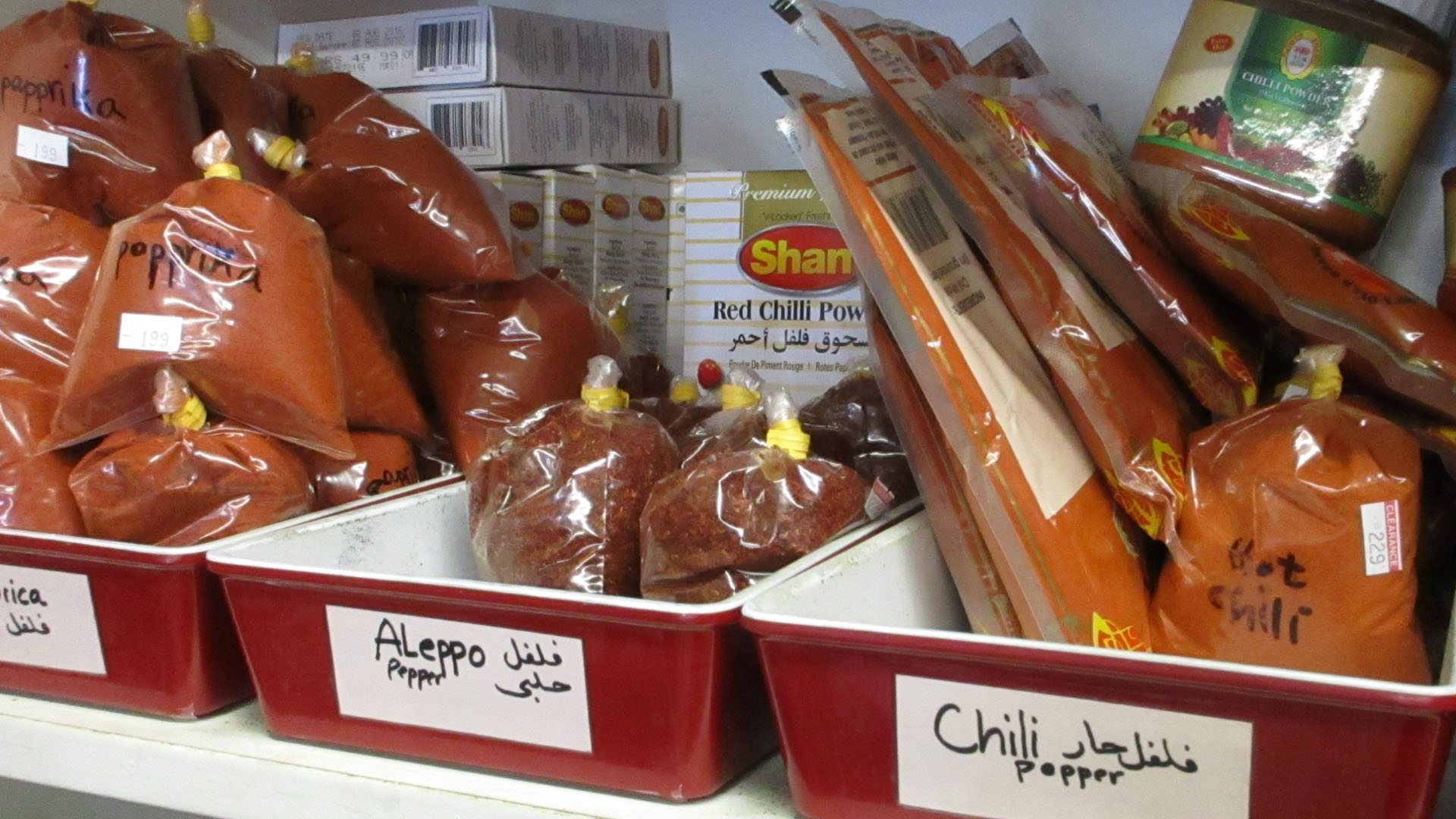 Bryn Bailer
His wife, Aida Halawani, had praise for the store and owner Solieman as well.
"He always carries excellent products," she said. "And for my husband, during Ramadan season, we come for the dates. Nowhere else you can find the quality dates he carries, and that's in order to break their fast."
Aida knows about the art of blending cultures. Her own heritage is Italian-American and Mexican, and she lived in Saudi Arabia for 10 years. She said that cultural differences are what sets the U.S. apart from other nations.
"We are different nationalities," she said. "We are a melting pot society. That's what makes us so unique, and that is what makes our country so wonderful."
Joy Brann, a public-health educator from Hawaii, had learned about Caravan during an online search, and sought it during her visit to Tucson.
"It was like being a child in a candy store," she said. "All these exotic foods and spices and different kinds of teas and different kinds of jams, like young walnut jam and rose petal preserves, and just really beautiful, delicious stuff."
Over the years, Solieman has employed many refugees or other newcomers. One was Kurdish immigrant Ari Baban who came from Northern Iraq in the late 1990s. Baban now owns Za'atar restaurant, which opened up a few feet away in a former 1960s-era El Taco. There is room for little more than a handful of tables, a grill and a special brick oven that Baban had installed.
"(Caravan) is kind of different than my operation," he said. "People from any region, they come to buy at the store. My clients are mostly American, and they want to try the food. … People (who shop at the market) cook at home. Americans, they don't cook at home."
But if they have cooking questions, Baban knows exactly where to refer them.
"So people say, 'How do you make that shawarma, what kind of spice?' I say, 'Go next door, they have it.'"
Za'atar's menu includes dishes found throughout the Middle East and Mediterranean. There are date-stuffed breads, lamb and chicken shawarmas, hummus and baba ghanoush, and honeyed baklavas.
One thing you won't find is a lot of frills.
"On Yelp, somebody put, 'They need to work on their décor.' And I would say, 'I'm not trying to be a Subway here, or a McDonald's, with all the stuff,'" Baban said, with a smile. "When you go to the Middle East, this is what you see. This is what's happening."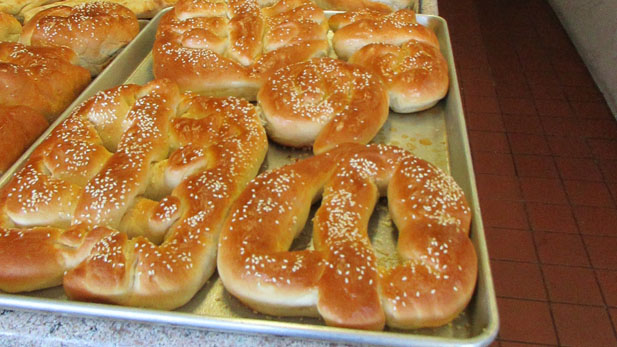 Za'atar bakes a variety of Mediterranean-styled bread, including date- and cheese-stuffed breads, on site.

Bryn Bailer
As traffic rushes by on Country Club, teachers Stacey Pierce and Jessica Jarrett sat outside on one of Za'atar's concrete picnic tables to eat dinner, and reflected on the collection of ethnic businesses there.
"I kind of enjoy that there's a mix of cultures," Jarrett said. "I think that's one of the things that makes Tucson so special is that we as a community embrace one another."
Pierce said she found Aqua Vita, on the southernmost end of the trio of stores, especially helpful.
"I think I had the flu, and I had gone there just to get some natural medication," she said. "They have a wealth of knowledge, and so (the clerk) led me to exactly what I needed. It was awesome. Much better than going to the pharmacist."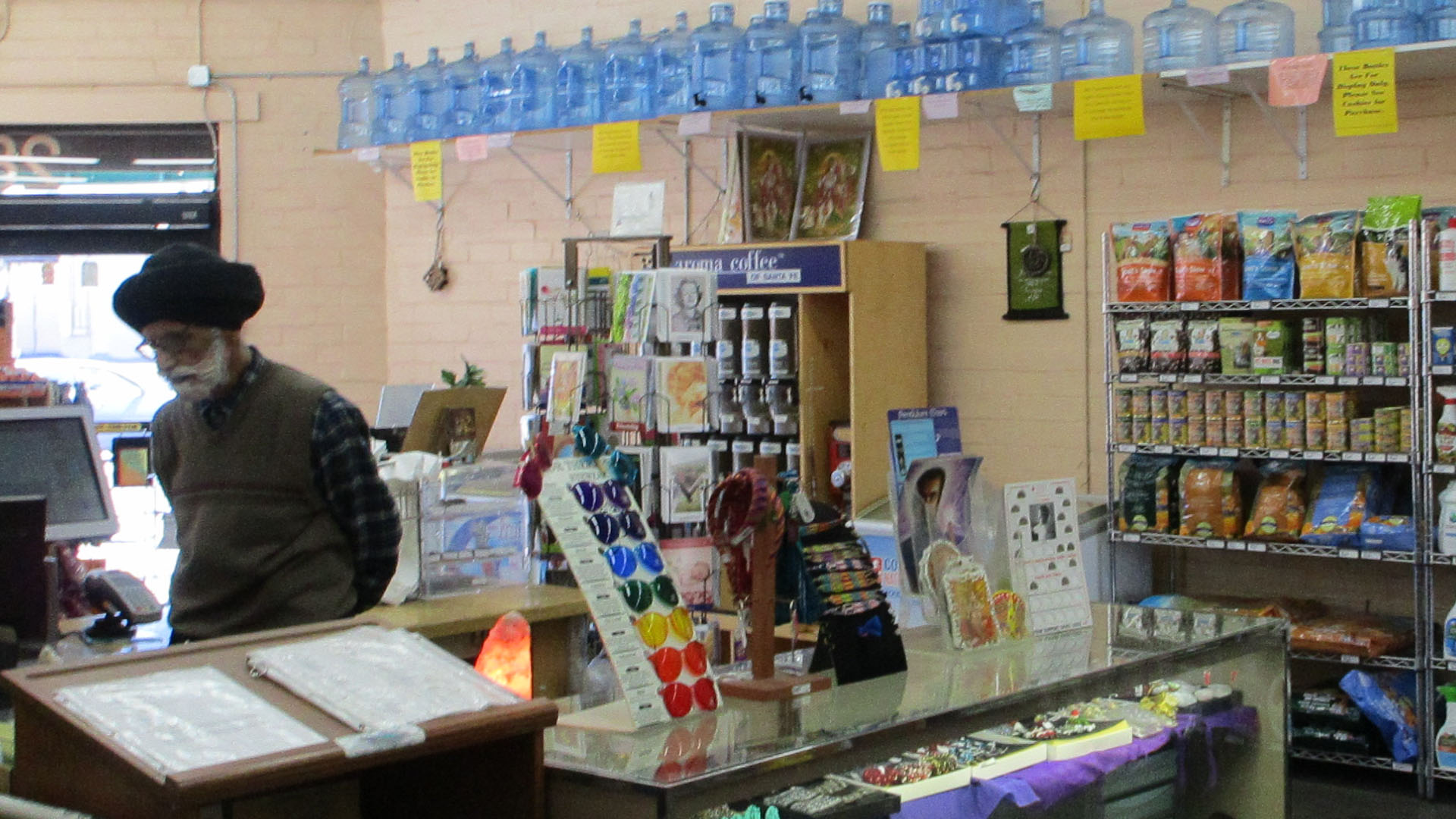 Bryn Bailer
Aqua Vita is perhaps the most recognizable of all the stores. Its brick exterior is painted a distinctive milk-chocolate brown, with accents of eggplant and aquamarine. Over the years it has been an antiques store as well as a market under different ownership.
Inside, you'll find shelves of exotic powders ranging from agar to yucca root, and row after row of glass jars and bottles containing bulk herbs and herbal extracts. There is also a busy, self-serve water station.
The manager of the typically quite store is Harmeet Singh, a native of the northern Indian region of Punjab. Or you may be greeted by Mohan, his father, who wears a traditional turban and offers customers helpful advice on everything from essential oils to organic cleaning products.
The younger Singh has lived in Tucson for more than a decade, and has watched Aqua Vita – as well as Caravan and Za'atar – as they've grown over the years. He said their fates and business fortunes are all linked.
"What we (at Aqua Vita) have is totally different than what they have over there," he said. "What we see here most is that people just come in here for shopping, but what we also see people is discovering the other stores next to it. They're excited about that as well.
"Instead of traveling one place to another, you can just be in one spot – and then you can travel the whole world from there."