Tucson voters next Tuesday will get a chance to decide whether to modify the city's 1929 charter.
Proposition 401 would create several changes to the charter, including consolidating city council elections to once every four years, with terms ending concurrently. It also would raise the pay of the mayor and council and make their jobs full-time. Former University of Arizona President, Dr. Peter Likins, is one of the supporters of Prop. 401. He says indexing the pay of the council to the salaries of the Pima County Board of Supervisors won't really cost taxpayers extra money.
"The benefits that come from reducing the frequency of elections far exceed the cost of increasing our council operations to full-time salaries. Roughly $140,000 a year would be saved," he says.
Former state lawmaker Tom Prezelski, who opposes 401, says he's not against raising politicians salaries in normal circumstances, but today's economy is not normal. "We're asking police, firemen and civil servants to forgo pay raises, to even accept cuts in pay, but instead we want to raise the pay of elected officials. It just doesn't seem appropriate at this time to ask for that," he says.
The current annual pay for each part-time council member is $24,000 a year and Prop. 401 would raise that to $61,280 for full-time work. The mayor's yearly salary would increase to $76,600, from the current pay of $42,000.

Prop. 401 also would eliminate civil service protections for department heads and their deputies and hold them accountable to the city manager. It also would give the mayor the same voting powers as council members and count the mayor as part of a quorum. The election is November 2.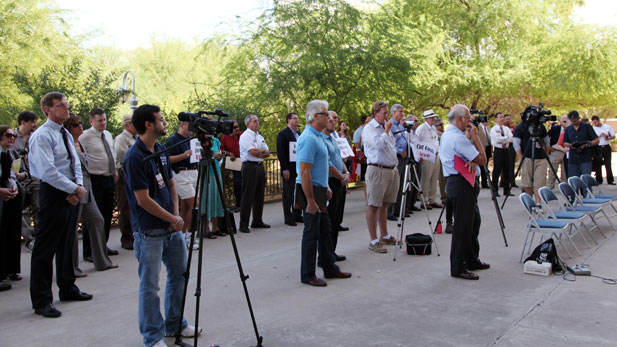 Supporters and media gather at Prop. 401 rally at Tucson City Hall, Sept. 9, 2010
Supporters and media gather at Prop. 401 rally at Tucson City Hall, Sept. 9, 2010