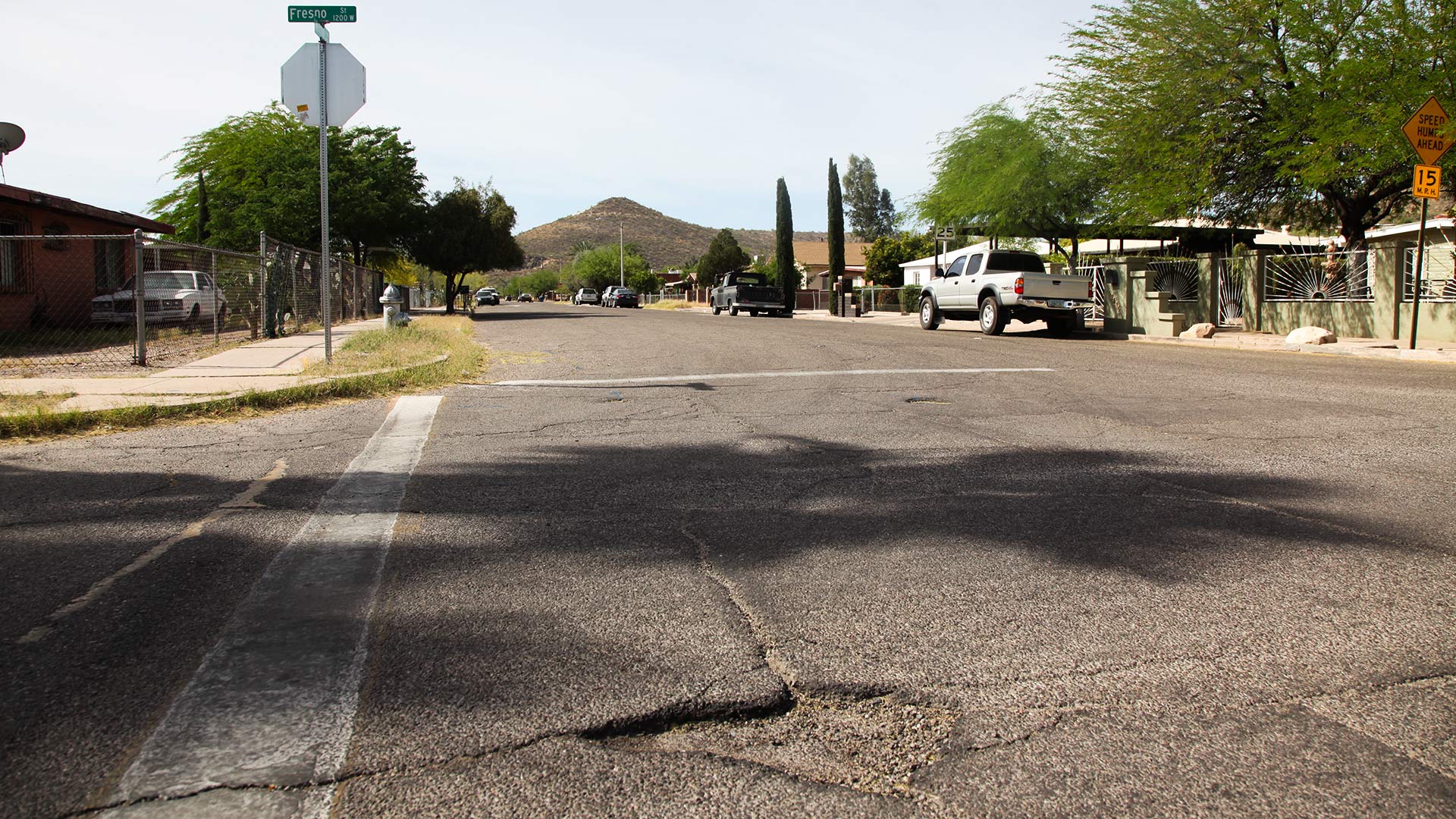 A pothole in the neighborhood of Menlo Park, with Tumamoc in the background.
Nick O'Gara, AZPM
Five years of repairs, resurfacing and restoration of Tucson streets have continued with borrowed money voters approved in 2012. Now, the city of Tucson hopes to continue progress with revenue from Proposition 101.
The new proposal would raise $250 million over the next five years. A total of $150 million would go to public safety equipment, while $100 million is slated to repair a portion of Tucson's major streets.
It's a need Mayor Jonathan Rothschild said the city has been rapidly catching up on.
"In fact, had we put all $100 million to it we'd be the only city in the United States, in the last 10 years, who have fully re-done all their arterial streets," Rothschild said. "Our problem is our residential streets are way behind. We have $550 million dollars of need. This will be a piece at getting to where we need to be, but it certainly won't solve the problem entirely."

Opponents of the tax increase say what would solve the problem is better financial management by the city. Pima County Republican Chairman David Eppihimer said the city has plenty of money in its operating budget to make street repairs a priority.
"If they would just properly allocate the money, the income, that the city has, divide it up accordingly and not just go to the citizens when there is a shortfall," Eppihimer said.
It's up to Tucsonans whether or not the street repairs continue, the mayor said.
"The federal government is not going to come in and help us, the state government is not going to come in and help us," Rothschild said. "One of the reasons why we're having to do this - why the county has had the difficulties they have had with their roads - is the state has swept our highway user revenue fund. So if this doesn't pass these changes aren't going to be made."
The process of fixing Tucson roads began five years ago with Proposition 409, which authorized the city to borrow $100 million with payback in a higher property tax. During that time, they covered 85 percent of major streets and 15 percent of residential streets, restoring 183 miles of Tucson streets.
City Council plans to follow the same model as they did with Prop. 409.
"On the ballot you will be able to see each arterial street that's going to be done and when it's going to be done so you can hold us fully accountable," Rothschild said.

Only this time, $60 million will go to major streets and $40 million to residential streets. A citizen's oversight committee, the same one that oversaw the last road-recovery project, will decide which residential streets to repair.

University of Arizona economist Price Fishback said use of a sales tax for short-term street repairs could work.
"A lot of the time, road repairs are relatively short-run, so a five-year sales tax increase might make some sense," Fishback said. "That's why it's really important to try and understand what the benefits of the tax are going to be. It's not an amorphous benefit out there."
Fishback has driven Tucson streets for years and has seen the positive impact of the earlier project.
"If you drive around the roads of Tucson you understand how much problems there are, you can see a drastic difference between the eastern part of Grant [Road] versus the western part of Grant," Fishback said. "Once they resurfaced the eastern part of Grant it became much nicer and so it's clear we need these kind of things."
Mayor Rothschild led the City Council to unanimous approval of putting Proposition 101 on the special election ballot, saying it's the best way to keep Tucson moving forward.
"Whether it's a business or whether it's somebody looking to retire, they want to drive on good roads. They want to ensure they have a good public safety system," Rothschild said. "This is just part of the puzzle that keeps our momentum going in the direction to keep Tucson a wonderful place."

Explore the map outlining major street improvements.
Voters can cast ballots between now and May 16. All ballots must be turned in by 7 p.m. that day, and city officials say voters mailing them back should do so by May 10.