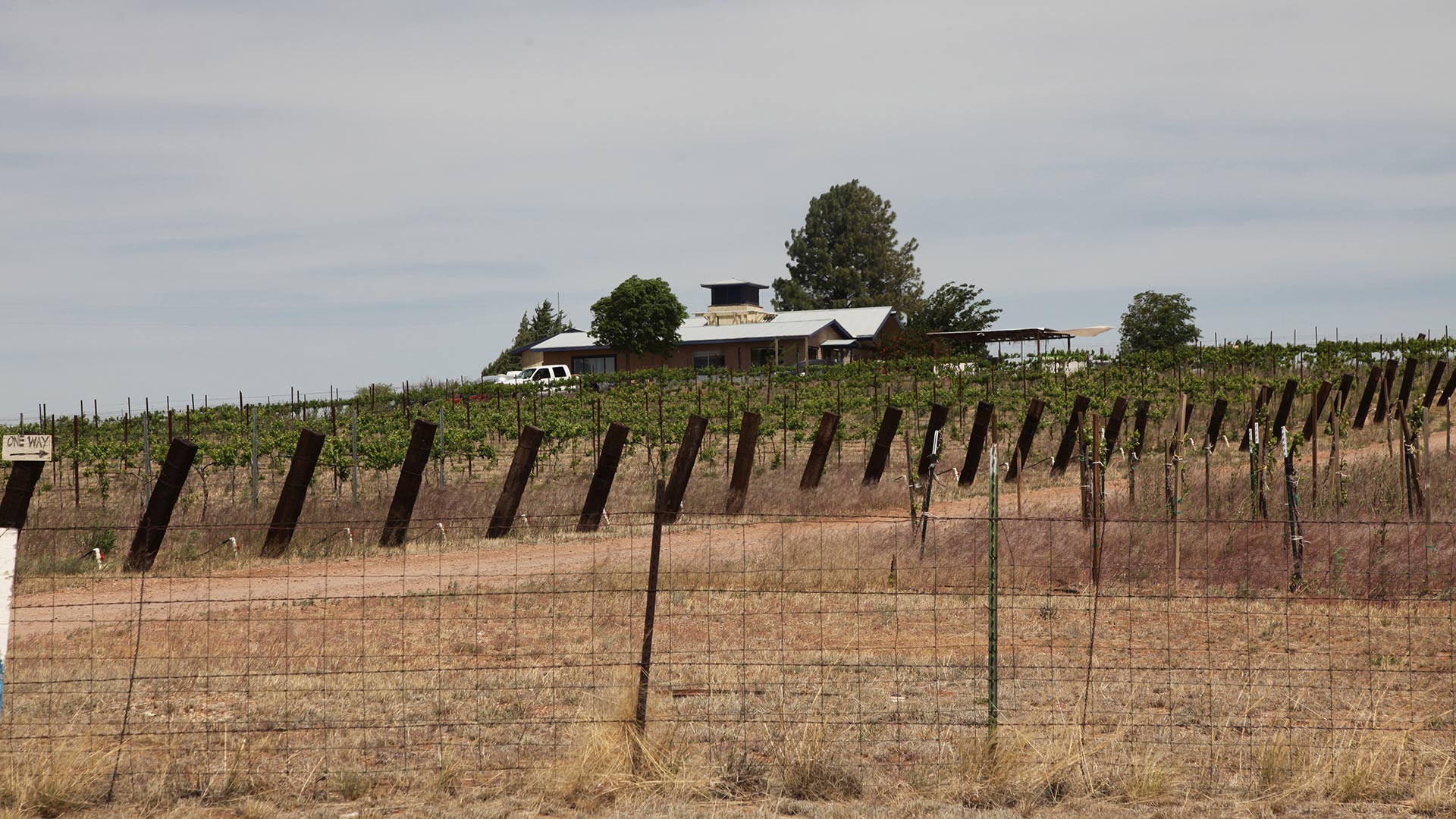 Arizona Hops and Vines sits along State Route 82 east of Sonoita.
Zac Ziegler
Evacuations were a part of the scramble last week as the Sawmill Fire spread across the Santa Rita Mountains and headed toward the Pima-Cochise county line.
Shannon Zouzoulas and Megan Haller were among those wondering if they would be asked to leave their livelihood in order to ensure their personal safety.
They worried that the Sawmill Fire may cost them their business, Arizona Hops and Vines.
The fire broke out Sunday, April 23, and Zouzoulas recalled seeing it that first night.
"I was coming back from a festival in Elgin. I was coming to our winery and I could see the smoke shooting up," she said.
Her view was obstructed by the mountains, so she called someone she knew had a clearer view.
"My sister lives over by Green Valley. So I called her and I said: 'Is that fire by you? Is it in the Santa Ritas? It looks big.' And she said, 'Yeah, it's in the Santa Ritas."
On Sunday night, a mountain range and a two-lane highway stood between the wildfire and Arizona Hops and Vines.
By Tuesday morning, the fire had crossed both barriers and was close enough that they could see the flames at night.
While the sisters were concerned for the business, it was not their biggest worry.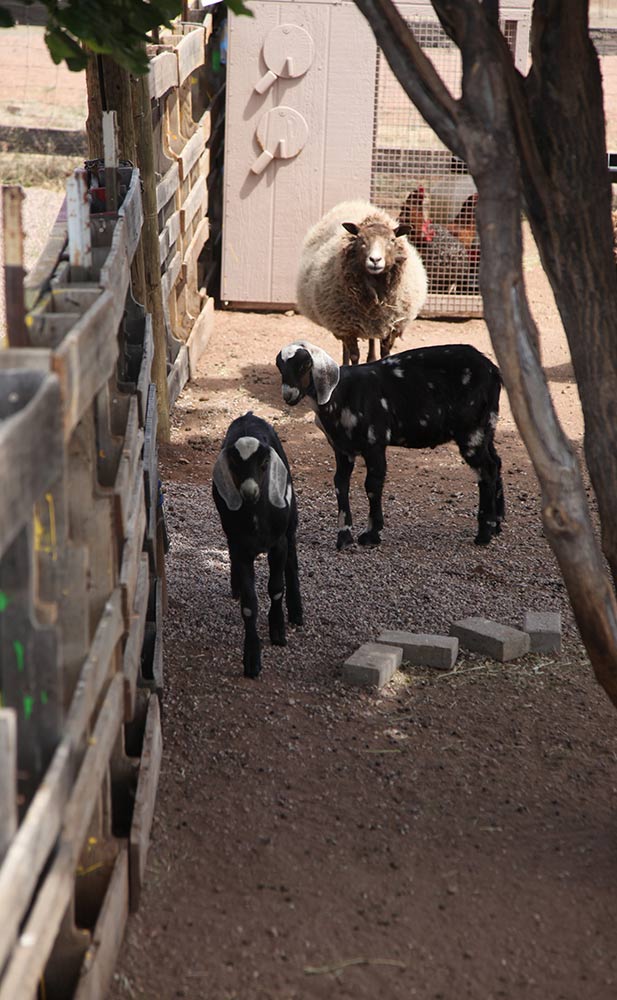 VIEW LARGER The animals that make up Arizona Hops and Vines petting zoo were a big reason the owners stayed during the fire.

Zac Ziegler
The winery has a petting zoo that includes sheep, a pig, goats and a few varieties of birds.
The safety of those furry and feathered friends was foremost in their mind.
"We did come close to evacuat[ing] them on Tuesday, when firefighters said it was coming closer to us," said Haller.
Unsure what to do, Zouzoulas called fire crews and asked if she should stay at the winery or head to her home east of Tucson.
"'Should we stay the night? We're in Vail,'" she said. "'Are we going to get evacuated? What should we do?' And they were like, 'You need to stay.' And we thought, that's scary because they're so calm about everything."
They spent the night in the winery. They calmed their nerves by taking up the task of quality control.
"Mainly drinking wine and watching the flames," Zouzoulas said.
At one point, determined to get a better view of the flames that they thought were just on the other side of a hill, Haller climbed onto the winery's roof.
"Turned out not to be a great idea," she said, laughing. "Slid down and ripped my pants."
The fire brought back memories from when the winery was in its infancy. Six years ago, a brush fire started behind the sisters' property. It burned 10 rows of grape vines.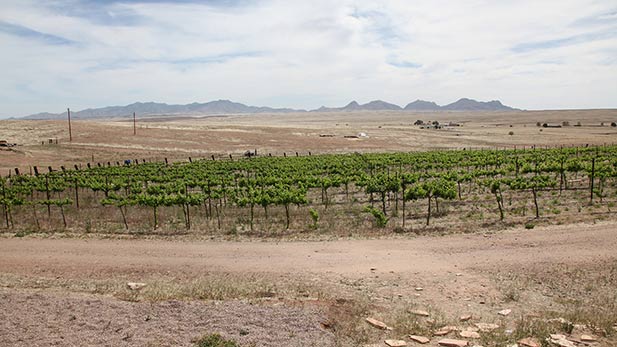 The back rows of grapes in the rear field caught fire six years ago during a brushfire.

Zac Ziegler
"It was traumatic," said Haller. "It was right after we planted our vines, and the irrigation melted on the ground. Thankfully, the vines came back. We were really, really lucky. The fire department was amazing, and people in the town were bringing their water trucks."
The winery owners learned the importance of a fire break that day, a lesson they take to heart today. The local fire department recently paid their property a visit to help them mow the grass around the edge of their 10 acres.
Last week's events taught Zouzoulas another message. She now understands the people she has seen on television refusing to evacuate in the face of a natural disaster.
"The very first night when we posted [on Facebook] the flames right over the ridge there, people like my friends in Germany were texting and saying: 'Just leave. Who cares?'" she said. "But it's such a different sense."
She said she was ready to evacuate, and she would leave if asked in order to ensure no one's life is put in danger to save her.
"But there's this sense of personal loss," said Zouzoulas. "You don't want to let go, and if you stay here everything will be okay. But if you leave something will go wrong."
Now that Arizona Hops and Vines is no longer in danger from the Sawmill Fire, the sisters said their worries have turned to when customers will return to the winery.
After all, they said, spring tends to be their busy season.