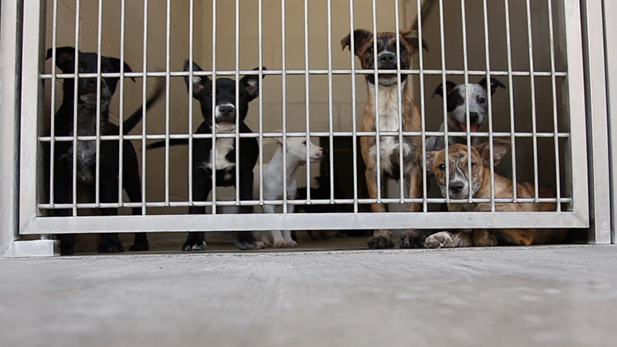 Puppies at Pima Animal Care Center July 8, 2015.

Sandra Westdahl, AZPM
The Pima Animal Care Center says it has an overcrowding crisis and no space for incoming dogs.
Since the beginning of the month, the shelter has taken in 488 dogs and 268 cats, and with breeding season in full swing, multiple litters of puppies and kitties who need around-the-clock care.
Karen Hollish, who works with the shelter, said they desperately need people to come in and adopt.
"Starting immediately we're offering free adoptions on all adult dogs," she said.
The shelter is also hosting a Puppy and Kitten Shower this Saturday morning from 8 to 10 a.m. to encourage people who aren't ready to adopt to instead become a foster family to a pet in need.
"These little fragile animals need bottle feeding around the clock to survive," she said. "And we don't have the bandwidth at our shelter to do that so we rely entirely on volunteer foster parents."
The fostered animals come with all the food and medicine they need, and if foster families decide they want to adopt, they get first dibs.
Hollish said people who aren't ready to take in a pet but want to help out can donate to the center's medical fund or order some supplies from the shelter's Amazon Wish List