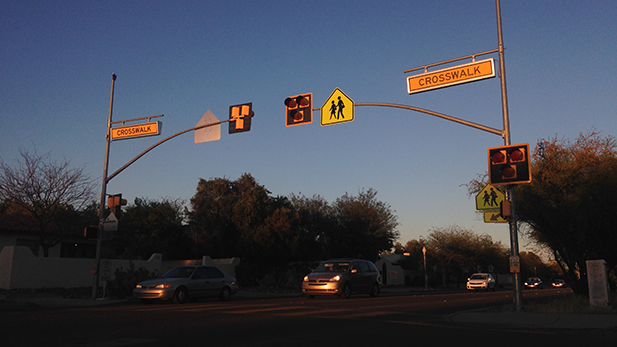 A HAWK pedestrian crossing similar to this will go along 22nd Street near Santa Rita Park.

Mariana Dale, AZPM
Pedestrian fatalities are on the rise in Tucson, and a Tucson police sergeant said jaywalking is largely to blame.
Twelve pedestrians have been killed compared with three by this time in 2016, Sgt. Michael Dietsch said.
Dietsch said jaywalking was largely to blame, and among those who have been killed, more often than not, alcohol or drug influence was a factor.
"So it's kind of a two-prong issue, there, where they're impaired and crossing at places other than where they should be," he said.
Dietsch said the increase is especially tragic because people can decide not to jaywalk.
"The person who is most responsible for your safety is you," he said. "You need to pay attention, you need to cross when you're supposed to be crossing, where you're supposed to be crossing."
Dietsch said police have not identified why jaywalking is more of an issue now. They are enforcing jaywalking more strictly by stationing more officers where it is common, thanks to a grant from the Governor's Office for Highway Safety.