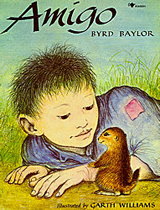 Byrd Baylor grew up in Tucson and fell in love with the desert. She translated that love into a series of popular columns and stories for the Tucson Citizen and City Magazine in the 1980s that celebrated the Sonoran Desert and the natural world. She was part of a group of outspoken Tucson-based desert defenders that included Ed Abbey and Charles Bowden.
She eventually left the city and moved to a quiet corner of her beloved desert. Today, at age 87, she lives in a solar-powered home and writes children's books. She has more than 25 to her credit, and nearly all are filled with evocative images of birds, coyotes and cacti, written for a young audience.
The road to Byrd Baylor's house.
To visit the author at her home, one must negotiate several miles of rutted, rock-filled road that at times seems little more than a game trail. In fact, Baylor herself admits that her "driveway" is famous for busting oil pans.
More than one visitor has given up on the drive and walked the rest of the way. A few even get lost.
But Baylor is a gracious host. She welcomes visitors into her simple, solar-powered home and shows them around. There's lots of books and plants, but almost no electronic devices. She is refreshingly non-technical and strives to use as little energy as possible. She cooks with simple kitchen implements and reads by low-output lighting.
Her writing technique is similarly uncomplicated: pen and notebook paper and hours at one of two simple tables in her backyard.
One sits under a wooden canopy frame, the other in the direct sunlight. She jokingly calls them her "summer and winter offices." But each has a fine view of Pepalote Wash, providing more than enough inspiration for writing.
There is no computer, no printer. A technical glitch for Byrd Baylor is a pen running dry, or the wind tossing a few sheets of paper around.
Baylor talked to Mark Duggan about her writing, her love of the desert and what its like for her to live almost completely "off the grid." They sat under a broken windmill that occasionally let out a howl as it strained to turn in the wind.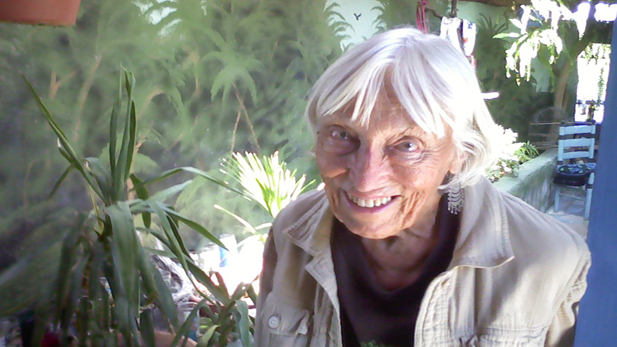 Byrd Baylor in her home near Arivaca.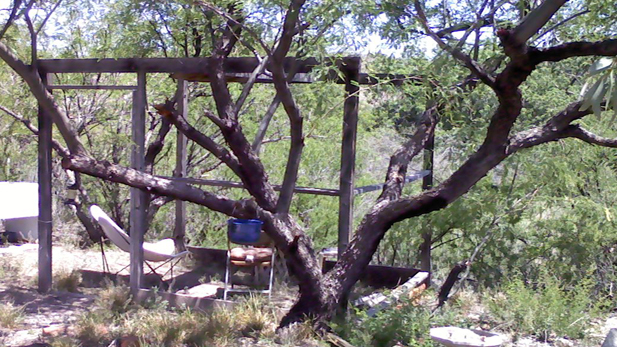 Byrd Baylor's "summer office"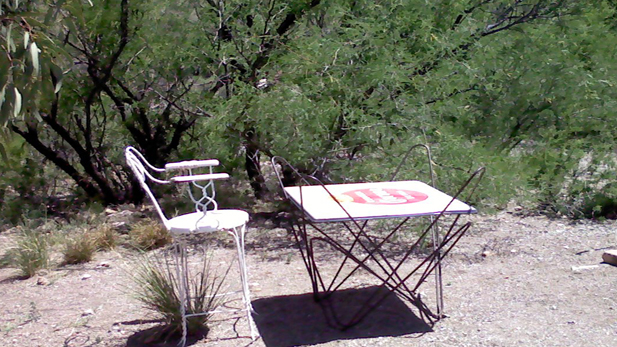 Byrd Baylor's "winter office"
More resources:
Byrd Baylor's books on Amazon
Byrd Baylor's books on Bookfinder
Byrd Baylor has also received some notoriety for donating part of her land to the organization No More Deaths. They set up a camp there and use it as a base to deliver food, water and medical aid to migrants in the desert. Mark Duggan interviewed Baylor for the public radio show The Story about her feelings on immigration and humanitarian aid. Download the show here.