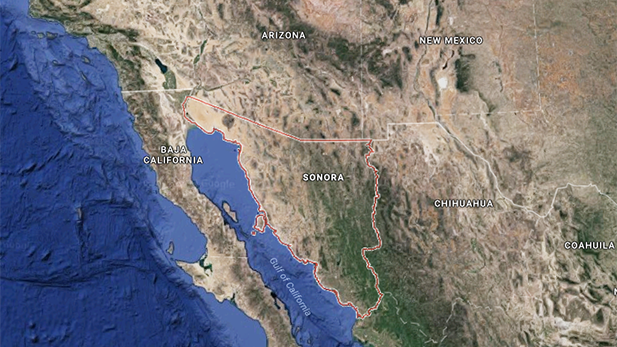 Google Maps image of the Southwest U.S.-Mexican border, with the Mexican state of Sonora highlighted.

Via Google Maps
The Tucson Hispanic Chamber of Commerce has signed a memorandum of understanding with a Mexican radio company to reach a wider audience through listeners in the neighboring country.
Grupo Larsa has radio stations in Sonora, Baja California and Sinaloa. The deal gives local businesses in Southern Arizona a new avenue for outreach.
"As we do messaging about the importance of cross-border trade – building relationships between Arizona and Sonora – businesses will be able to do that through their radio platforms," said Lea Marquez-Peterson, president of the Tucson Hispanic Chamber of Commerce.
The governors of Arizona and Sonora have called the two states a "mega-region" for trade and commerce.