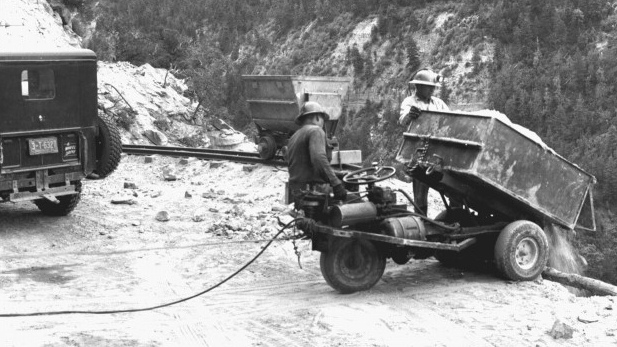 Navajo uranium miners dump tailings over the side of a mesa in a photo dated 1952.

Courtesy Navajo Nation Museum
The federal government has just awarded a contract to clean up two of the mine sites on the Navajo Nation, part of a larger project to clean up more than 500 abandoned uranium mines on the reservation.
Many say the process has been slow going.
The Environmental Protection Agency awarded the $3.85 million contract to Navajo-owned Arrow Indian Contractors. The company plans to dig up the contaminated soil and improve the roads in northwestern New Mexico, near Crownpoint.
The EPA said funding for the project comes from a $1 billion settlement reached in 2015 with Tronox Limited, formerly Kerr-McGee Corporation, for the cleanup of almost 50 abandoned uranium mines.
From 1944 to 1986, mining companies extracted 30 million tons of uranium ore from Navajo land to make atomic weapons. Many Navajo have since died of kidney failure and cancer, conditions linked to uranium contamination, and the tribe has banned any mining activity.