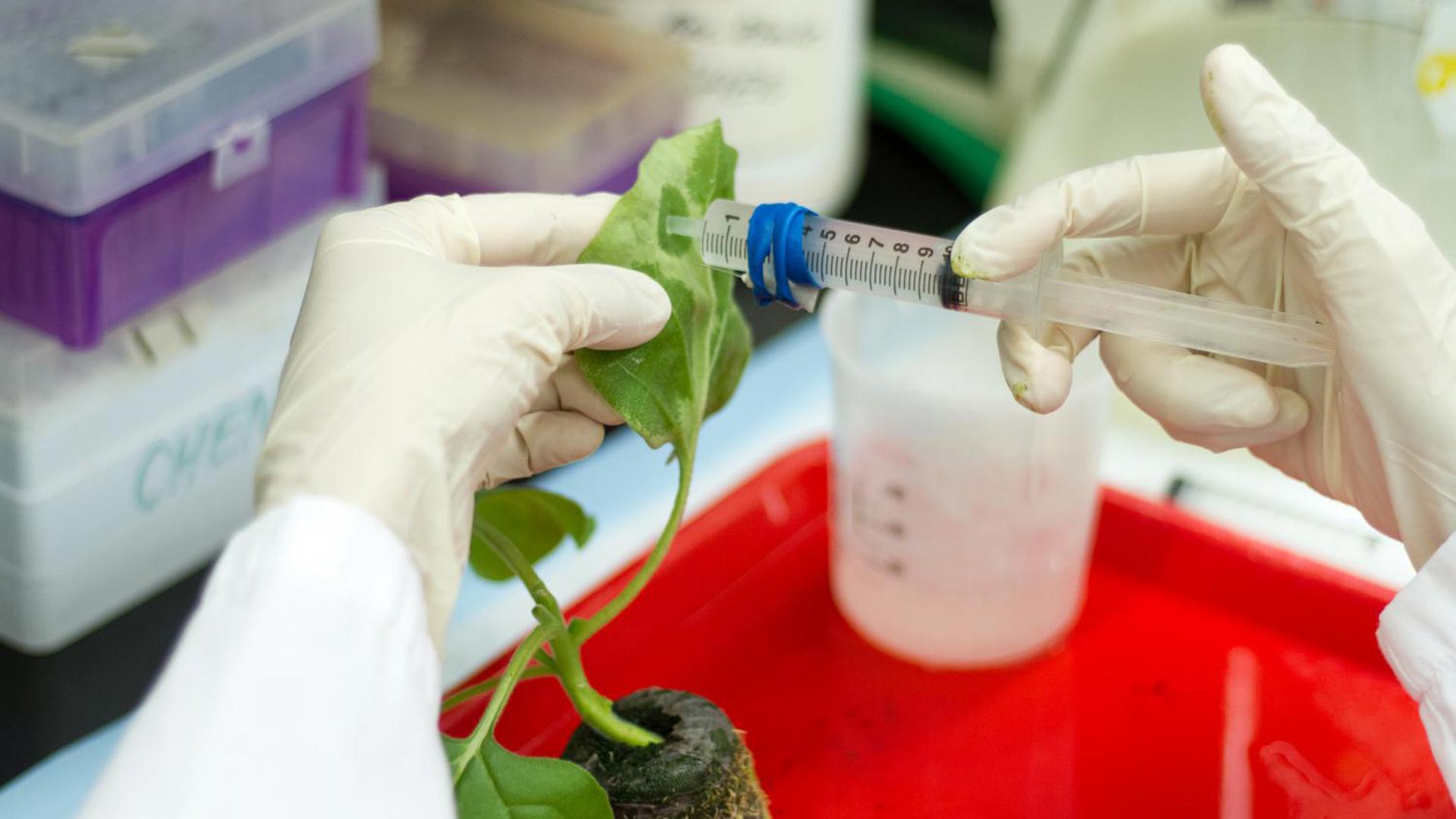 A bacterial "soup" transfers a key gene to the plant, enabling it to produce a high yield of vaccine protein components in its leaves.
Jason Drees, ASU Biodesign Institute
Tobacco might have finally found the image upgrade it's been looking for, as scientists hope to use the plant to produce a safe and cheap Zika vaccine.
If successful in humans, the plant-based approach could provide an effective solution for countries affected by the Zika virus.
The findings, which appeared Aug. 9 in Nature's online open-access journal, Scientific Reports, described promising results in mouse trials.
Other Zika vaccines show promise, too.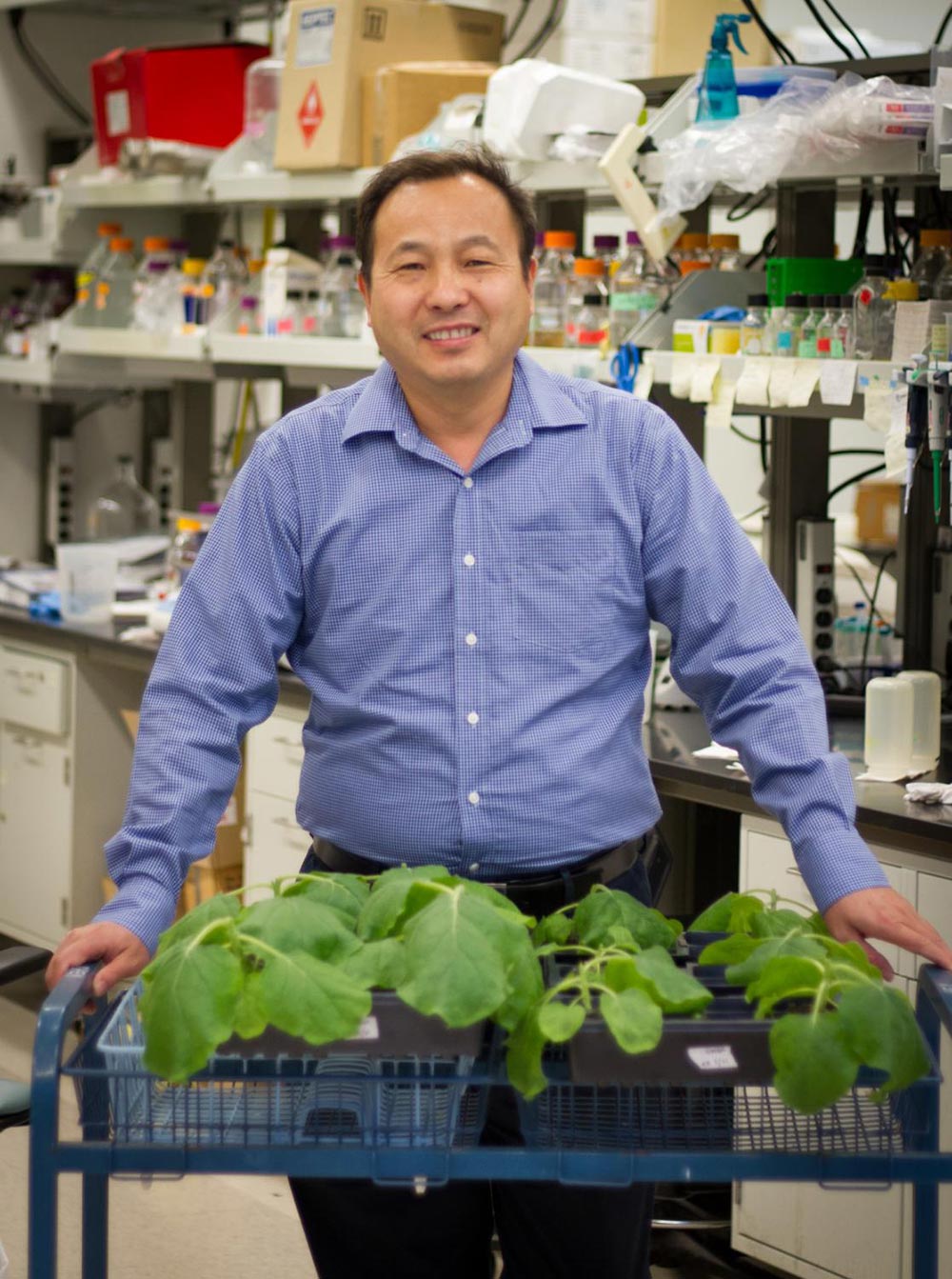 VIEW LARGER ASU Biodesign Institute scientist Qiang Chen has led his research team to develop the world's first plant-based Zika vaccine.

Jason Drees, ASU Biodesign Institute
Last year, following some encouraging early animal and human studies, the U.S. Food and Drug Administration approved the first human trials of GLS–5700, a vaccine produced by U.S.-based Inovio Pharmaceuticals and its South Korean partner, GeneOne Life Science.
But all approaches currently under investigation entail risks, said Arizona State University's Qiang Chen, who worked on the study.
"What we're trying to do here is to develop a vaccine as effective as other vaccine candidates, which have already been tested," Chen said. "But, at the same time, we're trying to address the safety issue."
Chen said that using a killed virus to trigger an immune response can introduce a live virus if not properly handled. In addition, methods that rely on virus proteins can predispose recipients to Zika's "cousin" flaviviruses, including dengue and West Nile. DNA vaccines can potentially become inserted into our genomes and cause cancer.
To avoid such risks, Chen's group turned to a protein sub-unit, or domain, of a Zika protein — one that is targeted solely by Zika antibodies.
"Our vaccine will protect patients from Zika infection but, at the same time, avoid triggering an immune response that is cross-reactive with other flaviviruses, such as dengue or West Nile," Chen said.
Chen's team used a syringe filled with a bacterial soup to transfer the required gene to leaves of the garden-variety tobacco plant, Nicotiana benthamiana. Once the plant began expressing the protein, its leaves became potent, cheap and scalable vaccine factories.
Tobacco plants have already established themselves in research circles as a way for scientists to produce outside proteins.
The plants offer a few key advantages: Because they yield copious biomass, they can make plenty of vaccine. Moreover, one tobacco plant produces loads of seeds, which can ease the scaling-up process.
Compare that to the billion-dollar, decade-long prospect of building a cell-culture facility, and the advantages of the tobacco-based solution become clear, especially in low-to-middle-income countries.
In 2015, more than 1.5 million people in Brazil alone were infected with Zika, and some experts foresee tens of millions of more cases in the Americas in the coming year. The Centers for Disease Control and Prevention have confirmed that mosquito-borne Zika has been reported in the continental United States.
No licensed Zika vaccine currently exists.