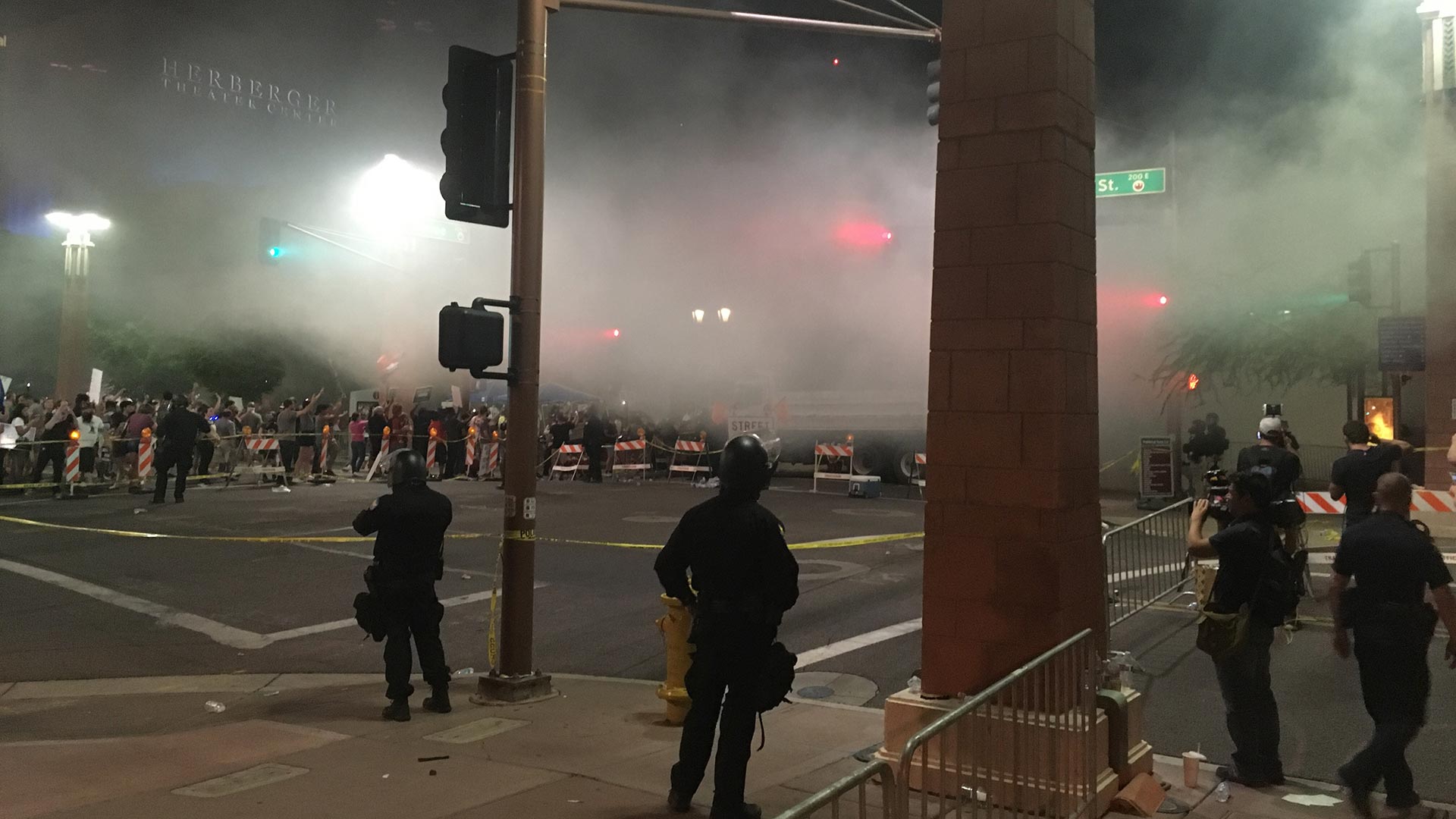 Tear gas was used to disperse protesters at a Trump rally in Phoenix on Aug. 22.
Christopher Conover, AZPM
PHOENIX — Phoenix police said they arrested four people at last night's Trump rally, and the fire department said they treated about 60 people for heat-related illnesses, as tensions rose on the city's streets following the event.
The activist group Puente led anti-Trump protesters to the convention center around 4:30 p.m. Police ushered them to a place behind barricades on the north side of Monroe Street. On the south side, the group Bikers for Trump looked out for the president's supporters as they waited to enter convention center. 
"Well, you won't see our guys engaging with protesters in screaming and shouting matches," said Chris Cox, the founder of Bikers for Trump. "In the event some of these Trump supporters don't feel safe afterward, we'll escort them to their car."
After the rally, people exited the convention center near 2nd and Adams streets, where they were greeted by a handful of protesters.
"Yes, I said thank you for showing up. Only in America," said Trump supporter Ingrid Maynes.
If she had stopped to talk with the protesters, Maynes said she would have told them the rally was about unity. 
"We're one country. We're all Americans. We want jobs," Maynes said.
But unity was not on people's minds one block north of there.
---
Protesters at a rally for President Donald Trump in Phoenix, Aug. 22.
Christopher Conover, AZPM
As Trump wrapped up his speech inside, the crowd began to fade out in the street. Julie Anand said she came out to participate in democratic protest.
"I have a sense that things are moving backwards. I feel like we were in a more compassionate place, a more progressive place," Anand said. "And within days of the inauguration, things started feeling different"
Protesters started marching toward the city's Capitol. At that point, police said officers were attacked with rocks and bottles and the crowd began to run.
Police then fired flash bang grenades and pepper balls at the crowd. People ran through the heavy fog, some screaming and others vomiting. One individual was injured and carried into a building.  A police helicopter flew over the dispersing crowd.
A voice through a Phoenix Police Department loudspeaker said: "This is the Phoenix Police Department. If you can hear my voice, it is time to leave the area immediately. If you do not, you will be subject to arrest and you will be pepper sprayed."
Taric Watts was one of those leaving as the helicopter was overhead.
"I think that the spotlight is on Phoenix right now and it's time for all people to come together. We had Latino movements, black movements, LGBT movements, trans movements. Everyone was there making sure their voices were heard, and that's what we need more of in a city that is this conservative," Watts said.
Two people were arrested for aggravated assault on a police officer. A third was arrested for criminal damage and a fourth for an existing warrant. 
---
T-shirts, hats and signs with the words "Make America Great Again" dominated the crowd of supporters at President Trump's rally in Phoenix Tuesday night, but two Arizona leaders were not in the crowd to support that message.
Trump did not mention Sens. Jeff Flake and John McCain by name, but his speech made it clear he was unhappy with the pair. He lamented the failed Senate health care repeal proposal. 
"One vote away. I will not mention any names," Trump said.
McCain joined two other Republican senators and all Democrats in rejecting the health care repeal. Trump also took a shot at Arizona's junior senator, Jeff Flake. 
"And nobody wants me to talk about your other senator, who's weak on borders, weak on crime, so I won't talk about him," Trump said
Trump did not indicate support for any specific opponent of Flake in the 2018 race for his Arizona Senate seat.