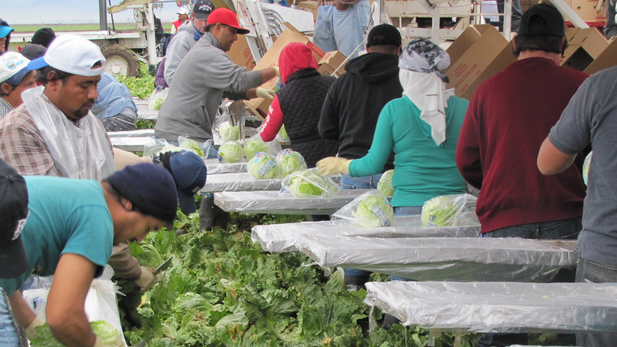 Field workers harvest lettuce in Yuma, February 2015.

Kate Sheehy, Fronteras Desk
Ten farmers and ranchers from around the country will spend the next two years learning how to share their trade with the general public, thanks to a program by the American Farm Bureau. One of the farmers is from Yuma.
The American Farm Bureau Federation's Partners in Advocacy Leadership program recruits 10 farmers and ranchers between the ages of 30 and 45 from across the United States. For two years, they learn leadership skills and are taught how to be advocates for agriculture.
John Boelts of Yuma is the only farmer selected from Arizona. Boelts, a produce and row-crop farmer, said the public should know more about how food gets to their plates.
"Less than 2 percent of the population is involved directly in production agriculture," Boelts said. "There are a lot of public policy decisions made due to public perception. And if the public is a couple generations removed from the farm, it's hard to question and make a decision."
The program will take Boelts and the other PAL advocates across the globe to learn more about world agriculture practices. Advocates are expected to leave the program with the expertise to engage in legislative policy-making, media relations and social media on behalf of the agriculture industry.