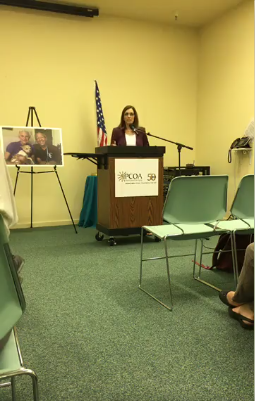 VIEW LARGER U. S. Rep. Martha McSally speaks to Pima Council on Aging, Wednesday, Sept. 20.

Courtesy: Pima Council on Aging
U.S. Rep. Martha McSally is sponsoring a plan to boost federal funding for services that support older Americans.
The Republican representative from Arizona introduced a funding amendment to the Older Americans Act in the House last week, and brought the details of the proposal to Tucson today. The act originated in 1965 as the first federal plan to provide services for elderly Americans.
McSally wants a $14.2 million increase in funding. If approved, the bill will help provide transportation, in-home services, legal services and adult day care in Southern Arizona and across the country.
McSally says the plan allows the elderly to continue living at home longer.
"Because if they are not able to stay in their homes, the vast majority of them do end up on our long-term care system on Medicaid, in a nursing home," she said. "Again, a lower quality of life, and higher investment of resources."
The 5 percent boost would reverse a series of decreases in funding for elderly Americans over the past 15 years. According to the Pima Council on Aging, 330 Pima County residents are on a waiting list to receive support services funded by the Older Americans Act.