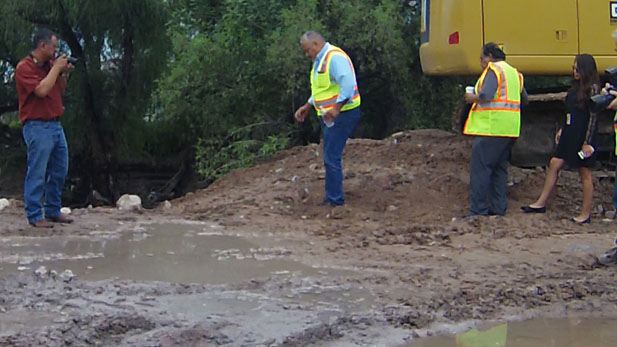 Santa Cruz County officials touring the extent of the damage from the sewer pipe break in Nogales, Arizona. (July, 2017)
Work repairing a cross-border sewage leak could hamper produce shipments from Mexico to the U.S.
A 50-foot leak in a sewer pipeline that runs through Nogales, Sonora, to Nogales, Arizona, could jeopardize the start of the multibillion-dollar produce season that begins in November.
An ongoing dispute between the International Boundary and Water Commission and the city of Nogales caused a delay in the repair and sent thousands of gallons of raw sewage from Mexico into a wash in Southern Arizona, contaminating water sources and prompting the state's attention in July.
Crews from the IBWC have begun repairs, which are expected to take four weeks to complete. If they're not done before early November, that could hurt the produce supply for major companies, according to Lance Jungmeyer, president of the Fresh Produce Association of the Americas.
"The major headaches are logistical, and they are affecting some companies more than others," Jungmeyer said. "It might take you a little longer to get the truck into certain warehouses to make a delivery or pickup right now."
The cross-border pipeline carries nearly 10 million gallons of sewage daily and is estimated to cost nearly $2 million to repair.
The project will cap the latest issue in an ongoing dispute over who owns the aging sewer line.