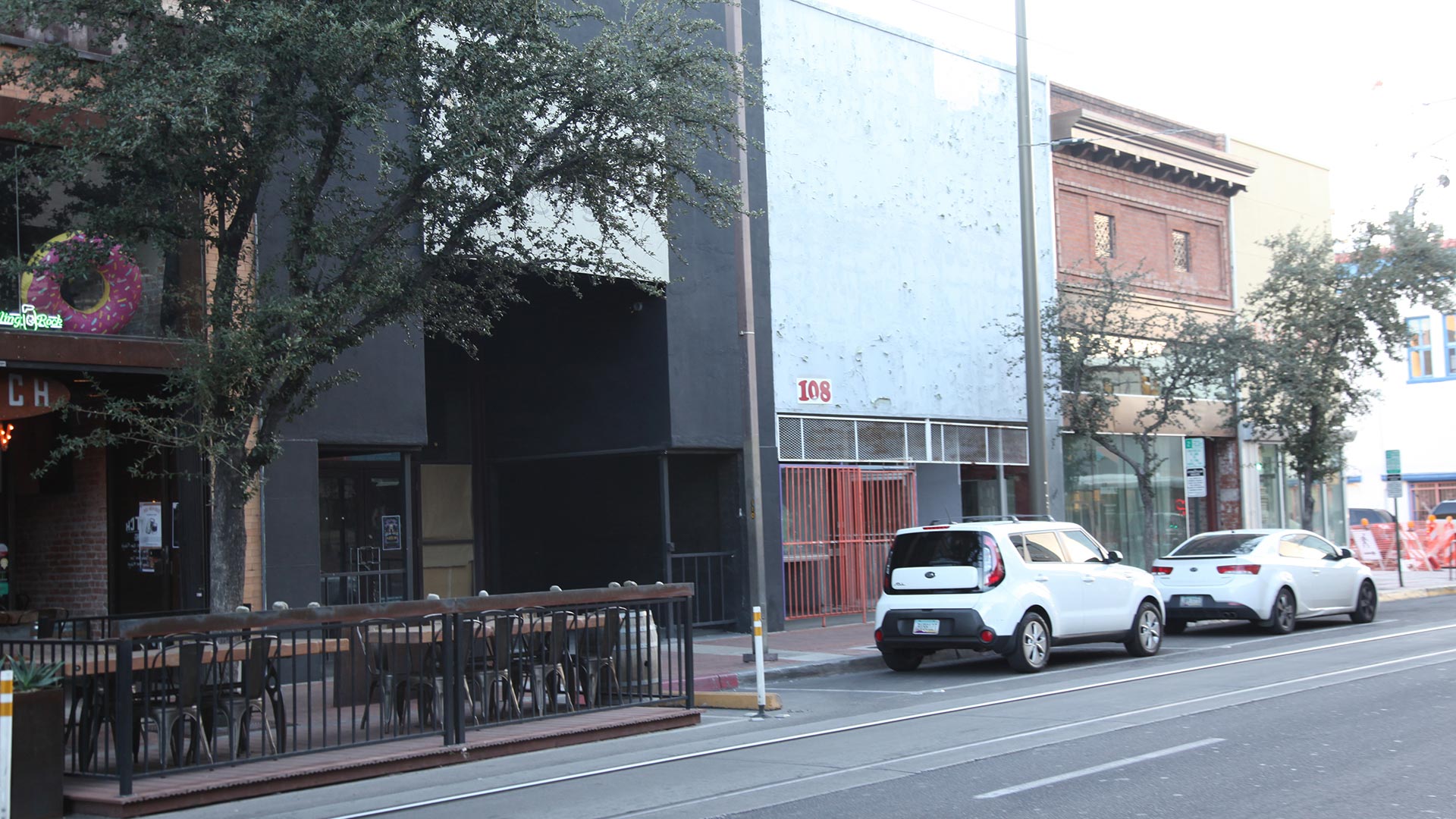 The two buildings at 110 and 108 East Congress are being turned into a space for Ten Fifty-Five Brewing Company's downtown taproom and craft sausage restaurant.
It has been years since a business called either 110 or 108 East Congress Street home.
At least that is what the building's soon-to-be tenant found out when coming through records.
"You have to go pretty far back before you get to a place where this space was occupied," said Chris Squires, co-founder of Ten Fifty-Five Brewing Company.
Permits and records show it has been at least four years for one of the two buildings, and a clue hangs in another that Squires thinks points back even further.
"You can see a beer menu here, hanging on the wall," he said. "Judging by the age of what I see here, we're looking at like 2009-2010."
Squires' brewery would not have been an option the last time this menu was updated. Ten Fifty-Five opened its doors in 2011.
Five years later, the brewery became the first business to make use of what was a new law in Arizona that allows small businesses to sell stakes in themselves in order to raise capital.
After successfully finding investors, Squires and his co-founder J.P. Vyborny began looking for a spot in downtown.
"The fact that we landed smack dab in the heart of what I would call downtown food and beverage center is just super exciting. Having Congress on our address makes me have a warm fuzzy feeling," said Squires.
The signage from the previous tenant at the most-recently occupied of the two storefronts has only recently come down.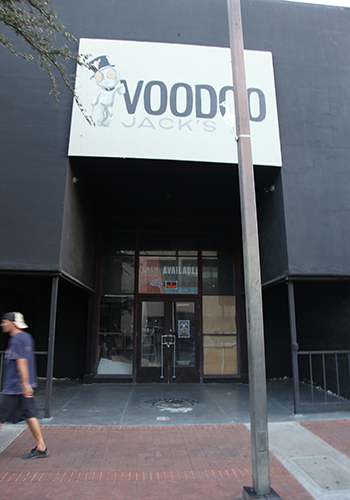 VIEW LARGER The old Voodoo Jack's facade of 110 E. Congress is no more. Plans for the storefront include restoring the building's original brick front and some patio seating.

Zac Ziegler
"Voodoo Jack's was a nightclub here that I'm pretty sure they never opened it," he said. "I certainly don't ever remember coming down, and from all the permits that I read through and everything, they never quite made it. "
A 2013 fire damaged this storefront and destroyed the next-door building that housed two long-time downtown businesses: Wig-o-rama and The Grill.
In the past, Arizona companies would have to rely on traditional means such as loans to raise capital for such a move. Instead, Ten Fifty-Five was able seek out smaller funders from anywhere in the state.
"We really concentrated on our local market here because we knew that the people who were most likely to invest, but also were most likely to be good partners moving forward were people who got the vision," said Squires.
One of the local investors they found was Tom Sakofaris, who moved to Tucson from Michigan.
"I was looking to do something outside of the stock market, and had been thinking about maybe contacting and doing some outreach to craft brewers," Sakofaris said.
Sakofaris has been a fan of craft beer for years, and he thinks Tucson's craft scene is in for growth, and Ten Fifty-Five is poised to take advantage.
"Well, a lot of it had to do with sampling, of course," he said. "I went down to the tap room and sampled many of the beers. I brought several friends and a couple of business associates down with me so everybody could give me some feedback."
While he enjoys the product, Sakofaris had to make the determination that there was more than just good beer at the heart of the company.
"You've kind of got to make that separation, right?" he said. "Go with your head and not your heart. I do love the beer. The beer was a big deal to me. It had to be good quality beer, and I believe it's a great product that they have. But looking at the numbers, crunching them, making sure they made sense."
He was convinced enough by Squires' and Vyborny's plans to buy a stake in the brewery.
Going through the process to bring Sakofaris in as an investor required work though.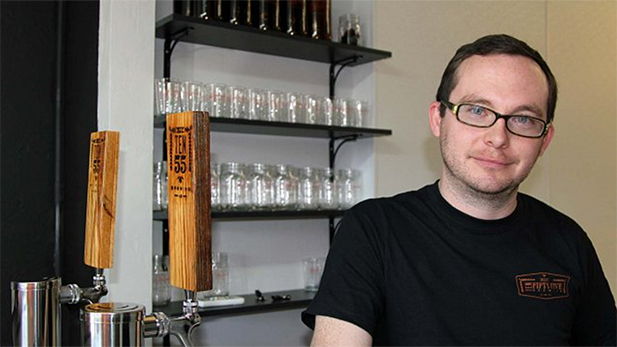 Ten Fifty-Five co-founder Chris Squires

Ten Fifty-Five website
"Being the first ones to do it meant that we were blazing that trail as we went forward, so there were a lot of rules to follow that we weren't sure how they worked," said Squires, who has since heard from other business owners that the papers Ten Fifty-Five filed are being used by some as a template to go through the same process.
Offering the company up for equity has allowed Ten Fifty-Five to draw in much more money than typical crowdfunding campaigns online can usually garner.
"There was no $20 option that got you a pint glass or a stool. When we were raising money, our minimum investment was $10,000. We were really looking for business partners who believed in our plan, and believed that our company could generate revenue and profit," said Squires.
The investors are also buying a voice in what the brewery does from here on.
"They're not silent. They have the ability to elect a representative who sits on the board with us, so they very much have a tangible role in managing the future of the brewery as well," he said.
Squires said the company hopes to have the new taproom and sausage shop open late first quarter or early second quarter of 2018.