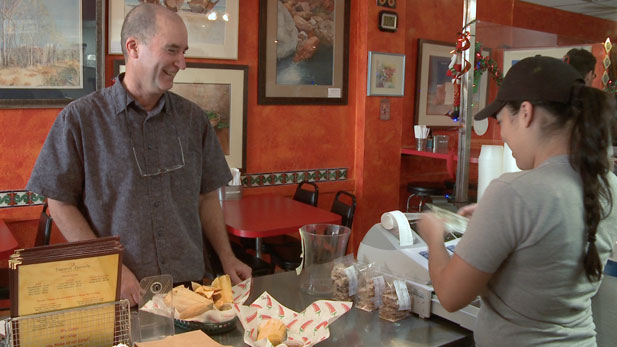 Luis Carrión visits Tucson Tamale Company to learn about tamales and how they are a tradition in Tucson.

AZPM
Tamales are a holiday tradition in many homes, and for those in the business of making the tasty treats this is the busiest time of the year.

The pace in the small kitchen at the Tucson Tamale Company is fast and efficient as the crew cranks out as many as two thousand tamales in a day. Todd Martin is passionate about tamales, and he began the business in 2008, after deciding to leave his job as an executive at Intuit. He says the tamale is a unique culinary item, and it plays a role in every culture in the Americas. "The tamale is the oldest recorded food in the world," he points out, and its "history dates back five thousand years."
Martin says the motto at TTC is "simplify, sustain, and celebrate." He's particularly passionate about the process of making tamales and says "if you've ever made tamales you know that you don't just make one dozen." He says his staff is very much like a family, and that's the way tamales are made in homes. "You start off making five or ten dozen," he says, "and then your aunts and uncles call and they want five or ten, then before you know it it's 80 dozen and it's an all day affair."

Martin says ultimately he hopes his food brings people together in celebration of culinary tradition.

Luis Carrion visits Tucson Tamale Company to learn about tamales and how they are a tradition in Tucson. (VIDEO: AZPM)