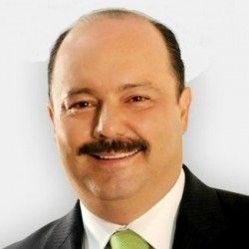 Former Chihuahua Gov. Cesar Duarte is wanted on 11 corruption-related charges.

Courtesy of Interpol
Mexico's federal government filed extradition requests on Friday for the former ruling party governor of the northern border state of Chihuahua, the acting attorney general said.
Cesar Duarte, who served under President Enrique Peña Nieto's Institutional Revolutionary Party from 2010 to 2016, is wanted on state and federal graft charges. His successor Javier Corral, of the opposition National Action Party, has said Duarte applied for political asylum in El Paso, Texas.
Federal prosecutors received 11 criminal accusations against Duarte last year, Acting Attorney General Alberto Elias said in a press conference this week. Prosecutors filed three charges on Friday, Elias confirmed in a tweet.
En entrevista con @MarioCNN platiqué sobre la presentación de las 3 solicitudes formales de extradición que se realizó este jueves. Estamos trabajando para dar continuidad y presentar las demás solicitudes.

— Alberto ElíasBeltrán (@AlbertoEBeltran) January 19, 2018
In December, authorities in Chihuahua detained a former top Institutional Revolutionary Party official who served during Duarte's tenure, Alejandro Gutierrez, accusing him of participating in a scheme to divert the equivalent of about $12 million in public funds for political campaigning, local media reported. Corral had called on federal authorities to seek the extradition of Duarte.
Duarte is one of several ruling party ex-governors believed to have fled the country following accusations of corruption. Former Gov. Javier Duarte of Veracruz, who is not related to Cesar Duarte, was arrested in Guatemala in April. Javier Duarte has been linked to real-estate investments in the U.S., including a house in Scottsdale.