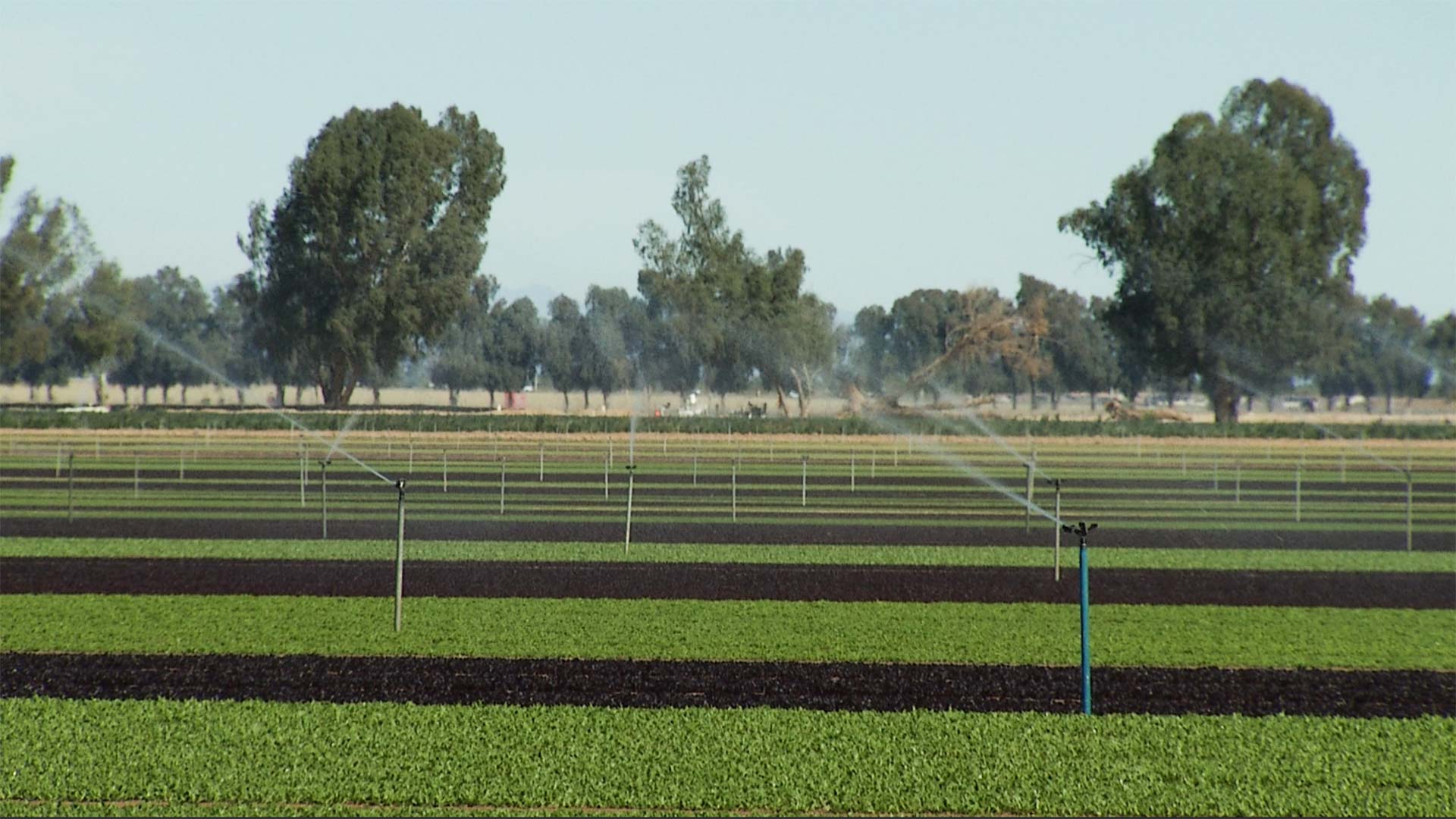 Crops at Duncan Family Farms.
AZPM Staff
Dan Thelander thinks about water a lot.
"Because we're in a desert," he said. "And if we don't have enough water, we're not going to be able to farm."
A second-generation farmer, Thelander works alongside his son and nephew. Their fields of alfalfa, cotton and corn are located just south of the town of Maricopa in the heart of Pinal County's agricultural center. There are irrigated fields in every direction. Just like his neighbors, Thelander gets his water from the Maricopa-Stanfield Irrigation district, and it's from a mix of sources.
"Traditionally, about half has come from [Central Arizona Project water] and half has come from groundwater."
CAP water, which comes from the Colorado River, will be less available to farmers in Central Arizona in the future. There are a few reasons for that. The first is the threat of a Lake Mead water shortage, which will be declared if the lake falls below 1,075 feet in elevation. The US Bureau of Reclamation says there's a 49 percent chance of that happening in 2020.
"If we get below 1075, the amount of water available to the state of Arizona is reduced," said Brian Betcher, who heads the Maricopa-Stanfield Irrigation District. "And that cut really falls to the lowest-priority entity, which is the Central Arizona Project. That then translates to the lowest-priority users within CAP, and that happens to be irrigated agriculture."
That'd translate to a 50 percent cut in Colorado River water for the irrigation districts within the CAP delivery area.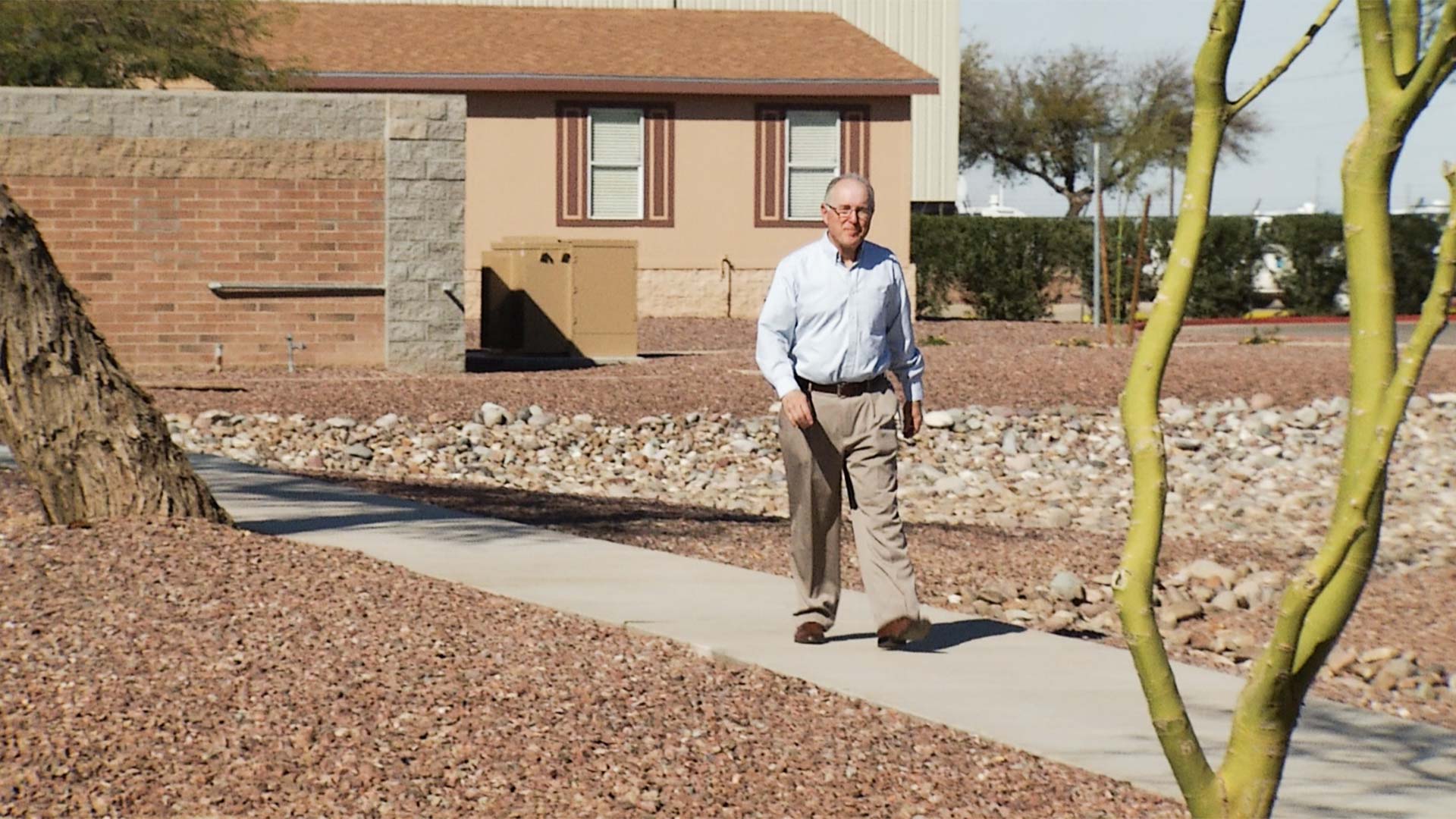 Brian Betcher

AZPM Staff
"A 50 percent reduction in our supplies can be handled with groundwater," said Betcher. "The challenge is that puts a large burden on groundwater pumping, and the district board has to decide, 'Do we want to do that long term?'"
And there's another challenge for farmers here. In 2004, Congress adopted a law that resolved longstanding water-rights claims for the Gila River Indian Community and the Tohono O'odham Nation. The agreement had ramifications for non-Indian agricultural users, too — farmers like Thelander. They got cheap water in exchange for gradual reductions in CAP allocations. The first 25 percent cut came in 2017. The last year they'll receive any CAP water at that reduced rate is 2030.
"We will be forced back to close to 100 percent groundwater production to provide our growers."
And, Betcher said, as more water is drawn out of the ground and levels fall, the cost of pumping it climbs.
There are a few other possibilities for supplementing water supply, including leasing water from tribes. But there seem to be two inevitabilities here: In the future, there'll be less water, and it'll cost more. Farmer Dan Thelander says in the meantime, he's trying to use water as efficiently as possible.
"The efficiency of our district is around 80 percent. On our farm we have about 1,000 acres of drip irrigation," said Thelander.
That's about one-fifth of the farm. Drip would raise Thelander's efficiency to 90 or 95 percent, but he said he doesn't expect to put in any more
"And there are a couple reasons for that. It is very efficient but it's very expensive to put in. We would like to have our whole farm in drip. ... We just don't have the money to do that. And even if we had the money, it doesn't make sense to put in all the acres in drip because we know there's going to be fallowing in Pinal County."
Fallowing is one of the words that comes up often when talking farming in this region. It means plots of land that are not cultivated. Sometimes farmers decide to fallow land to give soil a rest. But increasingly, fallowing is used as a tool to reduce water use.

Farmers here are often criticized for growing water-intensive crops, like alfalfa, that are exported around the world.
"It's an economic activity just like exporting computer chips that are made at Intel up in Chandler. It takes water to produce that as well. The crops we produce, they need to go to where the market is. The world does better with trade, and we're a part of that," Thelander said.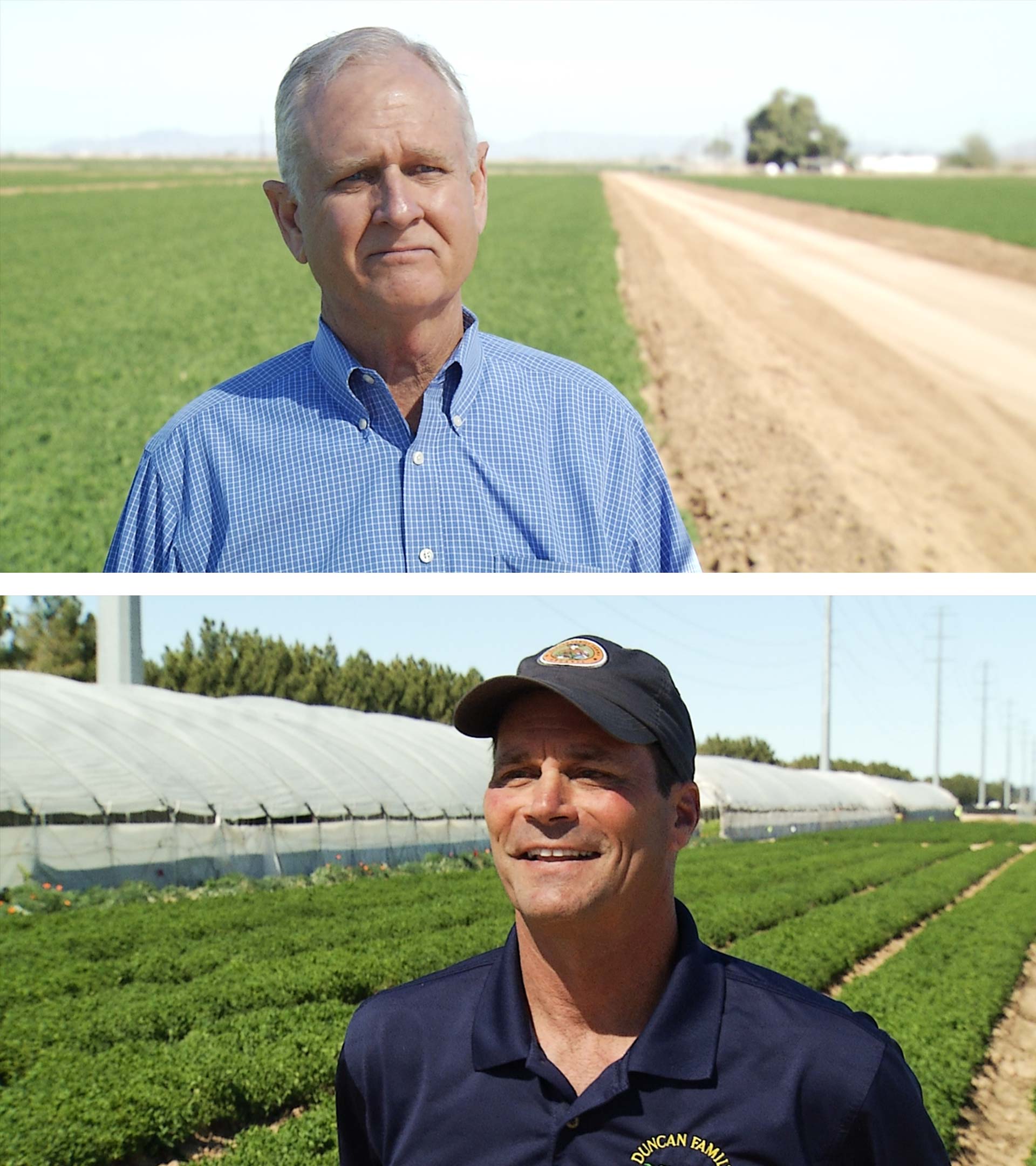 Dan Thelander, above, and Arnott Duncan.

AZPM Staff
Central Arizona's farmers are facing a lot of challenges. But Arnott Duncan of the Duncan Family Farms, just west of Phoenix, said there is a future for agriculture in this region.
"I think it'll be really interesting to see which crops are economically feasible," he said. "Which ones are politically allowed here. I think water is going to be all about legislative process and policy and who gets to use it. And what is the greatest and highest-end use."
Duncan is in a different irrigation district than the Thelander farms, but they face a lot of the same water issues. This farm is 100 percent organic and Duncan says that helps him as he looks forward to a future where water costs more.
"I think this is a demonstration of a crop that can support a higher cost of irrigation water, especially if it's applied efficiently."
And water efficiency is one of Duncan's main priorities.
"It's not as if we can wait for some magic number as a level of a lake to hit to start saving water. Every day at our house here at the farm, we're looking to conserve water. You should start now. No, you should have started years ago."
"Every day at our house here at the farm, we're looking to conserve water. You should start now. No, you should have started years ago."
Back in Pinal County, Brian Betcher said he, too, sees opportunity over time for farmers to switch to higher-value crops like organic fruits and vegetables. And some growers are already partnering with the Environmental Defense fund to test other crops that would use less water. Like Duncan, Betcher also sees a future for farming here, though he says the region will look different.
"I would like to think that there's a proper balance that would allow a gradual decline in farming down here but keeps it profitable, to balance the needs of the state," he said. "I'm a firm believer that every state needs farmland to provide direct food and fiber to meet the needs of the state. And the society, public policy has got to get on board and decide that that's a priority. And if it is, I think we'll make the water supplies available."
As it stands now, though, public policy is stacked against the farmers here, who go on every day with the knowledge that, as much as they plan and think about water, they're going to have to get by with less.