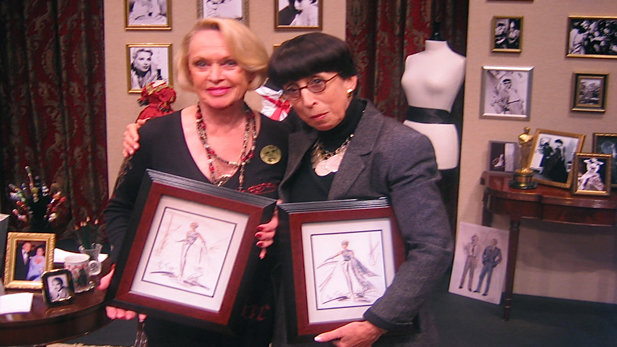 Screen legend Tippi Hedren joins Susan Claassen (in character as Edith Head) onstage for "A Conversation with Edith Head."

Susan Claassen
Tippi Hedren's onscreen presence is a unique combination of several seemingly incongruous traits. She effortlessly exudes both vivaciousness and elegance, strength and vulnerability, and warmth and coolness.
In 1961, when her association with director Alfred Hitchcock began, she had several successful modeling and commercial jobs to her name, but no feature film experience. The Birds would become her cinematic calling card, and instantly catapulted her to the top echelon of Hollywood fame.
Listen to a special extended version of the interview that aired on Arizona Spotlight:
On Sunday, March 6th, 2011, Tippi Hedren is hosting a special screening of her most famous film at Tucson's Loft Cinema. The event begins at 11:30 with an autograph session, and continues following the film with an audience Q & A.
All proceeds from the event go to support The Loft Cinema, The Invisible Theater, and Tippi's own charity, The Roar Foundation.
"THE BIRDS" with star TIPPI HEDREN in person! from Loft Film Fest on Vimeo.
Since 1983, The Roar Foundation and its 72-acre Shambala Preserve for rescued big cats has been Tippi's true labor of love. About it she has this to say...
"The Roar Foundation came out of a film that we did in the 70s. During the late 60s and early 70s, environmentalists were putting word out about the fact that, if we people of the world didn't do something to save the animals in the wild, by the year 2000 they would be gone just due to encroaching civilization—sport hunting and poaching. So there was a great awareness going out and we learned about the plight of the whale, of the tiger, the elephant, the panda, all these incredibly magnificent animals were diminishing in numbers at a very rapid rate."
"I was in Africa doing two films at that time, in 1969 and 1970. We were on a photo safari on the Gorongosa Game Preserve in Mozambique. On that game preserve there was a house that had been abandoned by a game warden because it flooded during the rainy seasons and the game warden moved out and a pride of a lion moved into that house and it was just awesome to see it. I don't know how many there… we couldn't really count them but there were close to 30, 25 to 30 lions of all sizes living in that house. It was just amazing. They were sitting in the windows, walking in and out the doors, they were napping on the verandas. Some of the cubs were playing out in front. It was just beautiful."
"We have since become a very important part of the rescue situation in the United States for California Fish and Game, the Department of Agriculture, the SPCAs, the Humane Societies. All of these entities were rescuing lions and tigers that had been born in the United States to be sold as a pet which is, of course, unconscionable when you think that they are apex predators, top of the food chain, one of four most dangerous animals in the world and try to make a pet out of it."
"Eventually, it bothered me to the point where I thought, why aren't there laws unilaterally across the United States, federal laws, and I have been successful in getting one passed. It's titled The Captive Wildlife Safety Act and that bill simply stops the interstate traffic of these animals being sold as pets. I co-authored the bill and brought it to my own congressman Buck McKeon and he introduced it and I was asked to testify, which I did. You have five minutes in order to get your point across, so what I did was I listed about 18 accidents that had happened to children and adults."
"So I listed all of these accidents, one right after the other, and I looked at them and I said, you are the only people who can stop this insanity and the bill passed unanimously in the House and Senate and President Bush signed it on December 19th of 2003. I'm working on a bill now to stop the breeding of these animals and of course this is a very big business. The exotic animal business is huge. According to U.S. Fish and Wildlife, it's on a par with illegal drugs and when that happens, things get dangerous."
"Shambala is a Sanskrit word that means a meeting place of peace and harmony for all beings, animal and human. We have had up to 150 big cats at the Shambala Preserve at one time in the 1970s, and we now have 58 big cats. I must tell you that the Captive Wildlife Safety Act that was passed in 2003 is working. I did research on it last year and just defined the efficacy of the bill and it is working, which is very, very encouraging for us. I contacted sanctuaries all over the United States, I mean true sanctuaries, not the roadside zoos or the places that call them the sanctuary and they're not. To be sanctuary there can be no breeding, no buying, no selling, no trading, no commercial use outside the city limits, adequate veterinary care, have a financial plan in place so that if anything happens to the director or the owner of the sanctuary that that place doesn't become part of the problem. So it's a huge, huge thing to be a sanctuary and every sanctuary I talked to said there has been a decrease in the numbers of animals that they're asked to take every year."
"Once the animal comes to the sanctuary, they are to stay in that place for the remainder of their lives, and what we try to do at Shambala is give them some semblance of a good life. They aren't in little cages. They're in big areas, some of them over an acre. We try to enhance their lives. We have a river for the tigers. All the cats like to be up high so we have high structures for them to get up on. We feed them the best of food. There's a uniformity of health with the animals at Shambala that's just absolutely beautiful. These animals shouldn't be in captivity at all and, in point of fact, there is not one thing that we can give a wild animal in captivity that they need. They really shouldn't be here and it is my hope to have… that maybe to start people thinking in terms of that situation, that we shouldn't have the animals in captivity, that they shouldn't be in the circuses to entertain us."