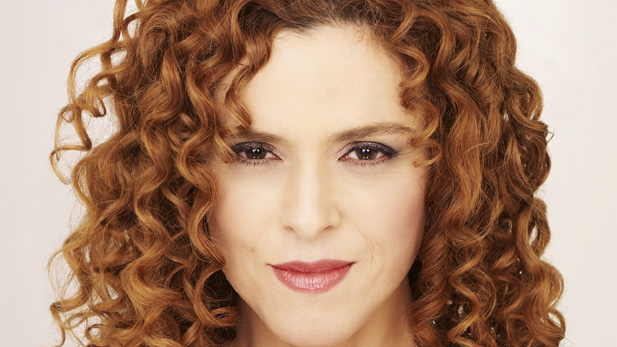 Andrew Eccles
When I talked with Bernadette Peters via telephone from her home in New York City, she said that she was really looking forward to visiting Arizona, and that she liked Tucson very much.
"Is it snowing there like it is in the rest of the country?" she asked.
"No, not exactly -- it's a little warmer here," I replied.
"Has it been in the 60s?" she asked quite excitedly.
She sounded like she didn't believe me when I told it had been a little warmer than that.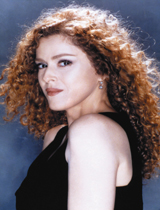 Bernadette Peters
Her list of Broadway successes alone is longer than most actor's resumes, including highlight like Sunday in the Park with George (1984), Into the Woods (1987), The Goodbye Girl (1993), Annie Get Your Gun (1999), and Gypsy (2003), a role that she described as being "The Hamlet of musical theater".
Bernadette's most recent Broadway show was the hit revival of A Little Night Music . Her next engagement will be at the Kennedy Center in Washington DC starring in another Stephen Sondheim musical, Follies. In between these illustrious engagements, Tucson audiences will get to hear Bernadette sing on Saturday, March 19th, when she is joined by The Tucson Symphony Orchestra in concert.
Bernadette has also recently added "author" to her list of accomplishments. Using her own dogs Kramer the mutt and Stella the pit-bull as inspiration, she has written two children's books about their adventures, Broadway Barks and Stella is a Star. Her love for dogs also inspired a charity project that she and her close friend Mary Tyler Moore host each year, also called Broadway Barks, that seeks to help New York's overflowing animal shelters by using some star power to help get needy animals adopted.
Bernadette Peters remains at the height of career and at the peak of her performing powers. Critics were virtually unanimous in praising her ability to work new emotion out of the song Send in the Clowns from A Little Night Music, leaving very few dry eyes in the house.
"As long as it's pure," Bernadette says about the songs she chooses for her concerts, "I can get away with anything."
Listen to the interview:
Here is video of Bernadette Peters singing her rendition of Stephen Sondheim's Not a Day Goes By from Merrily We Roll Along, live from the Royal Festival Hall in London, 2008.
The Tucson Symphony is an underwriter of Arizona Public Media.