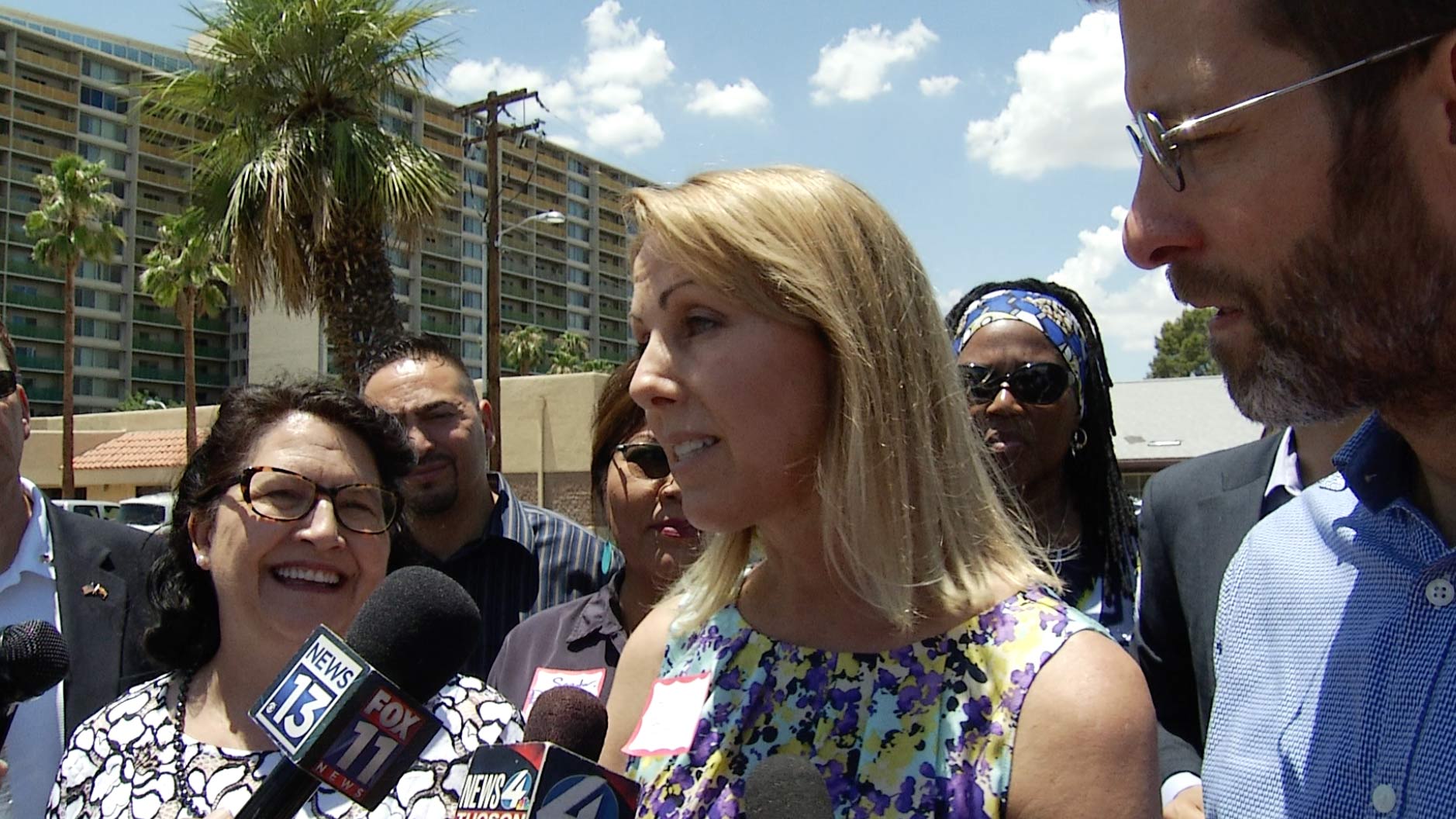 Democratic state Reps. Mitzi Epstein, Kelli Butler, and Ken Clark speak with the media after touring the Southwest Key facility in Tucson, July 13, 2018.
Steve Riggs, AZPM
More than a dozen members of the state Legislature toured the Southwest Key facility in Tucson Friday. It is home to nearly 300 immigrant children.
All but one of the members of the tour were Democrats. They said the two-hour tour left more questions than answers.
"I think we were all impressed with the staff, seem like very caring people. But I think this tour raises an awful lot of questions. We didn't learn anything about the reunification process, why it is taking so long," said state Rep. Kirsten Engel, D-Tucson.
Rep. David Stringer was the lone Republican on the tour, though others were invited.

"The care being provided to these young people I think is exceptionally good," he said.
The lawmakers said the children in the Tucson facility appeared to be older, with none younger than 5.
On Monday, House Democrats will sit down at the state Capitol for a meeting with Southwest Key officials. They hope the issue can leave the partisan nature behind.
"This is about finding out what is happening to our kids and making sure they are safe," said Rep. Kelli Butler, D-Paradise Valley.
Senate Republicans and House Speaker J.D. Mesnard met with Southwest Key officials last week.
Southwest Key runs a number of facilities in Arizona that house migrant children. The location in Tucson opened in 2014.
After the tour, Democratic lawmakers said reunification of children at the facility with their parents needs to happen more quickly.
Reunification is a federal issue. State lawmakers have no legal control of the matter.
The state does license the facility through the Bureau of Residential Licensing.