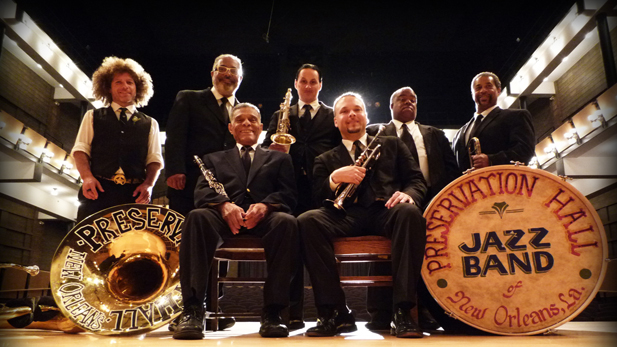 The proud ambassadors for a century of New Orleans music, The Preservation Hall Jazz Band.

Clint Maedgen
Preservation Hall Jazz Band bandleader and tuba player Ben Jaffe is an enthusiastic standard bearer for not only his New Orleans birthplace, but also for the legacy that was established by his parents. They were the originators of both The Preservation Hall Jazz Band and its philosophy, that the music will live.
The actual Hall is itself an ancient New Orleans landmark, a place where people still gather to listen to the authentic music of the Crescent City performed by veterans and dedicated newcomers alike. This is in spite of the fact that building is preserved in its original state -- with no air conditioning, heating, or other amenities. Food and drinks are not served at the Preservation Hall, only music.
Ben Jaffe is extremely excited about the PHJB's latest project -- a full collaboration with bluegrass legend Del McCoury and his group, both on a new album and on a tour across America. The two groups appear side by side on the Centennial Hall stage on Saturday, April 9th, hosted by UAPresents.
Listen to the interview:
UAPresents is an underwriter of Arizona Public Media.