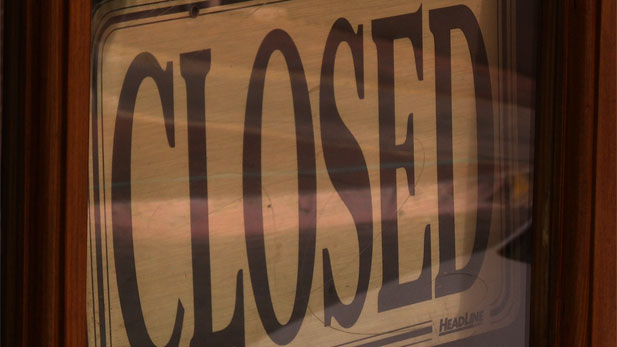 PHOTO: azpm
Lawmakers have until midnight April 8 to agree on a budget or the government will shut down.
All eyes have again turned to the nation's capitol, where clashing party priorities and political brinkmanship have brought budget negotiations to a standstill. If Congressional leaders can't agree on a budget by midnight on Friday, the federal government will shut down.
What would the shutdown mean for Arizona and for Tucson? The impact would reach well beyond the handful of local residents on the federal payroll, experts say.

A Mixed Bag for the Military
As home to multiple military bases, Arizona would have to contend with a freeze on military paychecks and spending.
But the looming government shutdown would not affect day-to-day operations at local military bases, officials said. Operations would simply continue without pay.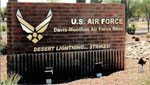 Officials at Tucson's Davis-Monthan AFB referred all shutdown-related questions to the Pentagon, where a spokesperson for the U.S. Department of Defense told Arizona Public Media that all military personnel will continue to work, but without pay. In a message to the military, Secretary of Defense Robert Gates promised that the military will receive back pay for any compensation missed during a potential shutdown.
The military does employ many civilians, and their work status is a bit more complicated. Civilians who are deemed essential will still go to work, but non-essential employees will be told to stay home. Many of those decisions will be made at individual bases.
On-base services, like exchanges, child care, and health care, will all stay open during any government shutdown. The exchanges use little to no tax dollars to operate. However, officials with the Defense Department say that some services at the exchanges may not be available during a shutdown.

The Toll on Tourism
Arizona boasts some of the nation's most popular national parks and monuments, including the Grand Canyon and, more locally, Saguaro National Park. These draw nearly 12 million visitors and billions of dollars in revenue each year, and all would close in a government shutdown.
If a federal budget is not passed by tomorrow night, park officials will lock the gates and closure signs will be posted. Trail heads and trail access points will also be closed.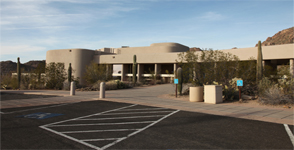 Visitor center at Saguaro National Park's West Unit.
Issuance of back-country permits for the East Unit of Saguaro National Park have already been suspended, but people currently on extended back-country trips will not be asked to leave.
Both visitors' centers will close, and all interpretive and outreach programs will stop. Law enforcement and some infrastructure staff deemed essential will continue to work. Rangers will not.
"We just hope it doesn't last long, but if it does happen, we appreciate the community respecting the closure," says Saguaro National Park Senior Ranger Bob Love. "It impacts the visitors as well as the many employees who will go home and not be certain of getting a paycheck."
Coronado National Forest spokeswoman Heidi Schewel says forest officials are meeting late Friday morning to discuss how to handle a possible closure on Coronado lands and at Sabino Canyon.
Click to hear more about park closures:
The Price for Arizonans
With the Internal Revenue Service tax deadline just around the corner, many taxpayers are worried about their returns--and with good reason.
IRS Commissioner Doug Shulman says electronically filed returns and refunds won't be affected, but the processing of paper returns will be delayed by a shutdown.
"In the event of a shutdown, people really should file electronically, because most of these returns are processed automatically and will not experience any delays," Shulman says. "However, taxpayers who file paper returns will experience some delays if we end up in a government shutdown."
Shulman also says audits could be postponed during a government shutdown.
For the one-fifth of Arizonans who live in poverty, the prospect of missed benefits--including unemployment benefits, Social Security checks or food stamps--carries real weight. How state and federal agencies will handle a shutdown's anticipated impact on the poor or jobless remains an open question.
Both the Arizona Department of Economic Security, which administers foods stamps, AHCCCS enrollments and unemployment payments, and the local Social Security office said they have no plan yet in place for a shutdown, and don't know if they will remain open following Friday.
Like the rest of the nation, these state and federal agencies must watch and wait.