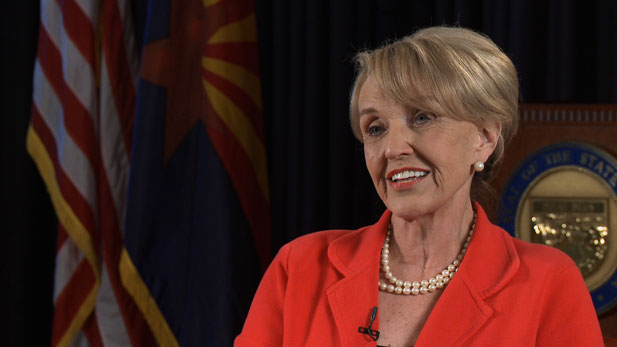 Gov. Jan Brewer will make a rare appearance in Tucson Thursday, Sept. 1, to address the state's municipal leaders.
Gov. Jan Brewer reiterated her stand for public education funding in Arizona, despite giving up much more in cuts to the Legislature than what she wanted.
Brewer, in a wide-ranging interview for Friday's Arizona Week, said she knew almost from the day she released her budget proposal in January that she wouldn't get the relatively low level of cuts that she wanted.
"They wanted to really redo the education budget, and I pushed back," Brewer said. "I protected education to the best of my ability. I feel like I was a backstop."
The Republican-controlled Legislature passed a $183 million cut in K-12 funding, $198 million for the universities and $73 million for community colleges. Those figures, totaling $454 million, were a compromise with Brewer, who wanted a total of $323 million in educational cuts. The state Senate passed cuts that totaled about $100 million more than the figure eventually reached through negotiation.
For K-12, the cuts mean a reduction in per-student funding from the state's general fund will hit its lowest point in 11 years, at an estimated $3,215. For the current fiscal year, the figure is about $3,400, down from a high of $4,658 in the 2007-08 fiscal year.
For the universities, the cuts are driving tuition past the $10,000 level at the University of Arizona and Northern Arizona University and to just below that at Arizona State University.
Asked how she would help to see that low-income students could still get a college education, Brewer said that they should seek scholarships and other aid, and they could find jobs. She pointed out that as a member of the Arizona Board of Regents, she voted against the tuition increases.
On a related issue, Brewer said she was caught by surprise last month when the former CEO of Intel, Craig Barrett, said at a state Commerce Authority meeting that if the cuts the state was making in education had occurred when Intel was first considering locating in Arizona, it might not have. The semi-conductor company has more than 10,000 employees, mostly in the Phoenix area, and has announced plans for a new $5 billion plant in Chandler to employ more than 1,000.
On other topics, Brewer said:
-- The way to secure the border is to build a fence that is impenetrable, keep the National Guard deployed, add Border Patrol officers and pass the border security legislation proposed by Sens. Jon Kyl and John McCain, both Arizona Republicans.
-- She did not know how much in federal matching money Arizona will lose as it cuts AHCCCS health care for the poor. She said the state's plan now is one of the most generous in the nation, something Arizona cannot afford. Asked where poor people bumped from AHCCCS roles could get medical care, she suggested they find ways to pay for it or go to emergency rooms, something she admitted would likely drive up insurance premiums.
-- She believes in local governmental control, and that is why she vetoed legislation from Sen. Frank Antenori, a Tucson area Republican, that would have required Tucson and Phoenix to call for bids for all services costing more than $500,000. The plan, Antenori said, would put more governmental work into the more efficient private sector.
Click to watch Arizona Week host Michael Chihak interview Gov. Jan Brewer and lead the reporters' panel in analysis.