Dan Meyer gets ready to take off on a flight over the Santa Cruz River area south of Tucson. (PHOTO: Tony Paniagua )
Many people imagine wildlife biologists, ornithologists and other scholars of the natural world spending time in the field, tromping around in the wild in search of scientific evidence. But these days they are just as likely to take to the skies, doing their research from hundreds of feet up in the air.
Experts say airplane-based research opportunities are vital, and many scientists are grateful to volunteer pilots who make it possible.

Dan Meyer is one of them. He's a retired forester who has been flying since 1964, and who is now a volunteer with LightHawk.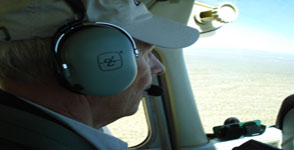 Dan Meyer has been flying since 1964 and now he's one of dozens of pilots who volunteers for LightHawk. (PHOTO: Tony Paniagua )
LightHawk is a non-profit organization that takes scientists over tracts of land that are being studied, developed or under consideration for preservation. This way, researchers are able to get a better sense of what is happening to the land in question, since the distance from the aircraft provides a "bigger picture" scenario.
"I think that's the bottom line value of what we provide," Meyer says. "There's just no substitute for an aerial view -- you get a sense of perspective and relationships that's impossible to get through a windshield and on the ground. You immediately know the scale of something and how one thing affects another."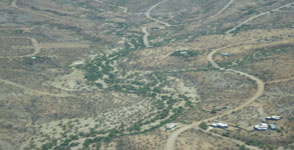 Experts say aerial views are essential because they allow huge territories to be covered quickly, providing unique perspectives and scale. (PHOTO: Tony Paniagua )
Meyer flies his Cessna out of Ryan Airfield southwest of Tucson, and his passengers have included experts from the Tucson Audubon Society, the Sonoran Institute and other groups.
Scientist Francisco Zamorra Arroyo is one of the many passengers who have benefited from the flights. He works with the Sonoran Institute in Tucson but has been doing extensive research on the Colorado River delta just north of the Gulf of California.
"The Colorado River delta is a large ecosystem," he says. "You think about Yuma to the upper Gulf of California, it's about 100 miles long and about 50 miles wide, so it's a really a large ecosystem. The only way to be able to look at the ecosystem is by flying. In an airplane, you can do that in a couple of hours and really get the details to do these vegetation maps."
Meyer says he and the dozens of other pilots who fly for LightHawk get a lot of personal satisfaction by being able to contribute to important research.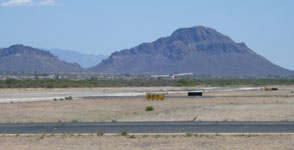 Dan Meyer flies his Cessna out of Ryan Airfield southwest of Tucson. (PHOTO: Tony Paniagua )
"I think there are about 150 of us pilots in the United States, and almost to a person they share this ... passion for the environment, for the out of doors and flying," he says.
"For us, it's a wonderful combination, because we get to do what we like and yet we think there's some purpose," Meyer adds. "We're not just flying around boring holes in the sky and wasting gasoline."