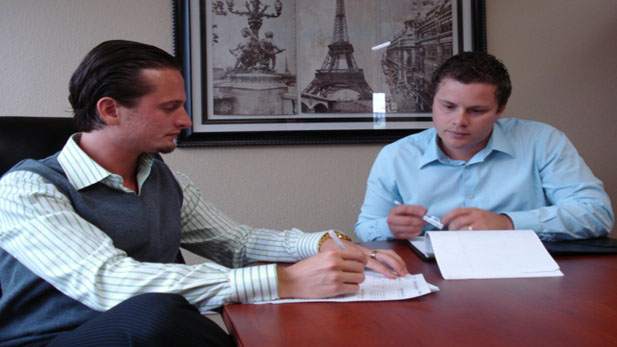 Daniel Stringer and Nick Puente are young entrepreneurs who turned an idea into a Tucson-based company that is growing.

Tony Paniagua
Many entrepreneurs say starting a company can be very challenging in today's tough economy. Burned by the downturn, many traditional funding sources have grown warier and often want would-be merchants to already have some experience in their business--a Catch-22, the merchants say, if you're just getting started.
The Catch-22 happened to Tucson resident Nick Puente and his business partner Daniel Stringer. Puente says he and Stringer had an idea for what they thought would be a very successful company, but the banks wanted existing experience and numbers before lending any money.
"We were kind of between a rock and a hard place and a lot of times thought, hey, we could go our family and our friends and we can raise money, but we didn't want to go that route," Puente says.
So the young men - both in their twenties - began to do some research and eventually found out about ACCION, a non-profit organization that encourages people to start or expand their businesses. Puente and Stringer were able to secure a loan and set their company in motion. It's called Total Care Connections and it offers in-home care and assisted living placement.
Puente says their idea, work and loan are all paying off.

"Things are going great, we've been in business, we just hit our two-year mark, our projections for this year are to hit seven figures in sales, so for us that's phenomenal growth," he says.
Roberto Valdez-Beltran is the senior loan officer for ACCION, which expanded into Arizona from New Mexico three years ago and has already served hundreds of clients with about $3 million in loans. The group meets with would-be business owners and provides training and assistance, including analysis of business plans and credit.
"And all those factors combined give us an answer, but we're going to guide every client through the whole process and we'll try to provide as much information as possible and educate them about the situation," says Valdez-Beltran. "And if it's a no, then we'll say why and we'll try to help them understand what they need to do next."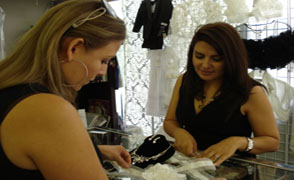 After several years of working for other people, Sandra Hillier took some business courses and decided to set out on her own.

Tony Paniagua
Sandra Hillier is another client who decided to venture out on her own in the garment industry after taking business courses and finding she could buy an existing bridal shop.
Hillier now owns Laura's Bridal Boutique in midtown Tucson and she's excited about the future. Eventually, she says, she hopes to get a larger facility or even open up additional stores.
Getting a business loan in today's tough economy can be very challenging for start-up companies but some are finding alternative sources of assistance. (VIDEO: AZPM)