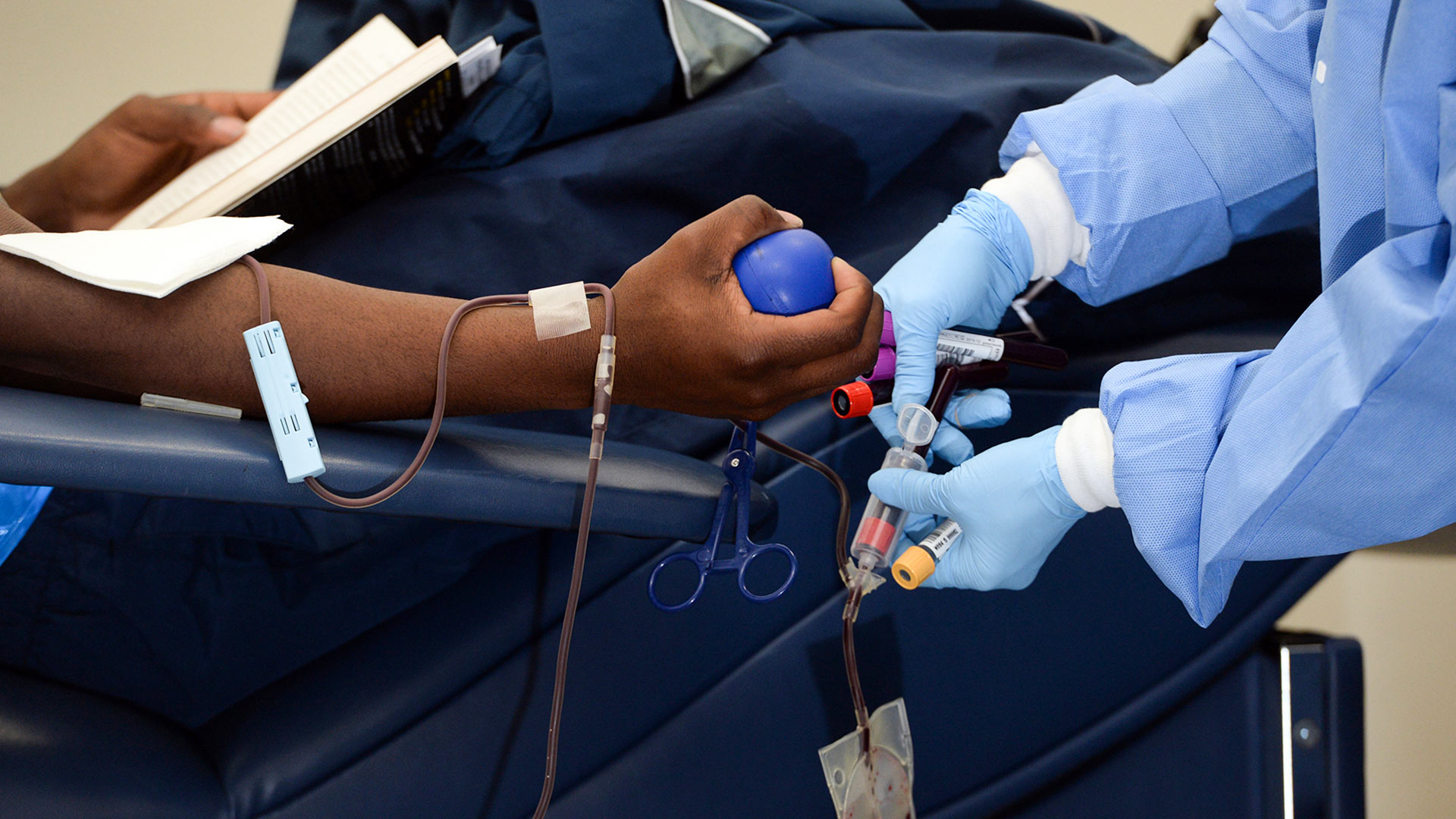 A man donates blood.
Department of Defense
The American Red Cross is in desperate need of Type O blood nationwide. The nonprofit only has enough donated blood to last them till Thursday.
Samantha Bivens with the Red Cross in Southern Arizona said donors in states affected by the polar vortex haven't made their regular donations because of the cold weather. The Red Cross will need donors to refill the shelves and maintain its daily quotas.
"We'd need probably about 20,000 donors to show up nationwide to come on out and donate some blood," said Bivens.
She said hospitals are looking to donors out West for help.
"We're asking for Arizonans and Californians and some of our West Coast friends here to step up and fill the void where that blood is desperately needed," said Bivens.
The Red Cross usually likes to have at least five days of blood in stock, but it has less than three days of blood available now.

In addition, hospitals across the country need approximately 14,000 pints of blood to meet their daily needs. Bivens said hospitals in Tucson require about 170 pints of blood every day to break even.

According to the Red Cross website, about 38 percent of Americans can give blood, but only 3 percent of age-eligible volunteers donate every year.
The Red Cross needs Type O blood the most because the majority of people in the U.S. are Type O-positive, and people with Type O-negative blood can donate to anyone. She said hospitals request Type O-negative blood the most during an emergency.
The Red Cross reports that approximately 45 percent of the population has Group O blood, but only 7 percent of that is Type O-negative.
Bivens said volunteers can donate one pint of blood every 56 days, which could save up to three lives. If the blood isn't used, Bivens said it will expire in 42 days.
"The deficit there of two weeks, you can see why we always say the need is constant," said Bivens.
In a press release, the American Red Cross announced it partnered with the HBO's television show Game of Thrones to incentivize blood donations.
Volunteers who donate between now and March 17 will be entered in a drawing to win one of five trips to see the season premiere of the show. Anyone who gives blood from March 7-12 will get Games of Thrones merchandise while donation centers have supplies.
If you're interested in donating blood, the Red Cross website has a list of blood drives in the area.