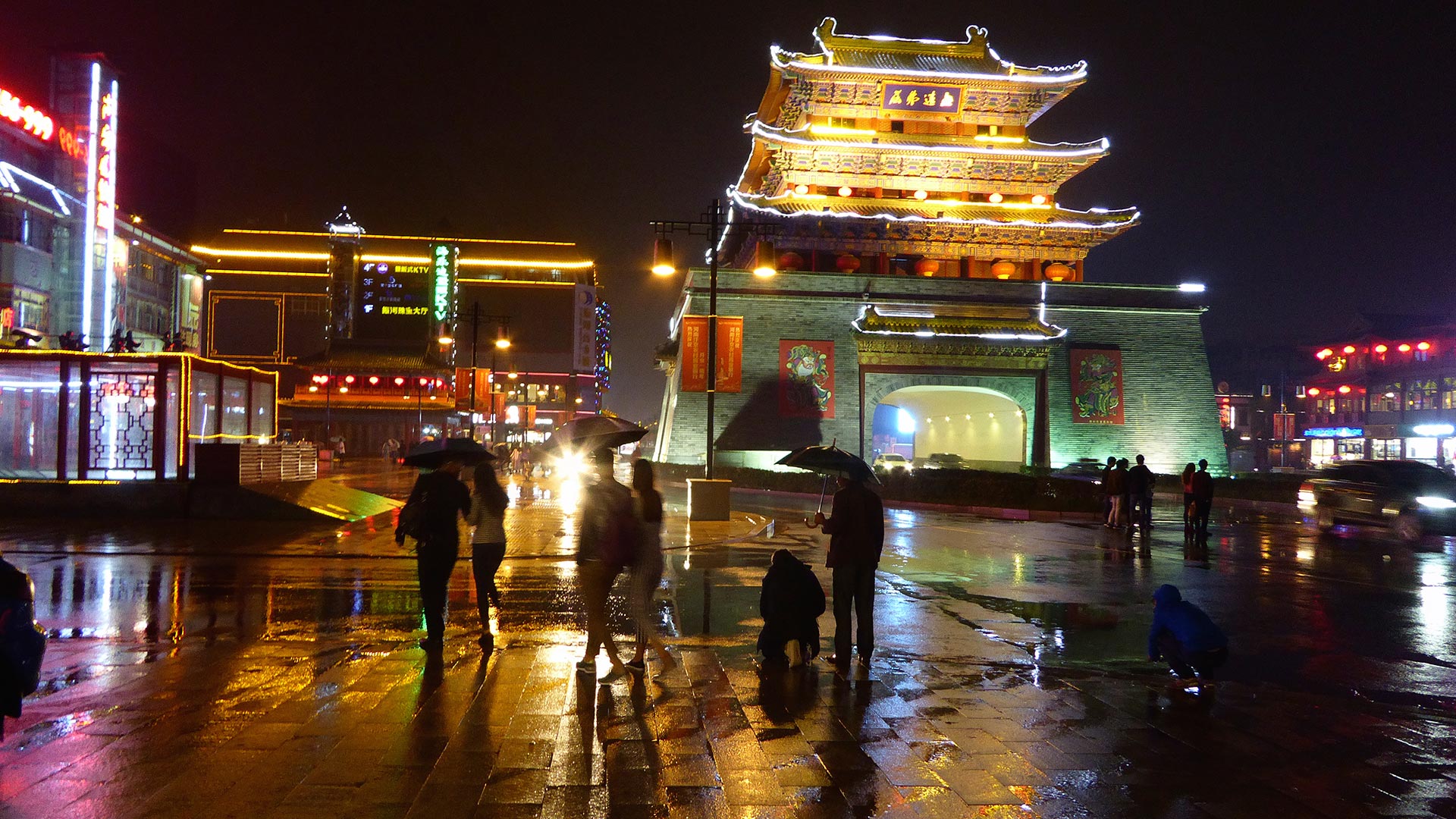 Night time near the Drum Tower in Kaifeng
Courtesy of Mick Duffield
Celebrate the culture, tradition and historic contributions of Asian Americans and Pacific Islanders through a collection of films and special programming on PBS 6 and PBS 6 PLUS.
Asian Pacific American Heritage Month Programs
May 1-31, 2019
RED denotes "new" program.
Full schedules are available online. Schedule is subject to change.
List includes first air only. See schedule for repeats tv.azpm.org.


Television highlights include:
Mekong River w/ Sue Perkins: Season 1
PBS 6: Saturday, May 4th, 11th, 18th, 25th at 2pm
In this fascinating series, Sue Perkins uncovers a region undergoing unprecedented change. As well as tackling hard-hitting social and environmental issues, Sue explores the lighter side of life on the Mekong, as she meets the river's idiosyncratic characters. The Mekong is South East Asia's largest river, flowing through 3,000 miles of breathtaking landscapes: the high peaks of the Himalayas, the Tibetan plateau, the canyons of Chinese Yunnan, and Vietnam's vast Mekong Delta. With her inimitable genial charm, Sue brings to life the river's compelling and profound stories, encountering some of Earth's most incredible natural phenomena along the way. Whether witnessing the religious festival that plays host to the world's biggest water fight, or attending the glitzy premiere of communist Lao's first ever state-funded rom-com, her insights are presented with humor, warmth and respect.

And Then They Came for Us
PBS 6 PLUS: Sunday, May 5th at 4pm
As the documentary demonstrates, the registration and incarceration of 120,000 Japanese Americans during WWII was one of the worst violations of constitutional rights in American history. The US government lied about the threat of espionage to justify the incarceration. Today's Muslim travel ban relies on similar uncorroborated claims of threats to national security. Featuring actor George Takei, and many others who were incarcerated, the film reveals the silence that surrounded the incarceration and the importance of speaking up against the travel ban. Knowing our history is the first step in making sure we do not repeat it. This film is a cautionary tale for these dark times.

Pacific Heartbeat: Prison Song
PBS 6 PLUS: Sunday, May 5th at 11pm
The people imprisoned in a Darwin jail are shown in a unique and completely new light in Australia's first ever documentary musical. Incarcerated in tropical Northern Territory, over 800 inmates squeeze into the overcrowded spaces of Berrimah Prison. In an Australian first, the inmates share their feelings, faults and experiences in the most extraordinary way – through song.

Next Gen Asian American Art
PBS 6: Sunday, May 5th at 430pm
Next Gen Asian American Art, produced by S. Steve Arounsack, co-produced by CAAM, and executive produced by David Hosley, explores how Asian Americans in California's Central Valley are using art to reshape narratives about and within their communities. Lon La Dee Chan of Stockton, Nikiko Masumoto of Del Rey and Paramjeet Kaur and Harjeet Singh of Yuba City are portrayed creating distinctive art in a region better known for its agricultural productivity. Three of them are immigrants, and in celebrating their communities these vanguards are crafting hybrids halfway between their ancestral cultures and today's California's contemporary culture.

Yan Can Cook: Spice Kingdom - Season 1
PBS 6: Weekdays, starting May 6th at 11am
"Yan can cook, so can you!" has always been the motto of chef and television host Martin Yan. Celebrating Chinese cuisine, and making it easy for cooks to prepare and delicious for guests to enjoy has been his life-long mission. Born in Guangzhou in southern China, chef Yan is technically a second generation "culinarian," who was first inspired by his mother in the tiny kitchen of their family restaurant.In YAN CAN COOK: SPICE KINGDOM, Yan explores the many aspects of how food and spices helped shape the history and culture of western China.The series takes a comprehensive look at the region, tracing its early history to its water source at Dujiangyan. Named "Tian Fu" by Chinese scholars and historians, which means the land of heavenly abundance, the region's rich farm land and temperate climate gave rise to 23 centuries of uninterrupted history. In this culinary journey, Yan also examines daily life in the region - from a whirlwind tour of street snacks to a leisurely cup of tea at historical tea houses. Back in the kitchen, Yan demonstrates his own take on the flavors and dishes of western China.

Independent Lens: Out of State
PBS 6: Monday, May 6th at 10pm
Shipped thousands of miles away from Hawaii to a private prison in the Arizona desert, two Native Hawaiians discover their indigenous traditions from a fellow inmate serving a life sentence.

Outback 101 - 103
PBS 6: Thursday, May 9th, 16th, 23rd at 10pm
Over the course of a year, journey with the people and animals of the Kimberley region in North West Australia: a vast, rugged and remote wilderness, bursting with character.

Crouching Tiger, Hidden Dragon
PBS 6: Saturday, May 11th at 9pm
A 19th-century martial arts master Chow Yun-Fat gives a sword called Green Destiny to his beloved Michelle Yeoh, then the two must recover it from thieves. 2000

Confucius Was a Foodie: Season 1
PBS 6 PLUS: Sunday, May 12th, 19th, 26th at 9am
In CONFUCIUS WAS A FOODIE, celebrity chef and former Food Network host Christine Cushing takes viewers on a voyage of discovery, uncovering the fascinating traditions, philosophies and history of Chinese culinary culture and its surprising influence on food around the world. Christine's motivation to embark on this journey is her discovery that 2,500-year-old Chinese philosopher Confucius was actually-a foodie. From exploring Chinese cuisines in North America to the culinary politics of Taiwan, the tasty richness of Hong Kong, and the blended flavors of South East Asia, Christine finds connections to the gastronomic precepts of the great Chinese philosopher both ancient and modern. Each episode features Christine as a culinary adventurer, fearlessly leading viewers to a deeper appreciation of our world through a gourmand filter. In Italy Christine questions the origins of pizza, in Greece she uncovers the beginnings of her beloved baklava, and in Paris she discovers that crepes have Chinese roots. Featuring celebrity guests such as Anna Olson, chef Wan, Ming Tsai, Alvin Leung, and Janet Hsieh, CONFUCIUS WAS A FOODIE shakes up foodie myths, and takes a delicious look at the historical and contemporary landscape of Chinese cuisine.

Tsuruko's Tea Journey
PBS 6: Sunday, May 12th at 12pm
In one form of the Japanese tea ceremony, the host serves traditional kaiseki cuisine, sake and, finally, tea to the guests. The intricate ritual, established as an art form more than four centuries ago, is believed to be the foundation of Japan's omotenashihospitality. In TSURUKO'S TEA JOURNEY, one woman embarks on a unique pilgrimage across Japan to immerse herself in the art. Tsuruko Hanzawa is a rare "catering chef" of nine-course, formal tea ceremonies called Chaji. At 70 years old, she loads her pots, pans and other specialized tools for making tea into her van and sets off to serve dishes using local ingredients and fresh tea to the varied people she meets along the way. Exploring a life devoted to tea and the ceremonial art form, the documentary follows Tsuruko for two years as she brings people together around the traditional art form, while also battling a serious illness to continue her pilgrimage.

Pacific Heartbeat: Leitis In Waiting
PBS 6 PLUS: Sunday, May 12th at 11pm
Leitis in Waiting tells the story of Tonga's evolving approach to gender fluidity through a character-driven portrait of the most prominent leiti transgender in the Kingdom, Joey Mataele, a devout Catholic of royal descent. Over the course of an eventful year, Joey organizes a beauty pageant, mentors a young leiti who is rejected by her family, and attempts to work with fundamentalist Christians regarding Tonga's anti-sodomy and cross-dressing laws. Her story reveals what it means to be different in a deeply religious and conservative society, and what it takes to be accepted without giving up who you are.

VA: The Human Cost of War
PBS 6 PLUS: Saturday, May 18th at 1pm
Explore the history of the Department of Veterans Affairs, from the troubled beginnings of the Veterans Bureau of 1920s to the modern VA system. Learn details of this vast, crucial American institution: its successes, failures and need for reforms.

Story of China 101 - 103
PBS 6 PLUS: Saturday, May 18th, 25th and June 1st at 2pm
This series, written and presented by historian Michael Wood, explores the history of the world's oldest continuous state, from the ancient past to the present day.

Chinese Exclusion Act: American Experience
PBS 6: Sunday, May 19th at 1pm
Examine the origin, history and impact of the 1882 law that made it illegal for Chinese workers to come to America and for Chinese nationals already here ever to become U.S. citizens. It remained in force for more than 60 years.

Pacific Heartbeat: Te Kuhane o te Tupuna The Spirit of the Ancestors
PBS 6 PLUS: Sunday, May 19th at 1130pm This documentary film is a journey from Easter Island to London, in search of the lost Moai Hoa Haka Nanaia, a statue of significant cultural importance. It explores the social and political landscape of the island of Rapanui as the people attempt to claim back what is rightfully theirs: their land and a lava-rock image of tremendous presence, representing one of the world's most extraordinary cosmological views.

Norman Mineta and His Legacy: An American Story
PBS 6: Monday, May 20th at 9pm
Meet the statesman who served as cabinet secretary for Presidents Clinton and George W. Bush. Imprisoned by the U.S. during World War II for his Japanese ancestry, Mineta rose to become the first Asian American to serve in a presidential cabinet.

10 Monuments That Changed America
PBS 6: Monday, May 20th at 10pm
Tour wholly original American monuments and explore surprising stories behind American favorites. Examine the battles over how to remember our past, from the Vietnam Veterans Memorial to the controversial Confederate soldier monuments.

The Ito Sisters: An American Story
PBS 6 PLUS: Saturday, May 25th at 4pm
Explore the lives of three Nisei sisters from the Sacramento Delta, from their childhood on a farm in the Delta to their internment during WWII and beyond.

No Passport Required: New Orleans
PBS 6 PLUS: Sunday, May 26th at 8am
Chef Marcus Samuelsson discovers how Vietnamese cuisine and culture have influenced the city in delicious ways. From pho to banh mi, he learns how young chefs are taking culinary traditions and translating them for a new, multicultural generation.

Arizona & The Vietnam War: Season 1
PBS 6: Sunday, May 26th at 1pm, 2pm, 230pm
Arizona & The Vietnam War recounts the impact of the era and its defining war on a generation of Southern Arizonans through thought-provoking, personal interviews and cultural perspectives.

Proof of Loyalty: Kazuo Yamane and the Nisei Soldiers of Hawaii
PBS 6 PLUS: Sunday, May 26th at 9pm
Proof of Loyalty: Kazuo Yamane and the Nisei Soldiers of Hawaii tells the story of a Japanese American who played a crucial strategic role in World War II. He and his fellow Nisei from Hawaii combated prejudice and discrimination to loyally serve their country. Their extraordinary service, mostly untold, ultimately changed the course of U.S. history. Proof of Loyalty is particularly timely as the two main themes are the importance of diversity and the importance of the language of immigrants.

Pacific Heartbeat: Corridor Four
PBS 6 PLUS: Sunday, May 26th at 11pm
A nationally recognized K9 Unit Officer, Isaac Ho'opi'i is responsible for saving numerous people from the Pentagon during the terrorist attacks on September 11, 2001. Countless articles were written about his heroism following 9/11. He was photographed by Richard Avedon for a spread in USA Today. He appeared on NBC's Today Show. And he ran the Olympic Torch on its way to Salt Lake City for the 2002 Winter Olympics.

Silent Sacrifice – Stories of Japanese American Incarceration
PBS 6: Wednesday, May 29th at 2pm
This film illuminates a dark chapter in American history. In February 1942, just 10 weeks after the Japanese bombed Pearl Harbor, President Franklin D. Roosevelt signed Executive Order 9066, which authorized the removal of any or all people considered a threat to national security from designated military areas. SILENT SACRIFICE shares the experiences of Japanese Americans who were living in the San Joaquin Valley prior to Executive Order 9066. Interviewees discuss what drew them to the area, the businesses and farms their families established,and both the discrimination many faced in their adopted land as well as the friendships they formed. They then reveal the shock and confusion felt in the immediate aftermath of Pearl Harbor and the tragic and disorienting uprooting of lives as families were forced to abandon their homes and move into temporary assembly centers before being sent to permanent internment camps.