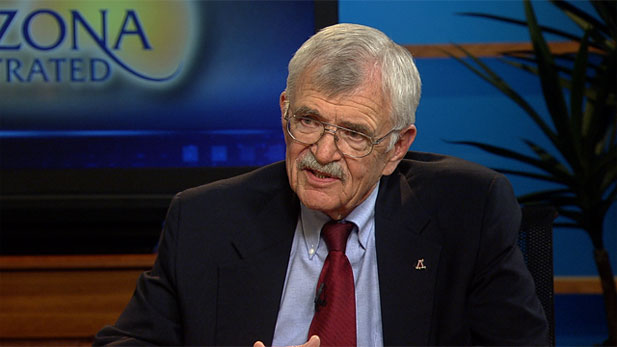 PHOTO: AZPM
Eugene Sander will hold the University of Arizona's top job while the Arizona Board of Regents conducts a national search for the next UA president.
Eugene Sander officially takes over as University of Arizona's next president Aug. 1. He's already working with outgoing President Robert Shelton to prepare, but with more than 20 years at the UA already under his belt, Sander says it won't be much of a transition.
For one, he plans to keep the institution advancing.
"That's, I think, a characteristic of a large research university like ourselves. It's very easy to deteriorate if you're not moving forward," Sanders tells Arizona Illustrated.
Sander says one of the most important aspects of dealing with upcoming budget questions is stability.
"We'd like to avoid any more surprises, because I think we have a plan in place that will allow us to continue to be a very viable university," Sander says. "When the margins get tight, it's very difficult to handle the unexpected."