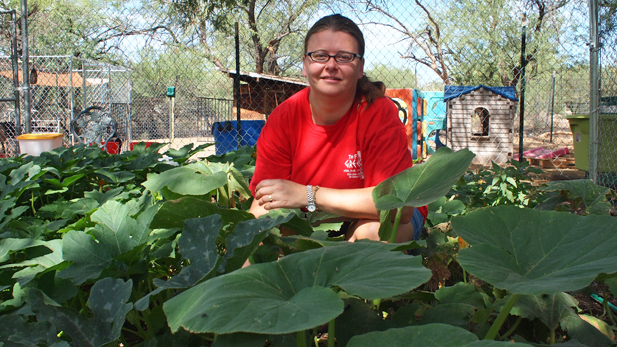 Writer, illustrator and accidental farmer Traci Markou singlehandedly supplies her husband's business with fresh, local produce.

Gisela Telis
On any given morning, you'll find Traci Markou milking goats.
On one-eighth of a 2.5-acre lot in east Tucson, the busy writer, illustrator, mother of three and wife of The Fat Greek restaurateur George Markou is conducting a grand experiment.
She's attempting to single-handedly supply her husband's restaurants with the ingredients he needs—by growing them.
For the last four months, "Markou Ranch" (as the garden is called) has produced many of the cucumbers, eggplants, tomatoes, squash, zucchini, basil, dill, goat milk and eggs in the dishes served at The Fat Greek 2 on Swan Road.
"I don't think my husband thought it would produce enough to support a restaurant," says Traci. "I think he's still amazed."
Only a handful of Tucson eateries walk the local foods talk, and many of these are more upscale establishments. But Traci's success has thrust The Fat Greek into their ranks, all while rooting the Markous to their land and their food in a way they never expected.
*
The Markous' foray into farming began with a real estate risk. Just before the housing market crashed, the Markous took the plunge on buying their dream: a large mesquite-shaded plot that promised country living close to town.
Both had dreamed of the rural life. In Greece, where he lived from age 4 to 14, George spent his summers in his father's village, tending horses and crops.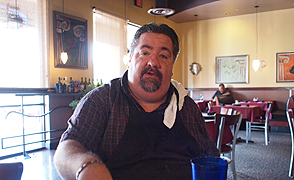 George Markou, owner of the local The Fat Greek restaurants, turned to local produce to save money and offer his customers higher-quality ingredients.

Gisela Telis
Traci, who was born to a military family in Alamogordo, N.M., grew up in Phoenix and Tucson but most fondly remembers her visits to her grandparents' country home in Oklahoma. They inspired her unusual ambition.
"I always wanted to be a farmer and an artist," she says. "I've been saying that since I was five."
The Markous wanted to share a farming life with their children, and hoped a country home would connect them to the land.
Having borrowed against their home to buy their acreage and drawn up plans for a new house, the Markous returned to their loan officer to secure funds for construction. They found the game had changed.
"They said the lending policies had changed and we couldn't qualify for the loan," Traci recalls. "We left there crying."
The family also couldn't find a buyer for their in-town house. Like so many other Americans caught up in the mid-2000s' real estate optimism, they were now trapped with two properties when they had intended to keep only one.
As the Markous struggled to keep up, the economic crash took a toll on their restaurants as well, driving down their business by as much as 50 percent. Then, rising fuel prices forced many food distributors to add surcharges to their delivery fees.
That, says George, was when "things started to seem very expensive."
He and Traci had held on to their country dreams, visiting their property occasionally and later, when weeds overgrew it, buying goats to graze it. Now Traci moved her backyard brood of hens to the property and, with her three young sons in tow, set about growing a garden that could save her family some money.
*
So-called "locavores" have long touted the benefits--economic and other--of keeping it local, and there's evidence to back up their claims.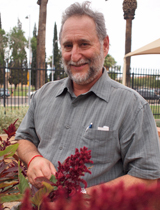 Celebrity chef Janos Wilder has supported and sourced local foods in his restaurants for nearly 30 years. (PHOTO: Gisela Telis)
Research by the U.S. Department of Agriculture, the Leopold Center for Sustainable Agriculture and other organizations has suggested that a healthy local food system can cut consumers' food costs and boost employment and income in the local community.
Tucson chef Janos Wilder experienced the benefits of a local food network firsthand when living and cooking in Colorado's Gold Hill Inn.
To provide guests with fresh food, Wilder woke early to drive to Boulder and shop its supermarkets for ingredients. He looked around one day and realized that his neighbors along the more than 10-mile drive were growing most of what he needed. He began a barter system that supplied the restaurant with fresh, local ingredients and provided his neighbors with meals and other rewards.
So when Wilder set about opening his first Tucson restaurant in 1983, local was part of the plan.
"I started advertising for gardeners before I advertised for [wait] staff," he says.
Wilder now sources produce from local farms and gardens, including the Children's Garden at the Tucson Children's Museum and the Native Seeds/SEARCH conservation farm.
For the conservation farm, as for many local growers, working with restaurants can offer a unique opportunity.
"We care about food security in this region, and our seeds are a foundation for that," says Native Seeds/SEARCH Seed Bank Director Chris Schmidt. "But we want to play a more direct role in getting heirloom foods on people's tables."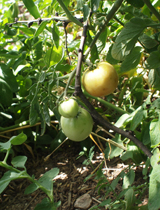 Studies suggest local food systems cost less and boost local economies. (PHOTO: Gisela Telis)
Farming and sharing a farm's harvest with commercial clients, such as local restaurants, introduces the public to local food and helps build a sustainable food system for the future, says Schmidt.
"Ultimately, we're not going to be able to continue to grow food on the industrial scales that we have and ship it thousands of miles, with rising energy costs, climate change, and the loss and degradation of farmlands," Schmidt says. "We're going to have to relearn how to grow foods locally."
*
For Traci Markou, farming has meant learning to milk and care for goats, protect chickens from predators, and manage crops despite the desert's intense summer heat and ongoing drought.
The chicken coop still gives her the heebie-jeebies: it's a small red shed packed with black widow webs and mysterious medical equipment before she made it usable again. It now comfortably houses 20 hens, who eat veggie scraps that George's restaurants would otherwise throw away. The goats also eat waste food, along with weeds, turning it all into milk for the restaurant and fertilizer for the garden.
Traci says her boys—Gabe, 11; Kyri, 9; and Christian, 7, who each have chores of their own—have also learned their share by watching this process unfold.
"They feel more involved and they understand more why we're doing this," says Traci. "Hopefully they'll look back on this and say they enjoyed it, and not 'Mom tortured me.'"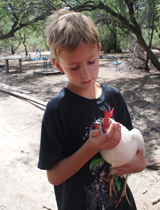 Eleven-year-old Gabe holds a laying hen. He and the rest of the Markou family agree that "Markou Ranch" has changed them. (PHOTO: Gisela Telis)
They work the farm twice a day, for one to two hours on each visit, and so far the effort has paid off. The garden's harvest trims $100 to $200 from the Markous' monthly grocery bill, and now saves The Fat Greek 2 about $600 a month on ingredients.
With a green light from the Pima County Health Department, enthusiastic support from customers and a partnership in place with the University of Arizona College of Agriculture, the Markous are planning to expand their operation, perhaps adding a milk cow or rabbits to the mix. Their goal: to supply both their restaurants with entirely homegrown ingredients.
For George, it seems like the natural next step in a journey that has already deeply changed the family.
"The kids love it, Traci's happier," says George. "Being out there changes how you feel. [When we bought the property] we planned for a 3,000-square-foot house. But now we want a small place. You don't want to be in your house when you're out there."
For Traci, who calls Markou Ranch her "place of rest," a modest home there would be a dream, she says: "I could just wake up and get to work."