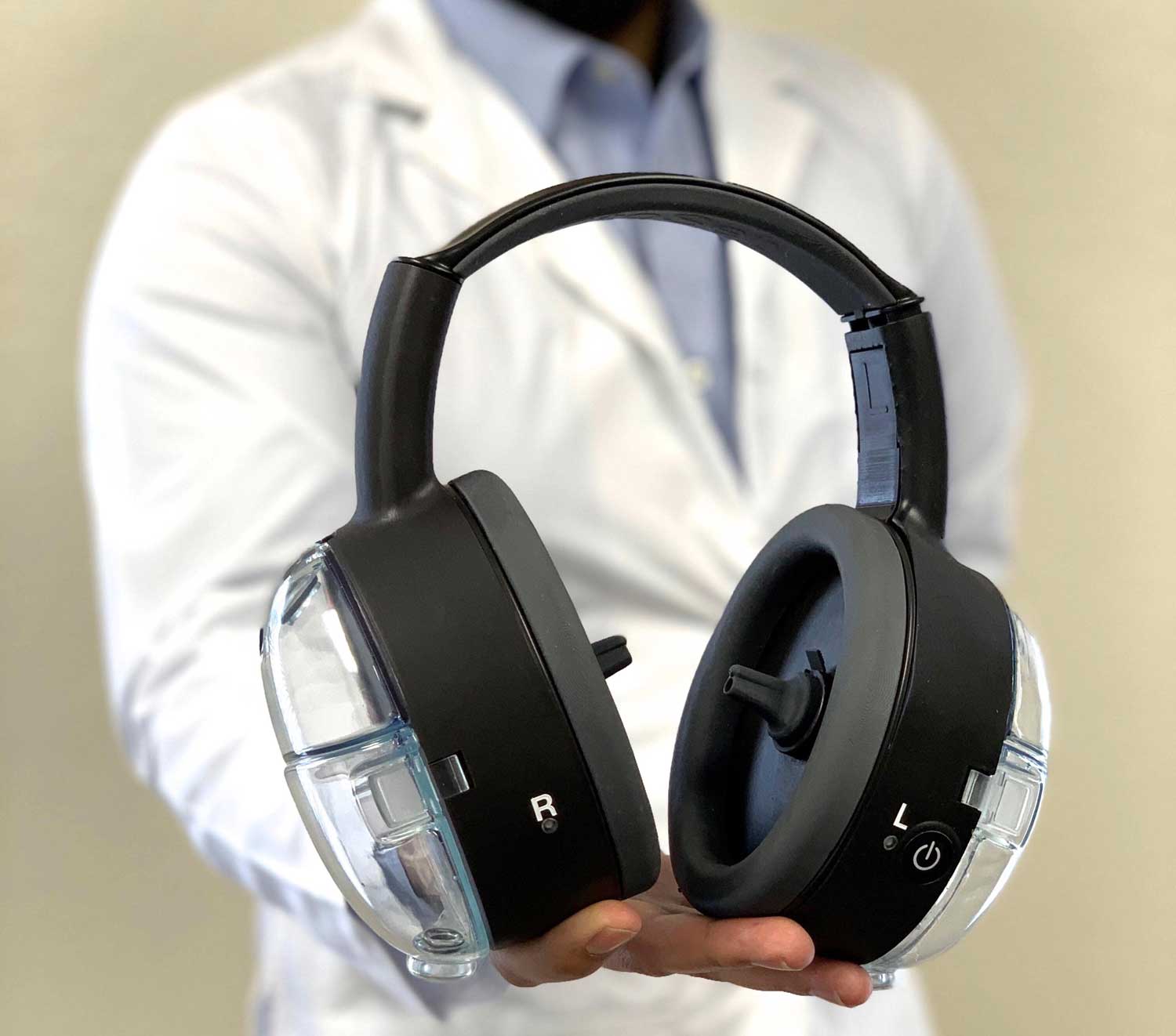 VIEW LARGER A courtesy image of the Safkan in-ear device.
A Tucson-based company's ear care technology earned it a place in an innovation competition that brings with it benefits like a cash award.
SafKan Inc. was one of 10 awardees in the spring Arizona Innovation Challenge, conducted twice a year by the Arizona Commerce Authority. Selected companies are awarded up to $150,000 each and are enrolled in the ACA's business mentorship program, Venture Ready.
"We don't really see many opportunities like this in other states so we certainly wanted to apply to it," said Sahil Diwan, co-founder and CEO of ear care company SafKan Inc.
The Arizona Innovation Challenge is one of the most competitive and largest competitions in the nation, designed to advance innovation and technology commercialization opportunities in Arizona by helping early-stage companies.
The ear care company was able to pass all four stages of the challenge and win the judges' approval, by pitching their device that can remove impacted earwax from a patient in just 35-seconds.
The earwax removal device, called OtoSet, was dreamt up by a University of Arizona graduate in bioengineering and biomedical engineering, now the CTO and co-founder of SafKan Inc., Aadil Diwan. He is Sahil's brother.
"My brother growing up always had this issue of having to go to the physician every few months to get his ears cleaned out," said Sahil.
He said people with this problem can certainly understand the issue that Aadil faced. Impacted earwax can cause pain, a ringing in the ears or tinnitus, and is actually the leading cause of partial hearing loss.
Each year 12 million Americans will visit their physician to remove excess or impacted earwax. The problem affects 1 in 10 children, 1 in 20 adults, and more than one-third of people over 65.
The current primary care practice for removing excess or impacted ear wax is the ear and bladder syringe, which has been the standard of care since 1821, a time consuming and potentially unpleasant process for both the patient and the clinician.
Seeking a better earwax removal experience, after graduating from the UA, Aadil came up with the idea to use irrigation and suction to quickly remove impacted earwax.
"A lot of times people like to say [OtoSet] looks kinda like a Beats by Dre headphones," said Sahil, who partnered with his brother to market the device.
Indeed, OtoSet does look like a pair of chic headphones.
Sahil says to use it, a clinician simply fills the device's containers with saline solution, fits it to the patient's head, inserting the ear tips into the patient's ears, and then runs a 35-second cleaning cycle. The saline is directed towards the walls of the canal to break down the wax while a continuous suction brings it back out of the ear into the disposable ear tips and containers. For the clinician, set up to clean up takes less than 5 minutes.
It may sound a little bit weird to build a device that cleans your ears, said Sahil.
Before moving forward, in order to be sure they were a solving real problem, the brothers reached out to more than 100 physicians simply to ask if it was crazy to build a device that cleans ears.
"The response was — and as it is today — as long as it's safe, it works, and is at a reasonable price point, these physicians can see it becoming the new standard of care," he said.
Since its creation in 2016, OtoSet has been in the hands of over 150 physicians across the country as a part of the company's "beta program."
"What they've been doing is helping us develop, test, and iterate on the device. … [We've had] a lot of great feedback," he said.
Now that the ear care company has been selected for the AIC award, they will use the funding to manufacture their earwax removal device and build their sales and marketing team in Tucson.
The company is seeking FDA approval for the device. Their goal is for OtoSet to come become the new clinical standard of care in the United States, and then internationally.
Once OtoSet achieves clinical validation, the company hopes to create a consumer version of the device.
Monika Damron is a University of Arizona journalism student and an intern at Arizona Public Media.