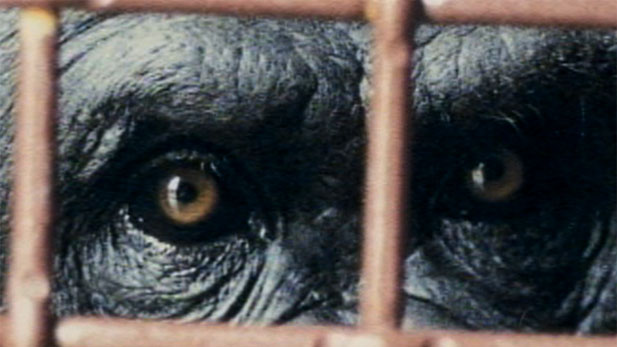 The inaugural film in the Science on Screen series at the Loft Cinema tells the story of Nim, a chimpanzee. (PHOTO: AZPM)
The Loft Cinema is one of only eight nonprofit art cinemas in the U.S. to receive a grant for the Coolidge Corner Theatre's Science on Screen project.

The program is designed to pair feature films, old and new, with insightful contextual discussions by leading experts in science and medicine.

The first film in the series will be screened Friday, and will feature a panel discussion with faculty from the University of Arizona College of Social and Behavioral Sciences. Project Nim is an award-winning documentary that tells the tragic story of Nim, a chimpanzee who became the subject of a controversial language acquisition experiment during the 1970s.

Christopher Maloney, head of the Department of Philosophy at the University of Arizona, and a member of the cognitive science program, says the film raises some interesting ethical questions.

"You take the chimp and make him one of us, put him in a family, raise him like a child, and see if language blossoms," he says. But what happens when Nim grows too large and unsuitable for the experiment?
Maloney says the film brings into focus some of the potential moral implications of relationships between humans and animals. The film shows how "fundamentally important it is--from the perspective of morality--to recognize and realize that other creatures have some kind of claim on us that requires us to recognize them as ends, and not merely as means," he says.

Stacey Tecot is a assistant professor at the University of Arizona School of Anthropology, where she focuses her research on non-human primates. One of her main interests is looking at the effects of habitat and environmental change on primate stress levels, reproduction, and behavior. In 1994, she worked with Washoe, the first ape to learn sign language.

Tecot says it's easy for humans to anthropomorphize a chimpanzee, and the desire to find similarities between humans and non-human primates motivated the Nim study.

"That's sort of the paradox of the research," she says. "We're so similar to them, and we want to learn a lot about them, but then we put them through what we wouldn't put our own children through."

The UA College of Social and Behavioral Sciences and College of Science are collaborating with The Loft Cinema for the inaugural event in their Science on Screen series. (VIDEO: AZPM)
The Science on Screen series, and the movie Project Nim, will premiere Friday, Aug. 12 at 7 p.m. at the Loft Cinema on 3233 E. Speedway. Regular admission prices will be charged. A panel discussion by SBS faculty will follow the movie.