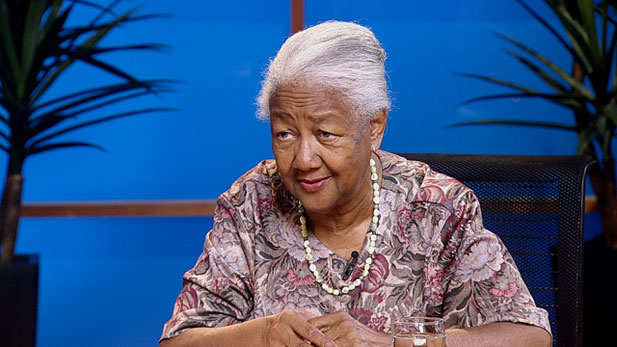 PHOTO: AZPM
Local historian Gloria Smith details the contributions of Tucson resident Margaret Campbell, Arizona's first African-American novelist.
Today, a statue commemorating Margaret Campbell stands in the lobby of the Quincie Douglas Branch Public Library, located at 1575 E. 36th Street in Tucson.
The statue depicts the Tucson author giving a copy of a book she wrote to a young Quincie Douglas, and the statue exists largely because of the effort of Gloria Smith, a local historian and former lecturer in the University of Arizona's African American Studies program.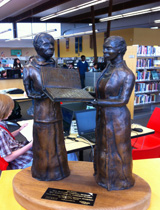 PHOTO: Fabiana Gutierrez
A statue of Margaret Campbell giving a copy of her book to Quincie Douglas is on display in the Quincie Douglas Branch Library in Tucson.
With the publication of a book of Christian parable called Iba the Dawn in 1962, Margaret Campbell became Arizona's first African American novelist. But she was already a legend in and around her South Tucson neighborhood thanks to her unusual home, a dwelling 27 feet underground which was accessible only through one very steep staircase. It was located at 1926 South Santa Rita Avenue, but has since been demolished.
Stories as to why exactly Campbell felt the need to live underground differ, as Smith recounts. Campbell started digging the hole by herself, but soon had enough help to complete the project, which included lowering a piano down into the living room. There, she gave piano lessons to local youngsters for many years, and she also hosted her own local radio program sometime in the 1960s. Campbell passed away in 1971.
Local historian Smith has investigated Campbell's life story, and she shares some of what she has learned with Arizona Illustrated.