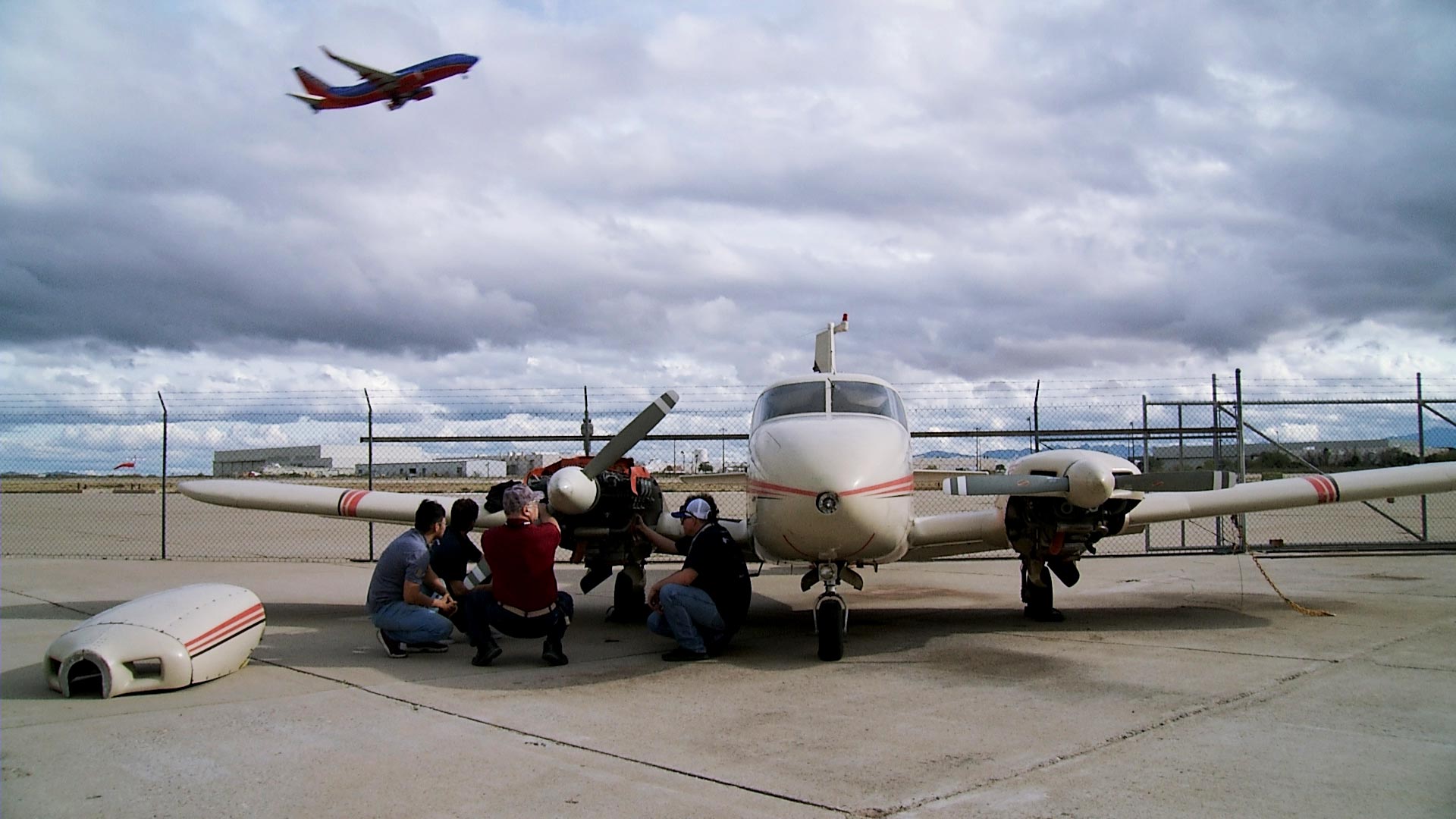 Students enrolled in Pima Community College's Aviation Technology Program do maintenance on a plane as a commercial aircraft takes off from the nearby Tucson International Airport on Feb. 4, 2019.
AZPM
Sun Corridor has big plans for the Tucson International Airport — and they don't include passenger service. The economic development organization wants the airport to be open for business.
Sun Corridor revealed a development plan for the Tucson International Airport on Thursday. The plan recommends using hundreds of acres owned by the airport to attract businesses in aerospace, defense, transportation and logistics. Under the plan, goods received at the airport and used by the companies around it would be exempt from duties or tariffs.
"We have fantastic passenger services. Our airport team is amazing," said Tucson Airport Authority chair Lisa Lovallo at the annual Sun Corridor luncheon Thursday. "But we have, I think, some unmet potential in terms of how we handle economic development and growth in and around our airport."
The plan identifies 2,550 acres that could be developed south of the airport, though not all of the land can be built on immediately. One parcel is a former mine that will cost over $10 million to clean up. But the report claims the high-wage jobs in aerospace and defense could be a financial boon for the region.
The report, titled "Tucson International Airport 2019 Blueprint," resulted from a partnership between Sun Corridor and the Tucson Airport Authority.
"We recognized that we needed a bold long-term strategic plan — or a blueprint if you will — if we're going to capture true long-term economic success at the airport," said Sun Corridor President Joe Snell.
The blueprint advocates for numerous transportation projects to support growth around the airport, including the completion of the Sonoran Corridor — a planned connection between I-10 and I-19 south of the airport — and an east-west rail line that connects the airport to the Port of Tucson.
Snell said the current state of Tucson's roads and Arizona's education system are barriers to growth.
"We have got to pass some bond issues to fix these roads. Our competition, they're passing their bond issues. We've got to do the same," he said. "We've got to more heavily invest in our schools. We've got to find a way to do that. Talent drives all market conditions."
The report also recommends the creation of a new entity tasked with promoting economic development around TIA.